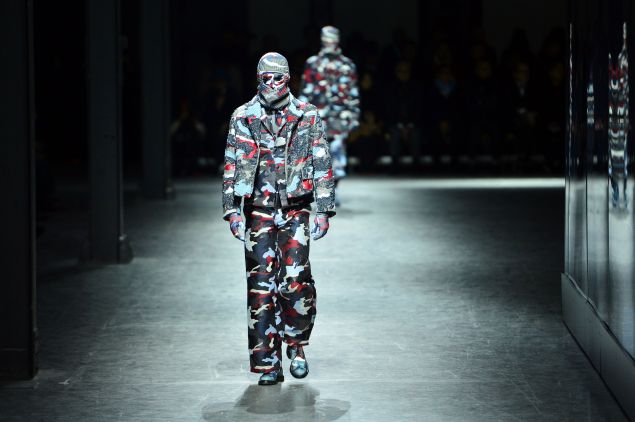 After being highlighted at men's London Fashion Week, fur has been out in full force. Street style swans at both Pitti Uomo and Milan Fashion Week donned everything from shaggy, lined ponchos to fur coated leather jackets, reinforcing the trend. Even in the collections, fur made an impression. Model of the moment, Lucky Blue Smith wore an oversized inverted shearling option at the Ralph Lauren presentation while Fendi served up eye-popping yellow fur bags and full, shaggy suits. Even the staircase models stomped down was clad in the textile. And of course, one can't forget those Gucci fur-lined loafers. But it was something else that also subtly caught the eye during shows from Dsquared2, Ports 1961, Moncler Gamme Bleu and Marni: the pants.
At Moncler Gamme Bleu, prolific menswear designer Thom Browne decided to focus on proportions. The New York-based creative minimized color by presenting his entire collection in a camo print of grey, red, white and blue. While critics like Vogue's Alexander Fury panned the collection saying it "wasn't a game changer, nor even a Gamme changer," the collection did the opposite of what Browne is known for. Instead of shrinking trousers down, he blew them up.
Wide legged pants marched down the runway in a variety of fabrics, including a tweedy version of the camo. The collection's shorts and the odd jumpsuit received the gratuitous cut as well. Shorts were matched with leggings and every look came equipped with camo masks and matching outerwear, either in the form of capes or jackets.

At Ports 1961 there was a variety of colors, but that didn't deter from the proportion play. The trousers here started off as long, wide legged shorts, evoking Givenchy's interpretation of New York street and sport culture a few seasons ago. That, coupled with oversized graphics on bombers and button down shirts, pushed the range further into Givenchy territory though the ethos behind it was much more reserved than Riccardo Tisci's seems to be.
The eclectic Canadian twins Dean and Dan Caten went the kilt route at Dsquared2, drawing a mix of inspiration from the U.K. and Japan. The brand turned out the oversized patchwork denim jeans matched with smart, tailored peacoats for the first look. Those jeans were also recreated with Japanese embroidery and mimicked in a pair of pleated, accordion trousers matched with a neat, navy overcoat. It was a range based on juxtapositions, as the pair are known to do.
Even formalwear was not outside of their purview, pulling button details from Japanese robes and mixing them with the British tradition of suiting with a cowl neck tuxedo coat. For the trousers, there was only one option: a ballooning pair of pleated trousers done in satin. It's definitely not a look everyone can pull off, but it'll be interesting to see who tries.