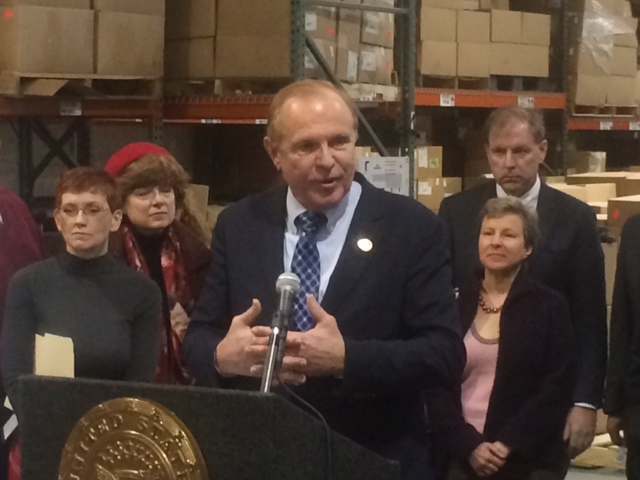 The coalition of black ministers responsible for the Kean University protest last month will be taking their protest to the doors of state Senator Ray Lesniak's (D-20) district office today. They say that by supporting Kean President Dawood Farahi—who they accuse of perpetuating "structural racism" at the college—Lesniak has become a party to the culture of intolerance on campus.
According to the ministers, lead by Rev. Ronald Slaughter, the group has chosen to "protest outside of Lesniak's office because the Union County senator has supported Farahi for years, despite scandals surrounding his tenure and calls for his resignation."
Recently, the group of ministers and elected officials like Senator Ron Rice have come out against Farahi due to a number of incidents that they say are harmful to Kean's student population. In November, fraudulent Twitter threats against minority students brought on-campus issues into the spotlight. Farahi has also gotten negative attention for faculty layoffs and the purchase of an almost $200,000 conference table. In October, the school came to a $75,000 settlement with a former employee who claimed she was dismissed due to "her race, and/or age and/or gender."
Today's protest outside of Lesniak's office was scheduled to coincide with Martin Luther King Jr. Day.
On Saturday, Senator Lesniak was awarded the "Keeping Dr. King's Dream Alive" award by the by the United Youth of New Jersey before the premiere of a play about Martin Luther King, Jr. The award recognizes his "his lifetime of achievements and commitment to social justice and civil rights," according to a statement.
"I am both honored and humbled to be receiving this award," said Senator Lesniak in a statement about the MLK award. "The fact that it invokes the legacy of Martin Luther King, Jr. makes it especially meaningful. Dr. King embodied the values and aspirations that provide motivation and inspiration for anyone who strives for justice, civil rights and equality. I don't want awards to outpace my efforts, so I will continue to be an advocate for progress."
Today's protest will begin at 3 p.m.