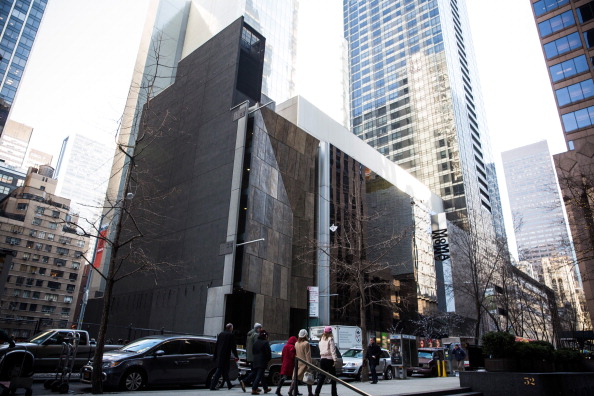 The Museum of Modern Art is scrapping some controversial elements of its planned $400 million expansion, and pushing forward with a refined—and less heavy-handed—redesign beginning in February.
When the renovation was announced two years ago, the new MoMA was to include an "Art Bay" on the street level allowing visitors to walk straight into collections galleries, a "Gray Box" performance art space and a new public entrance to its sculpture garden.
Now, those elements are now being eliminated, according to The New York Times, and the museum has gone back to the drawing board to re-envision its latest expansion plans with architecture firm Diller Scofidio & Renfro.
Firm partner Elizabeth Diller described the revised plans as "careful" and "surgical," to The Times. "This is not a heroic 'Ta-da!'" she said.
The museum's expansion will bring its total space to 774,000 square feet, and increase gallery space by 30 percent.
A statement on MoMA's website reads, "These renovations are an important first step toward making the Museum a more accessible and inviting place for everyone and for showing more of our unparalleled collection."
In addition to the $400 million new construction cost, the museum will shoulder a $40 million to $45 million bill for the renovations to the existing building, according to a report from the Wall Street Journal.
Some elements of the previous plans will still go forward, but this time with a less aggressive impact on the existing structure. For instance, a ground level gallery is still in the mix, but visitors will only be able to access it through the lobby.
Construction will be split into three phases. The first phase will re-imagine the eastern lobby in the Ronald S. and Jo Carole Lauder building, flowing it into the main lobby.
Additional alterations to the existing building include moving the museum bookstore below ground, adding an extension to its "Bauhaus" staircase from the second and main floor, creating a lounge that opens onto the Sculpture Garden, opening another first floor coat check and converting the third floor collections galleries into temporary exhibition spaces.
When new construction begins on the added gallery spaces, the museum's forthcoming ground-level gallery will spill into the first few stories a brand new 82-story residential tower being built next door.
That tower, now called 53W53, and designed by Pritzker-prize winning architect Jean Nouvel, has already broken ground. MoMA sold its air rights to Hines, the the Texas developer overseeing the project, for a sum of $14.2 million in 2014.
A high profile casualty of MoMA's long-standing plans to adjust its feng shui was the American Folk Art Museum, a unique structure covered in 63 copper-bronze panels that flanked MoMA's Westernmost side. That building was razed in 2014 after much public outcry. The Folk Art Museum has since relocated to Lincoln Center.
MoMA did, however, commit the Folk Art Museum's paneled facade to storage, though there are no immediate plans integrate them into the expansion.
BESbswyBESbswyBESbswyBESbswyBESbswyBESbswyBESbswyBESbswyBESbswyBESbswyBESbswyBESbswyBESbswyBESbswyBESbswyBESbswyBESbswyBESbswyBESbswyBESbswyBESbswyBESbswyBESbswyBESbswy
Construction will be completed between 2019 and 2020.