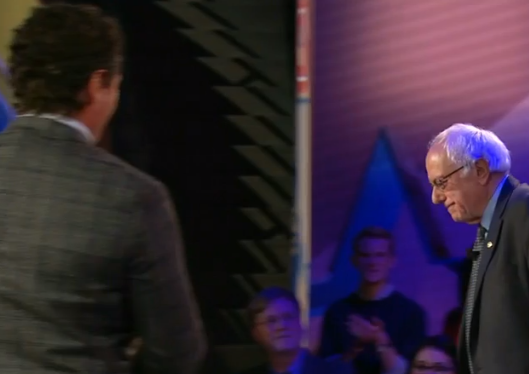 Former Secretary of State Hillary Clinton leads Senator Bernie Sanders by 5 points in the latest Monmouth University Poll of likely Iowa Democratic caucusgoers, down from 22 points just one month ago.  High turnout could make this race even tighter.
Clinton currently garners the support of 47% of likely Democratic caucusgoers compared to 42% for Bernie Sanders.  Clinton's lead has shrunk from the 55% to 33% advantage she held in December.  Martin O'Malley clocks in at 6% of the vote, which is unchanged from a month ago.  Another 6% are uncommitted or undecided.
According to the poll, Clinton enjoys a lead over Sanders among female voters by 50% to 38%, but that is not as large as her 61% to 27% advantage last month.  The two are basically tied among men – 46% for Sanders and 43% for Clinton.  Last month, Clinton had a slight 47% to 42% edge among men.
Clinton leads Sanders by 54% to 34% among voters age 50 and older, which is slightly weaker than her 63% to 26% lead in December.  Sanders continues to hold the advantage among voters under 50 by a 59% to 31% margin, which is wider than his 48% to 38% lead last month.
"Support for Sanders has come from those who are new to the process, but the current poll indicates he is also cutting into Clinton's lead among die-hard Democratic partisans," said Patrick Murray, director of the independent Monmouth University Polling Institute in West Long Branch.
Among voters who have a history of voting in state Democratic primaries, Clinton currently leads Sanders by 47% to 39%, which is down from the large 57% to 30% advantage she had with this group last month.  Among registered Democrats who usually participate only in general elections, Clinton holds a stronger 52% to 41% lead, similar to the 56% to 34% lead she held with this group in December.  Among non-Democrats who say they will change their registration to caucus with the Democrats – representing about one-fifth of the current sample – Sanders has a 48% to 40% lead.  Last month, he and Clinton were tied among this group at 45% each.
Turnout in the Iowa Democratic caucuses is extremely unpredictable.  Over the past 35 years, reported turnout has ranged from a low of about 30,000 in 1992 to a high of nearly 240,000 in 2008 according to published reports.  The current poll's screening rate for likely caucusgoers projects a turnout of about 110,000 voters.  Increasing the model to a turnout of approximately 150,000 voters – which would be the second highest turnout on record – would narrow Clinton's lead over Sanders to a 46% to 43% margin, with O'Malley's support at 5%.  Pushing turnout to 200,000 would leave the race virtually tied at 45% for Clinton and 44% for Sanders.
"Given the way Iowa's Democratic caucuses work, Clinton could start the night with more supporters, but Sanders could win the delegate count," said Murray.
The majority (55%) of likely caucusgoers say they have locked in their candidate choice, up from 41% in December.  Another 30% say they have a strong preference but are willing to consider another candidate before Monday.  Just 1-in-7 have only a slight preference (7%) or are essentially undecided (8%) at this point.  Clinton voters (63%) are slightly more likely than Sanders supporters (56%) to be completely set on their vote choice.
It is important to keep in mind that the Iowa Democratic Party does not report voter preference on Monday night, only the allocation of county convention delegates.  In order to receive delegates, each candidate must reach a viability threshold, which is 15% support in most precincts.  If O'Malley's supporters do not meet that threshold, they will be asked to caucus for another candidate (and he could also get a lower level of support than is reported in voter preference polls).  Prior Monmouth polls indicated that O'Malley supporters would divide nearly evenly between Clinton and Sanders as their second choice.  However, the current poll suggests that they will break more for Sanders, although the margin of error for the small group of O'Malley supporters in the poll is large, and thus the findings are not statistically significant.
More than 6-in-10 (62%) likely caucusgoers say they have been contacted by a presidential campaign to obtain their support.  This includes 49% who have been contacted by the Clinton camp, 38% by the Sanders camp, and 15% by the O'Malley camp.  Among those who have been contacted by a campaign, 51% say they plan to caucus for Clinton and 36% support Sanders.  Among those who have not received any direct campaign contact, 51% plan to caucus for Sanders and 40% support Clinton.
Just over half (52%) say they plan to attend their local caucus with a friend or family member, while 43% say they will go alone.  Among those who will attend with another person, Clinton has a 48% to 43% lead.  Among those who will caucus on their own, Clinton's lead is 45% to 40%.
The historical nature of Clinton's bid to be the first woman president is not a particularly strong draw for Iowa voters.  Just 21% say this factor is very important in their vote consideration and 26% say it is somewhat important.  Another 18% say it is not too important and 34% say it is not at all important.  Among Clinton voters, 33% say it is very important and 31% somewhat important.
The Monmouth University Poll also found that likely caucusgoers hold overwhelmingly positive views of both Clinton (78% favorable – 17% unfavorable) and Sanders (85% favorable – 9% unfavorable).  O'Malley earns a 50% favorable and 14% unfavorable rating, with 36% having no opinion of him.  Most voters would be happy if either of the two leading contenders became the Democratic nominee.  About 8-in-10 would be either enthusiastic (39%) or satisfied (40%) with Clinton as the nominee, and a similar number say the same about Sanders (34% enthusiastic and 47% satisfied).
The Monmouth University Poll was conducted by telephone from January 23 to 26, 2016 with 504 Iowa voters likely to attend the Democratic presidential caucuses in February 2016. This sample has a margin of error of +4.4 percent.  The poll was conducted by the Monmouth University Polling Institute in West Long Branch.