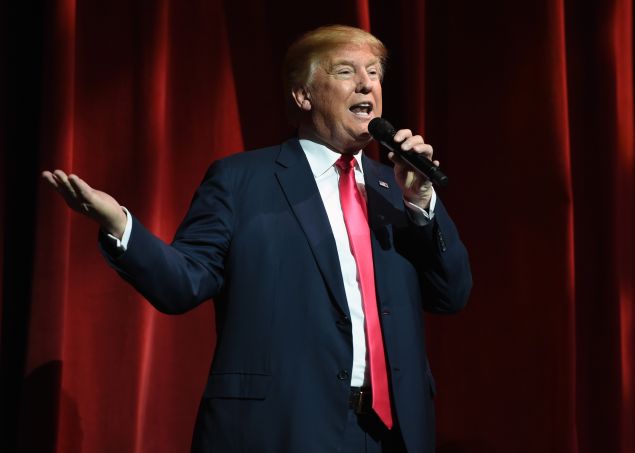 Late Thursday night, as the "Stop Donald Trump" movement formally launched its shock and awe campaign, Don Lemon of CNN was interviewing former Republican Senator Trent Lott about Sarah Palin's endorsement of Mr. Trump for President.
Referring to a tape of Ms. Palin, Mr. Lemon said to listen.
"Do I have to?" Mr. Lott said, softly with a smile.
The sound bite went as follows:
"Even today, the G.O.P. machine, they're attacking their own front-runner and his base of dynamic, diverse, very patriotic supporters," Ms. Palin told a cheering crowd. "They're attacking you! They can't afford for the status quo to go. Otherwise, the gravy train, it stops and they can't keep slurpin' from it, not if things change the way that Mr. Trump and all of we(cq) know needs to change."
Back live on the set, Mr. Lemon asked Mr. Lott why he said what he said about Ms. Palin.
"Well, I didn't want to hear it," Mr. Lott said. "I've heard it earlier… You don't want to be too critical of a voice but it's hard to listen to the sound of her voice. It's almost gets to be a screech there. And, frankly, I didn't agree with what she had to say."
What made this remarkable is that Mr. Lott was a Republican Senator from Mississippi and Ms. Palin was a Republican governor from Alaska who ran for vice-president in 2008. Theoretically, they should be allies, but it's every man and woman for themselves in the 2016 brawl for the Republican nomination.
'I evolved, just like Ronald Reagan.'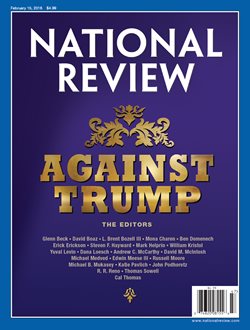 The fissures and fractures in the party were evident Thursday night when Rich Lowry, the editor of the conservative National Review magazine, released a new edition that announces in gold letters on the cover: "Against Trump."
Inside, 22 conservative writers—including the right-wing intellectual Glenn Beck—explain why it would be bad for the party, the nation and the world to elect the New York business tycoon who currently leads most of the Republican polls.
Mr. Trump—master of the quick counterpunch—held a press conference late Thursday before making a speech in Las Vegas. It was raucous, with reporters shouting questions all at once and Mr. Trump rewarding a few with answers.
"The National Review's a dying paper," Mr. Trump said of the magazine, founded by William F. Buckley. "Its circulation's way down. Not very many people read it anymore. People don't even think about the National Review. I guess they wanted to get a little publicity."
Mr. Trump went on with his usual list of put-downs for rivals and praise for himself.
On Jeb Bush, the former Florida governor: "Look, Jeb's a loser. He's ashamed of his last name.'
On Ted Cruz, the Texas Senator: "He didn't know he was a citizen of Canada."
On Mr. Beck, who has endorsed Mr. Cruz: "Whacko Glenn Beck… a failing, crying, lost soul."
On his own changes in position from New York liberal to populist conservative: "I evolved, just like Ronald Reagan."
'He's hit a nerve and he's gone where the energy is. A lot of times, I'm laughing and applauding right along with his supporters. But conservatism is more than that.'
Mr. Trump's surprising success has galvanized one wing of the party: White, working-class men who didn't attend college and now resent their prospects in de-industrialized American society are not as good as they once assumed.
There are still the country-club and establishment Republicans, best represented by Mr. Bush and Mitt Romney with Marco Rubio. Mr. Cruz incites the committed radical fringe of evangelicals and tinpot ayatollahs who want to make rules for other people's bedrooms.
Should Mr. Trump decide his fellow Republicans aren't treating him with the respect he expects—he talks about it all the time—there is always a chance he could run a third-party campaign the way George Wallace did in 1968.
Back then, Wallace carried five states and helped Richard Nixon defeat Hubert Humphrey. Had Robert Kennedy not been murdered in June, he may have been the Democratic candidate and may have defeated Mr. Nixon. In some ways—not all—this campaign has the uneasy feel of 1968.
In those days, Mr. Buckley was a talented writer and an elegant television presence on his weekly "Firing Line" show on public television. Mr. Lowry is a reasonable facsimile and Megyn Kelly gave him all the time he needed to set out his agenda on Fox News Channel.
"If you truly are a conservative, you believe in ideas and principles," Mr. Lowry said. "It's not just attitudes. It's not just who you dislike. It's limited government. It's the Constitution. It's liberty… and they are basically afterthoughts to Donald Trump. He almost never talks about them."
Mr. Lowry expressed skepticism about Mr. Trump's changing views on so many issues. "He's been on the other side on big, hot-button, defining issues like abortion, gun control, taxes and even immigration," Mr. Lowry said.
Next came a dog-whistle. "Another problem with Trump is he seems to believe that what this country needs is a really effective strong man to make the trains run on time," he said.
This was a vague and veiled allusion to Benito Mussolini, the Fascist dictator of Italy in World War II who, it was said, at least made the trains run on time.
Mr. Lowry acknowledged that Mr. Trump is a better politician than most people knew.
"He's hit a nerve and he's gone where the energy is," Mr. Lowry said. "A lot of times, I'm laughing and applauding right along with his supporters. But conservatism is more than that."
Disclosure: Donald Trump is the father-in-law of Jared Kushner, the publisher of Observer Media.