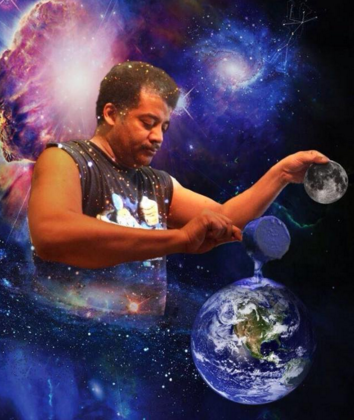 There was 2Pac vs. Biggie. Drake vs. Meek Mill. Now it's all about B.o.B. vs. Neil deGrasse Tyson.
Yesterday, B.o.B. took the #FlatEarth movement to the next level when he released a song about the Earth being flat on Soundcloud. In the song, he compares himself to Malcolm X and disses Neil deGrasse Tyson, the astrophysicist who sought to scientifically disprove the rapper on Twitter. Now, Mr. deGrasse Tyson is firing back—he released a B.o.B. diss track of his own.
The scientist took to Twitter last night to announce his collaboration with rapper Tyson, so before you ask, no, Mr. deGrasse Tyson has not actually launched a rap career.
The song, titled "Flat to Fact" appeared on Soundcloud and YouTube last night.
Here are the lyrics, courtesy of Genius:
[Intro: Neil DeGrasse Tyson]
Flat Earth is a problem only when people in charge think that way. No law stops you from regressively basking in it

[Verse: TYSON]
He learned the game from Carl Sagan, you can never check him
You say the Earth is flat and then you try to disrespect him?
I'm bringing facts to combat a silly theory
Because B-O-B has gotta know the planet is a sphere G
Whoaah…
Very important that I clear this up
You say that Neil's vest is what he needs to loosen up
And he's a Mason cuz a brotha's gettin' paid
When the ignorance you're spittin' helps to keep people enslaved??
I mean mentally…
You gon' make me go insane…
I've already stepped out of the fast lane
You the Donkey of the Day, I ain't waitin for Charlamagne…
All them strange clouds must be messin' with your brain
I ain't waiting four days B.o.B, I'm right here
I got science in my corner and there's nothing to fear
I'm not sure what it was that really made you think
That you could disrespect a Tyson and your ship won't sink?
I mean whoaah…
Can't fool the people B.o.B they know what's up
I'm in the Hayden Planetarium gettin' shoulder rubs
I think it's very clear, that Bobby didn't read enough
And he's believing all this conspiracy theory stuff
Are these all of your thoughts or is the loud talkin?
I'm a high flyer, but you must be cloud walking…
And I know Bobby Ray's a great musician with
Intelligence to say some better shit than what he's written (Damn!)
Yeah…guitar strings turn to Twitter things
Yeah…you gettin' bodied by a young king…
I'm far from famous, but I got an education…
And I'm putting it to use to make a better nation!
I'm making sure you get it when it's said and done…
Because this track is just a one of one…
I could make another one and then another one
The DJ Khaled of teaching Bobby about the sun
Bobby Ray's thinkin that flat is fact…
Yeah…
That flat is fact…
Bobby Ray's thinkin that flat is fact…
Yeah, but we'll go from flat to fact
I don't wanna hear about this ever again
Not even when this ends and we're better as friends
Not even when when they're saying "Tyson tell him again
And we'll put you on a show to make a sell out event"
Whoa…
What about the change of seasons?
The planet spins around the sun, do you need more reasons?
It's very clear you're rapping for fame
While I represent the culture and the spirit we claim
I mean, please…
Check him for a wire or an earpiece, please…
Is Donald Trump the one that's feeding you all of these…
Stupid bits of information keeps you on your knees
I know we gotta freedom of speech, but Bobby please…
Somebody stop this..
Or call the Drop Squad because they got this…
And maybe they can pick up Stacy Dash too
So if you're ignorant here's what they're gonna ask you
They're gonna ask if you can play this track back to back… (Bars)
Yeah…it's going back to back..
I had to help Bobby go from flat to fact
Took a break from my debut, and now it's back to that…

[Outro: Neil DeGrasse Tyson]
Duuude – – To be clear, being five centuries regressed in your reasoning doesn't mean we all can't still like your music
Stay tuned. We have a feeling this war isn't over.