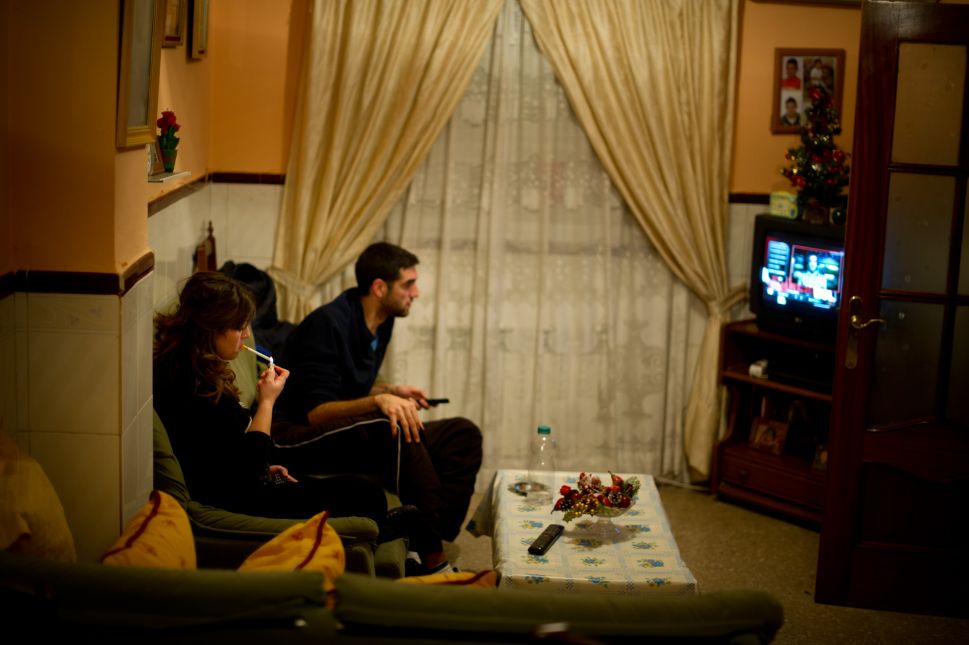 Microphones are the new surveillance cameras.
TV news was abuzz Thursday morning after Variety reported on a presentation by Alan Wurtzel, a president at NBCUniversal, who said that streaming shows weren't cutting into broadcast television viewership to the degree that much of the press seems to believe. Mr. Wurtzel used numbers that estimated viewership using data gathered by mobile devices that listened to what people were watching and extrapolating viewership across the country.
Wait, what? It's using the microphones on cell phones to listen? Who's it listening in on?
The company behind the technology is called Symphony Advanced Media. The Observer spoke to its CEO Charles Buchwalter, about how it works, via phone. "Our entire focus is to add insights and perspectives on an entire new paradigm around how consumers are consuming media across  platforms," he told the Observer.
Cool, but is Symphony listening to viewers without their knowledge?
Short answer: pretty much no.
Symphony collects data with a similar strategy to Nielsen, by inviting users to opt-in to specific monitoring. Nielsen has the set meter and its paper diaries. Unlike Nielsen, Symphony uses a less direct strategy than a box on top of a TV to track what a viewer is watching, because not all the viewing is on TVs and not all the broadcasters want to be tracked.
For the privacy-conscious, Symphony's app isn't hidden inside other apps with permissions buried in user agreements no one reads.
Symphony asks those who opt in to load Symphony-branded apps onto their personal devices, apps that use microphones to listen to what's going on in the background. With technology from Gracenote, the app can hear the show playing and identify it using its unique sound signature (the same way Shazam identifies a song playing over someone else's speakers). Doing it that way allows the company to gather data on viewing of sites like Netflix and Hulu, whether the companies like it or not. (Netflix likes data)
It uses specific marketing to recruit "media insiders" into its system, who then download its app (there's no way for consumers to get it without going through this process). In exchange, it pays consumers $5 in gift cards (and up) per month, depending on the number of devices he or she authorizes.
Potential insiders go through an online sign up process that asks them a bunch of questions about their media habits. So Symphony knows a bit more about them.
The company let the Observer go through the process. It doesn't do much educating of its "media insiders" about just how much information they are turning over to the company, beyond giving them links to a terms of service and privacy policy.
One screen that screams out, "HEY WE ARE GONNA LISTEN TO WHAT YOU ARE DOING WITH THE MICROPHONE ON YOUR PHONE, 'K, COOL?" would be dope, but no dice.
Still, at least they aren't sneaking a microphone into your Bitmoji app, right? (which is effectively what a bunch of Chrome extensions recently did)
"We want everything we do to be passive," Mr. Buchwalter said. The company has over 15,000 viewers now and expects to hit 20,000 media insiders this year. It would like to get that number up to about 50,000, eventually, he said, emphasizing that the company works to make sure that this sample represents the U.S. as a whole.
"We want to track individuals," Mr. Buchwalter—a Nielsen alum—explained, because they want to compose a digital day in the life of Americans, all their cross platform activities, from websites to social to media viewing and reading. The problem with existing metrics companies, he argues, is they measure one media category at a time. That's outdated.
Symphony has found that when ratings are scored over 35 days (rather than the industry standard of seven days after broadcast), it becomes clear that streaming is eating into broadcast viewing time, but not nearly as much as it might have seemed. It's also clear that a lot of viewers watch broadcast TV on demand in much the say way they watch streaming TV. He said, "There's a little bit of a sense that there's more buzz to the transformative sense of streaming originals than there is reality."
Here's another reality: more and more electronic devices are able to listen to what we do all the time and glean insights. Mobile phones have to always be kind of listening so they can hear it when users give the activation command. Amazon Echo is listening, too, and it's getting hard to tell just how much data gear gathers.
Like we've said: we are being watched.
Symphony may not be sneaking its surveillance model into innocuous looking apps with wildly different purposes, but that doesn't mean some other company isn't.