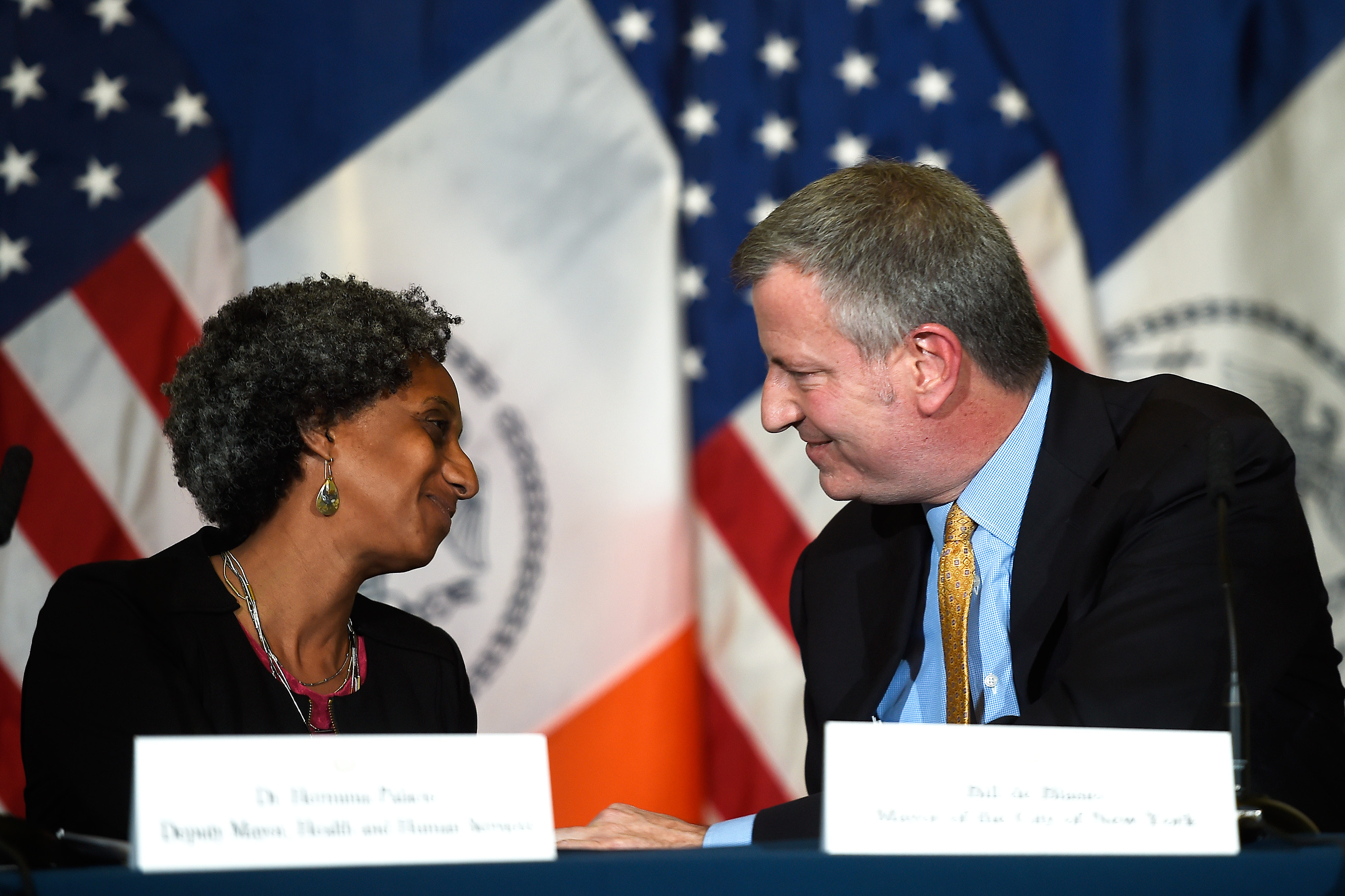 Mayor Bill de Blasio today announced that Dr. Herminia Palacio will take over as Deputy Mayor for Health and Human Services and take on the homelessness crisis—and the new appointee quickly told reporters she didn't expect to fix the stubborn problem.
Dr. Palacio will replace Lilliam Barrios-Paoli, who stepped down last September for what she said were personal reasons, but who was widely seen as a casualty of the mayor's difficulty containing the growing street population.  The incoming deputy mayor and her new boss both recalled her struggles as a child growing in the Bronx, her work in San Francisco during the AIDS crisis and her experience creating the shelter for Hurricane Katrina victims at the Houston Astrodome—but the doctor confessed the homelessness would probably resist any best efforts to end it.
"Unfortunately, it will be an issue that is likely not to be completely resolved," Dr. Palacio said at the press conference at City Hall.
The doctor, who will begin work on January 25, nonetheless pledged to coordinate with an array of city agencies to tackle what she described as the multifaceted problem of people lacking permanent shelter. She argued that issues like housing, jobs, domestic abuse, substance addiction and mental illness all intersect to create the current dilemma.
"We need to have an all-hands-on-deck approach," she said. "The problem has one label: homelessness. But it's many different problems, all in play at the same time."
The new deputy mayor said her main goal would be to "build on" the work of her predecessor, though she acknowledged some "course corrections" may be necessary while being light on specifics. She and Mr. de Blasio said that the doctor would be part of the ongoing "review" of the city's existing efforts through the Department of Homeless Services and the Human Resources Administration.
"The purpose of the review is to determine how we want to proceed," the mayor said.
Former DHS Commissioner Gilbert Taylor resigned in December, and HRA Commissioner Steven Banks took on most of his responsibilities. Mr. de Blasio said today that he and Dr. Palacio will "work from the assumption" the two agencies will continue to exist separately after the review, and that they will eventually hire a new homelessness commissioner.
The mayor said Dr. Palacio would also oversee the implementation of his new HOME-STAT initiative, which will pair each of the 3,000 to 4,000 people currently living on the street with their own social worker.
The mayor said that his former senior adviser Peter Ragone, who is based in San Francisco, helped connect him with Dr. Palacio.
Dr. Palacio marks the appointment of a Latino person to a top position, which some activists have complained Mr. de Blasio has in the past failed to do.