If you're a restaurant owner trying to acquire new customers, this company is for you. If you just like free food and are interested in trying new things, this company is for you as well.
A new startup called Lunchspread is pairing restaurants that want to get their food into more mouths with potential customers who work nearby. From this win-win, restaurants receive inexpensive publicity and office workers receive food samples from nearby eateries for no cost at all. In two months, Lunchspread has already partnered with 25 restaurants in NYC and more than 2,000 office workers.
The process couldn't be simpler for those on the customer side. You simply create an account for yourself and a group of co-workers (around four to ten) and answer a few questions about your location, average lunch spend, allergies/dietary restrictions, etc., which Lunchspread uses to match you with restaurants. In no time, you'll begin receiving emails to set up your free deliveries.
On the restaurant side, you have the freedom to deliver whatever food you like—an opportunity participating restaurants use to highlight their favorites. When serving something like sandwiches, for example, a restaurant would cut up a few of their best sellers and serve them along with a few side dishes. Although customers have reported that the servings are typically very generous, it's best to think of them as an afternoon snack rather than full meals, especially since deliveries are usually scheduled for around 3 pm.
"We do this on purpose and it is part of why we are able to send free food," founder Andrew Wang told the Observer. "In the afternoons, restaurants are often less busy, have excess inventory from lunch and have delivery staff just waiting around. The majority of partner restaurants tell us that sending free samples in this manner actually costs them nearly zero incrementally."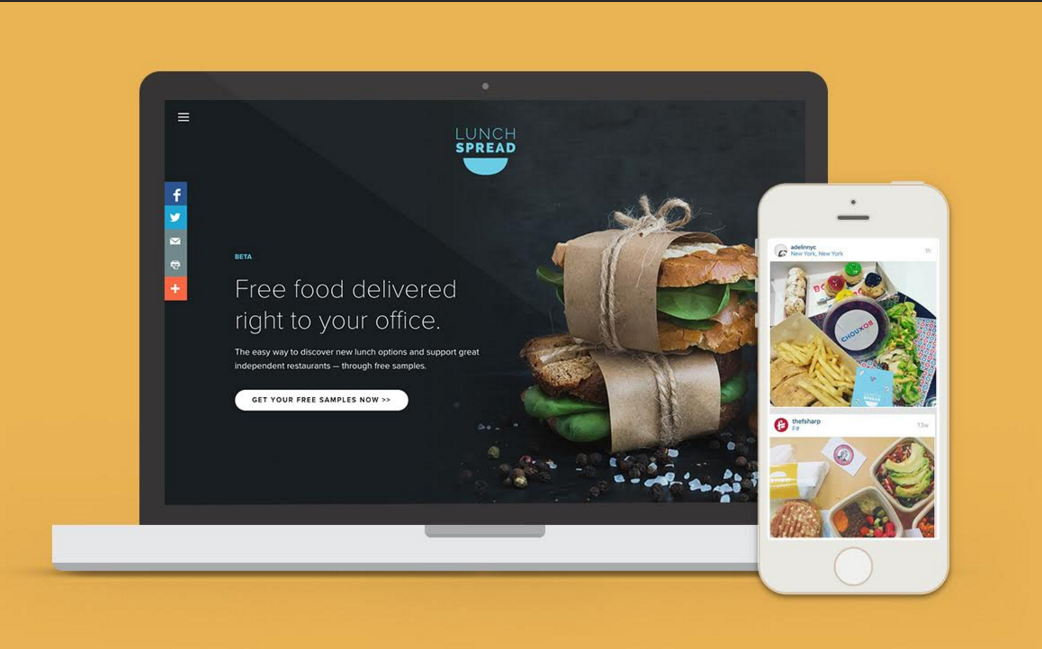 Lunchspread is still in beta and playing with their prices, but restaurants pay around $100 monthly for access to the platform and 1oo targeted "leads," or recommendations for offices whose needs and wants they fulfill. If this seem steep, considering the amount of publicity they're getting.
"So this comes out to about $1 to $1.50 for restaurants to get their food in front of a targeted customer," Mr. Wang said. For comparison purposes, every click on a Yelp ad costs a restaurant $2, and that is by no means an indication that user will ever even try the food.
Currently, Lunchspread is only available between 14th and 57th streets in Manhattan. A few of their partner restaurants include Choza Taquería, Tappo Thin Crust Pizza, Poulette, Sticky's Finger Joint and Bombay Sandwich Co.