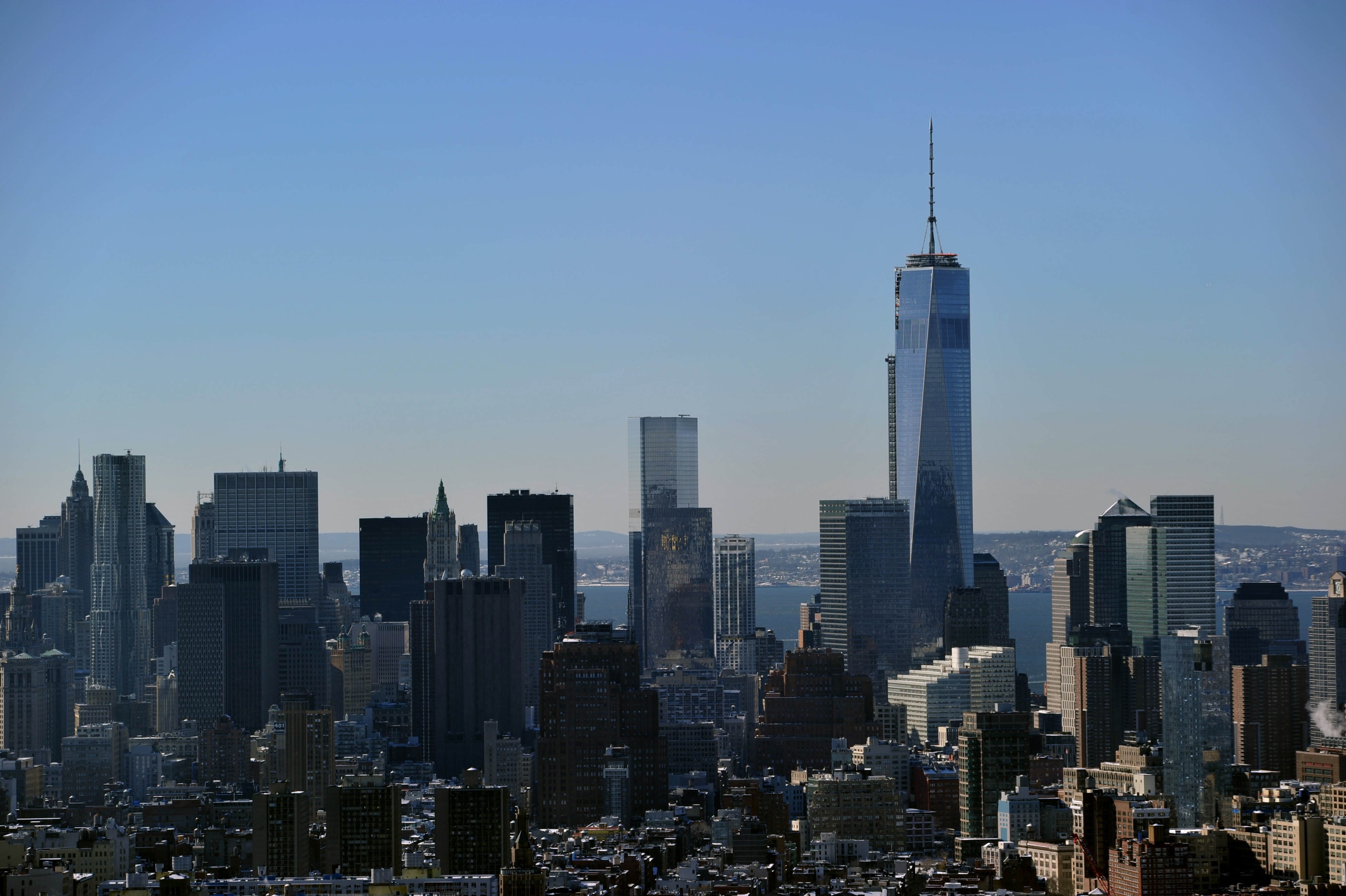 If Ted Cruz's line about "New York values" (spoiler alert: he thinks they are bad) sounded familiar to you, it's because you've probably heard some variation on the theme from his party before.
"Anti-New York sentiment is a longtime conservative shibboleth," David Birdsell, dean of the Baruch College School of Public Affairs, told the Observer. "It's very popular and easy to demonize New York as fundamentally alien."
It isn't even the first time Mr. Cruz, a senator from Texas and Republican presidential candidate, has knocked New York City—last year he took a swing at the Bronx, saying that although "Manhattan is very concerned with their security with the Bronx," New York pols don't have credibility on border issues. And then there was Sarah Palin's much-maligned 2008 comment about how the real America was found not in cities, but in small towns.
"We're aware that the rest of the country has a love-hate relationship with New York City," said Ed Cox, the chairman of the state Republican party, comparing it to how everybody follows the Yankees, even if they might not like the team: "You need the Yankees to make baseball interesting."
Mr. Cruz's comments were aimed at the GOP front-runner, Donald Trump, the real estate mogul who has in the past embraced more liberal ideologies that Mr. Cruz dubbed "New York values."  He elaborated in the Republican debate last night: "Everybody understands that the values in New York City are socially liberal and pro-abortion and pro-gay marriage, and focus on money and the media."
Republicans didn't always feel that way about New York City, of course: after the September 11 terrorist attacks, people lauded the bravery of first responders and mourned the loss of everyday New Yorkers who went to work in the morning and never came home. Republicans had their convention in Manhattan in 2004. So it was no surprise that in his defense of New York values, Mr. Trump looked back to September 11.
"We rebuilt downtown Manhattan and everybody in the world watched and everybody in the world loved New York and loved New Yorkers," he said. "And I have to tell you, that was a very insulting statement that Ted made."
September 11 is often invoked when politicians offer up anti-New York sentiment, or take votes against things that would help New York recover from the attacks, like the Zadroga Act, which funds healthcare for first responds who became gravely ill at the World Trade Center. Mr. Cruz seemed to like New York and its people just fine when he tweeted a nice picture of the "Tribute in Light" on the attack's anniversary last year: "Today, we reflect and remember all of those who lost their lives on Sept. 11. #NeverForget."
So what is it about New York that makes it shorthand for all that is wrong with the country for some conservatives? Mr. Birdsell said it's the city's otherness—that it is urban, that it is ethnically diverse, that it is different: "For heaven's sake, we don't drive cars! We don't own cars! We're weird, we take mass transit."
"There's still this notion that at our core we are an agrarian nation," Mr. Birdsell said, despite the fact that urban areas are growing rapidly as rural and suburban populations shrink, "a nation of neighbors speaking to each other over a picket fence."
Then there's New York's legacy as a crime-ridden, graffiti-covered dangerous city, Mr. Birdsell said, long outdated but still fresh in some people's minds. And, of course, there's maybe a touch of jealousy. What other city could inspire adoring anthems sung by everyone from Frank Sinatra to Jay-Z to Taylor Swift?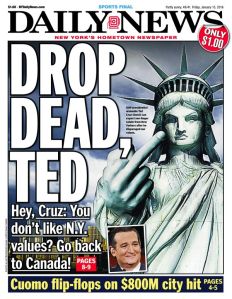 "Everybody loves to hate the folks at the top of the pole—and we're there in many measures, in terms of the value of our property the size, of our median incomes," he said.
Neither Gov. Andrew Cuomo nor Mayor Bill de Blasio, both Democrats, typically side with Donald Trump—but today they did, bashing Mr. Cruz's comments and each pointing out that Mr. Cruz seems to like New York when he has his hand out for money. The city, home to plenty of rich people and the financial services industry, pours millions of dollars into presidential campaigns.
"I also find it very ironic that Ted Cruz does not hesitate to come to New York City to raise millions and millions of dollars. I find it very ironic that Ted Cruz went running to Goldman Sachs when he needed a big loan," Mr. de Blasio told reporters this morning. "So, he has no trouble taking money from New York City, but he's quick to insult our people and our values."
Mr. Cuomo dared Mr. Cruz to give back all that cash that's tainted by the city's values.
"I'm sure Ted Cruz was very negative about New York money," he said today on NY1. "I'm sure he's not going to accept any money from any New Yorker. I'm sure if he has, he's going to return all of those contributions."
A spokesman for Mr. Cruz, Rick Tyler, said it was Mr. Trump who first asserted New York's values are different from the rest of the country's, in an interview with Tim Russert years ago.
"Why should it surprise anybody that liberal New York politicians would lash out against a conservative for restating what Donald Trump asserted himself—which is that New York values are just a little different than Iowa values?" Mr. Tyler asked.
Mr. Tyler said the response to September 11—in New York, Washington and Pennsylvania, he noted—was "a very American response, but those aren't the values we're talking about."
The line didn't just bother liberal New York politicians—it didn't sit well with some city Republicans, either. Staten Island Borough President James Oddo tweeted New York moments—people cleaning up after Hurricane Sandy, a picture of the NYPD and FDNY logos, Mets captain David Wright making a barehanded catch—with the hashtag "#newyorkvalues." City Councilman Eric Ulrich, a Queens Republican, wrote on Facebook, "Ted Cruz is a clown! His utter disdain for NYC is pathetic .. I didn't like him before last night's debate and I definitely don't now."
The Bronx GOP, meanwhile, dared Mr. Cruz to make his comments to their face. "Ted Cruz has proven time and time again that he's willing to say and do anything to help him get elected. His shtick is going to wear thin, as more Republican voters see what a phony he is," chairman John Greaney said in a statement.
But not everyone was offended. Mr. Cox, the state party chairman, didn't want Mr. Cruz to say he was sorry.
"No one has to apologize to New York City," he said. "New York City is too great a city—it is what it is, and it doesn't ask for apologies, and it doesn't get apologies."
And Joseph Borelli, a Republican city councilman from Staten Island who has not yet backed a presidential candidate, was unperturbed.
"Ted Cruz is using public imagery to paint Donald Trump as a more liberal Republican than he, and in turn Donald Trump used imagery to paint Ted Cruz as someone who has forgotten about the horrors of 9/11," Mr. Borelli said. "It's really just two politicians exchanging barbs during a campaign."
And stereotypes only work, Mr. Borelli said, if there's some truth to them.
"He stereotyped many New Yorkers for not being conservative. We often stereotype the midwest for not being liberals. Both of those stereotypes have merit," he said. "There are not many conservatives in Manhattan, there are not many liberals in rural areas of the midwest."
Besides, as a Staten Islander, Mr. Borelli noted many of his constituents don't agree with the values of people in the rest of New York City, either—even, sometimes, the city's Republicans.
That hits at something else about Mr. Cruz's comments: you don't stand to lose much, as a Republican, by bashing New York City.
"Ted Cruz risks very little," Mr. Birdsell said. "He's not going to pick up a lot of New York votes anyway, except people upstate—and a lot of those people hate the city too."
But the attitudes about New York in some corners of politics amount to more than just throwing shade during presidential campaigns—they influence public policy. Look at the reluctance in Congress to fund urban priorities like mass transit development, or the long-fought battle to renew the Zadroga Act, or the simple fact that it declined to fund the national memorial and museum at the site of the World Trade Center attacks.
"One of the starkest features of presidential discourse and of our national policy discourse…is the near absence of a consistent and meaningful urban policy," Mr. Birdsell said. "It's vanished."
Mr. Borelli, meanwhile, said he would not pick a presidential candidate based on the spat between Mr. Cruz and Mr. Trump: if either man were the nominee, he'd support them, he said.
"I know that would anger so many people around the city," he said happily, "thus confirming some of the stereotypes themselves."
Disclosure: Donald Trump is the father-in-law of Jared Kushner, the publisher of Observer Media.