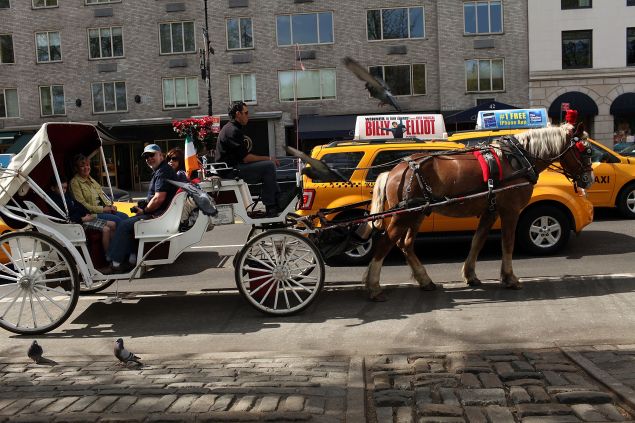 WHO HAD A GOOD WEEK?
1.  Uber: Uber may be losing regulatory battles internationally and maybe their business model, in the long run, is doomed, but they've successfully established a foothold in New York City and scared Mayor Bill de Blasio into keeping his hands off their e-hail empire. After a tough-talking summer, the de Blasio administration quietly released a study saying that while traffic is getting worse in the city, it isn't the fault of taxi apps after all. There are no plans to cap the number of for-hire vehicles on city streets like taxis are currently capped, and even legislation to regulate surge pricing has been shelved. Uber's strategy of entering a market with zero regulation, becoming popular and then bludgeoning any politician who attempts to restrain the for-hire industry was completely successful in New York.
2. Donald Trump: The last hope for the Trump haters is the most obvious one: people don't end up voting for him as much as they say they will. This, despite the Trump hysteria, remains a possibility. But the celebrity billionaire, who has perfected the art of garnering press attention and offending everyone, is now being talked about as an inevitable Republican nominee for the presidency, with establishment types trying to cozy up to him in time for the inauguration. More animus among Republican power brokers seems to exist for Mr. Trump's top rival, Sen. Ted Cruz of Texas, which is great for the Donald.
3. Straphangers: Gov. Andrew Cuomo won't needlessly shutter the subways this year in advance of an impending blizzard, according to Mr. de Blasio. Hooray for anyone with a Metrocard and a desire to travel.
WHO HAD A BAD WEEK?
1.  Pedicabs: They didn't see this coming. Mr. de Blasio's announced "compromise" bill on horse-carriages, a compromise that seemed to please almost no one, was a ban on pedicabs south of 85th Street in Central Park. Pedicab drivers, witnessing the potential destruction of their livelihood, staged a rally against the mayor. The legislation still needs to pass the City Council, but it no longer looks like a good idea to go into the pedaling business.
2. Parks Advocates: The horse-carriage bill also pissed off anyone who doesn't like the idea of giving away pristine land in Central Park to build a $25 million stable. Parks advocates, feeling betrayed, were blindsided and furious. And probably nostalgic for Michael Bloomberg.
3. Hillary Clinton: She's still the front-runner for the Democratic nomination with strong support from the establishment and nonwhite voters, but things are getting rough for the former secretary of state, at least in the media. The GOP side delights in bringing up her husband's past scandals. Sen. Bernie Sanders of Vermont, her top rival, keeps rising in the polls, threatening to defeat her in Iowa and New Hampshire and prolong a primary process Clinton loyalists hoped would be short. The narrative has shifted to "Hillary's in trouble" and there's nothing the Clintons hate more.
WHAT WAS THE WEEK'S BIGGEST STORYLINE?
There were many. Mr. de Blasio spearheaded a deal to cut down on the number of horse-drawn carriages and managed to alienate a wide range of interest groups. Uber is free to expand in New York City. Mr. Trump stayed atop the heap. Mr. de Blasio rolled out his preliminary $82. billion budget plan. His poll numbers even went up!
WHAT HAPPENS NEXT?
Iowa caucuses are February 1. The next squabble between Mr. de Blasio and Mr. Cuomo may come sooner.
WHO WAS LATE TO THE TABLE?
421a, a controversial tax break for developers to spur the creation of affordable housing, expired on Friday, January 15. Councilman Jumaane Williams of Brooklyn, the chairman of the housing and buildings committee, responded to the news on Monday, January 18.
WHAT ARE WE HOPING HAPPENS NEXT WEEK?
Horses learn to talk and tell us how they really feel.
WHAT WILL ACTUALLY HAPPEN NEXT WEEK?
A lot of intramural warfare among the Republican and Democratic candidates for president.
Disclosure: Donald Trump is the father-in-law of Jared Kusher, the publisher of Observer Media.