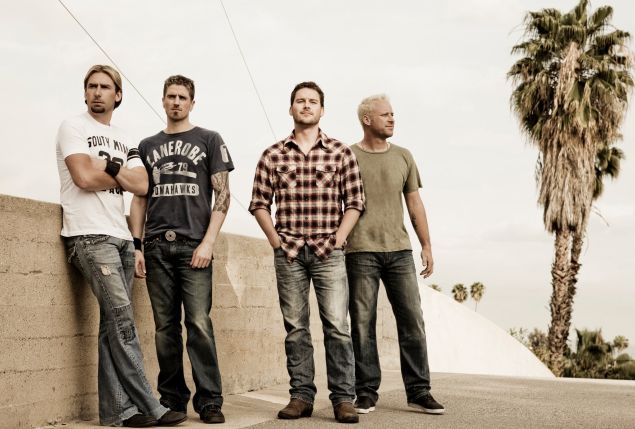 A few years back, some friends found a few Nickelback songs on my iPod. I've yet to live this down. The songs had been in my iTunes for years—since I was gifted my first iPod as a pre-teen, in fact. My parents had one of their CDs, and I loaded it into my iTunes because I just wanted to fill my new device with music. I quickly forgot the songs were even there. My friends, however, have not forgotten about what they found on that fateful day. They bring it up now and then to poke fun at me, and when this happened the other night over drinks, it got me wondering how we as a society decided to hate Nickelback.
There are a lot of bands that people dislike and even hate. But what usually happens is that no one listens to their music and no one goes to their shows, and then they fade into oblivion. Nickelback, however, has not only managed to earn the title of "the world's most hated band," but they've done it while being extremely successful. Believe it or not, Nickelback has been going strong for over a decade. The band has sold more than 50 million albums worldwide, has sold out Madison Square Garden and has been nominated for six Grammy awards, including "Album of the Year" and "Best Rock Album." They even rank as the second best-selling foreign act in the U.S. of the 2000s (behind The Beatles), and the eleventh best-selling music act of the decade overall.
But despite all of this, we hate them. I just Googled "Nickelback," and after the band's website, Twitter account and their Wikipedia, the first results are articles titled "Bands That Are Actually Worse Than Nickelback" and "A Night With the World's Most Hated Bands," as well as a crowdfunding campaign to keep Nickelback out of London. When it was announced Nickelback would play the halftime show at the Lions game on Thanksgiving four years ago, a petition to replace them as the entertainment garnered more than 55,000 signatures online.
By now, we all know that it's become somewhat of a thing to hate this band. People who've never really even listened to Nickelback say they hate them simply because hating Nickelback has become what you do. I'd go as far to say Nickelback hate has become a unique sort of meme, and not just because the phenomenon often finds itself the subject of Grumpy Cat and Bad Luck Brian. "Right now it's become trendy to hate Nickelback, and no one even knows why," the band's tour manager, Kevin Zaruk, told Bloomberg in 2012.
The main argument people make for hating Nickelback is that their music is bland and generic, and all of their songs sound the same. But this is true for so many musical artists, so how did Nickelback achieve this viral level of hatred? How did this all start? There's not a single moment in time that transformed Nickelback into the subject of a massive cultural joke, but there are some events we can point to, and it seems they've piled up on each other over the years to land Nickelback where it is today.

It started—believe it or not—with their first record deal. In 1999, Nickelback signed with Roadrunner Records, a predominantly extreme metal label. There was a culture around this label (as there generally was around labels during this time, and earlier), and Nickelback (even though their early music was a little less top 40 and little more heavy) did not fit in. Right off the bat, they were mocked mercilessly by most members of the metal community, who were generally the only ones hearing their music at the time. As early as 2000, underground heavy metal fans were calling Nickelback "the band that ruined Roadrunner Records," and to this day, their deal is viewed by many as the start of a trend of Roadrunner signing mediocre bands.
"They suck by virtue of their label mates at the time, and Roadrunner's signing of them was akin to The Learning Channel signing John and Kate Plus 8 – forever turning into a shitpile of mass market garbage," one Redditor wrote on a discussion thread in 2014.
People were also disgruntled by how much time and resources Roadrunner was putting into the band. "[They] started funneling all of their money into putting this shitty Canadian rock band out instead of artists who were trying to reshape the face of heavy metal," wrote a Redditor on r/Music. The 2004 promo sampler the label sent out to radio deejays and other industry personnel led off with Nickelback and went on to feature new songs by Slipknot, Machinehead and Nightwish. One of these things was not like the other. "Nickelback? They might as well have signed One Direction," commented another user.
In the early 2000s, the band came into its first bit of mainstream success, first with the release of their third album, Silver Side Up, in 2000, and then with, The Long Road, which debuted at number six in 2003 and went on to be certified 3X platinum. It was the only album to sell more than two million copies worldwide that year. Around that same time, something interesting was happening that might have subconsciously turned millions of people into Nickelback haters. From 2002 to 2004, a show called Tough Crowd with Colin Quinn aired on Comedy Central. It was a panel comedy show where four comedians discussed topical news stories, and the network advertised the hell out of it. One promo that ran during nearly all of Comedy Central's commercials break for months was a clip from the show that featured comedian Brian Posehn responding to a prompt about a study published on May 5, 2003 that tied violent lyrics to violent behavior. He famously said, "No one talks about the studies that show that bad music makes people violent, but listening to Nickelback makes me want to kill Nickelback."
As the story goes, this caught on, and within a few weeks, people were just walking around mocking Nickelback. The joke had the same allure of those typically made about Creed, but this one was broadcast over and over again on national TV. People eventually forgot the ad and the exact joke, but the sentiment behind it had the staying power to put Nickelback on the map as a hated band, a joke.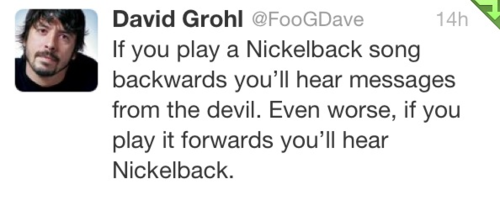 From then on, the idea of hating Nickelback definitely grew organically, but the band and its members ended up doing a lot to unintentionally add fuel to the fire.
In July 2006, Nickelback released their fifth U.S. single, "Rockstar," the lyrics of which focused on the materialistic, pretentious and misogynistic desires of wannabe rockstars. These are the lyrics to the chorus, according to Google Play:
'Cause we all just wanna be big rockstars
And live in hilltop houses driving fifteen cars
The girls come easy and the drugs come cheap
We'll all stay skinny 'cause we just won't eat
And we'll hang out in the coolest bars
In the VIP with the movie stars
Every good gold digger's gonna wind up there
Every Playboy Bunny with her bleached blond hair, and well

Hey hey I wanna be a rockstar
Hey hey I wanna be a rockstar
"Rockstar" saw commercial success (especially on the UK charts), but it is generally considered the worst song of Nickelback's career. It saw overwhelmingly negative reviews from music critics, and some have even deemed it the worst song of all time. In a 2012 Buzzfeed article of the "30 worst songs ever written," "Rockstar" came in at number two (behind "Nookie" by Limp Bizkit). The author wrote, "If aliens came to earth and asked why everyone hates Nickelback so much, this song would be a perfect explanation." There are a lot of bad songs out there that don't inspire this type of reaction, but this one was played to death on top 40 radio, and the irony was just too real for the public to handle. Nickelback's status as a joke, and well, wannabes, skyrocketed.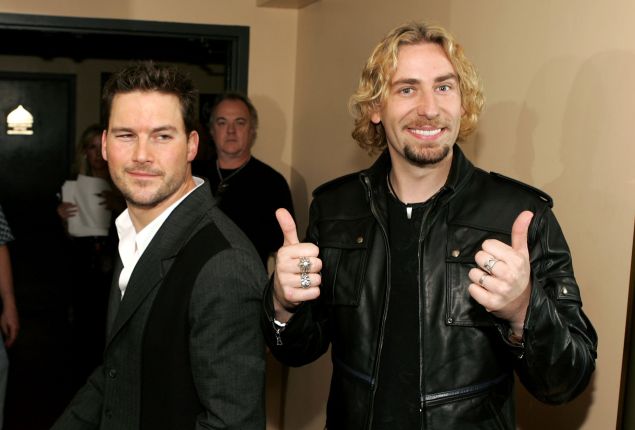 Then there's the issue of Chad Kroeger, the band's lead vocalist and guitarist. Typically, the frontman of a rock band embodies the traits of our idea of what a rockstar is. They're badass, edgy, rebellious, creative and sexy. Most of all, everyone loves them. This was never the case regarding the face of Nickelback, and just as the song "Rockstar" was ironic, Chad Kroeger's role as the band's very own rockstar was too. He was never swooned over the way rockstars are, and there's always been something about him that was a major turnoff. He doesn't give off a cool vibe, and it's been noted that he sometimes stumbles around on stage and has trouble getting his guitar to work. His notably raspy voice and formerly spaghetti-like long blonde hair are definitely contributing factors too. I didn't find much that explains the origins of Nickelback hate beyond "their music sucks," but I did come across a Thought Catalog essay that, although pretty unintelligent, points to Chad Kroeger's facial hair and the fact that he "looks like a rapist." Even his romantic ties and eventual marriage to the well-liked "pop punk princess" Avril Lavigne couldn't help his image. When the two announced their divorce in September of 2015 after two years of marriage, TMZ said, "this is now officially the 2nd worst thing to happen to Kroger. Nickelback … anyone?"
For years, hatred for Nickelback grew offline. When the viral Internet we know and love today—the one filled with memes, sarcastic petitions and jokey events, full of self-deprecation—got underway, all of the Nickelback jokes transferred to the online world, where they prospered more than ever and even found new outlets. One notable instance is a Facebook group, "Can This Pickle Get More Fans Than Nickleback?" which purposely misspelled the band's name. In the month the group was live, the pickle rallied more than 1.5 million fans.
And of course, after years of being what can only be considered a real-life meme, Nickelback became an online viral meme sensation.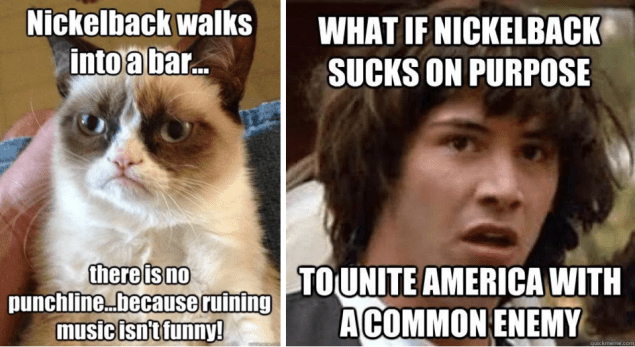 After years of this, Nickelback simply caved and began embracing their role as a meme. In January 2012, the band started posting sarcastic responses to insults they received on Twitter. When one user asked the band to "please just die," the band responded, "We're immortals, sent here to torment you." Another tweeted that Nickelback makes her want to "chop my ear off" with the hashtag #WorstBandEver. The response read, "Did you do it yet? What's the hold up?" according to Buzzfeed. That same year, Black Keys drummer Patrick Carney told Rolling Stone rock 'n' roll was dying because people had become OK with Nickelback being the biggest band in the world, which prompted the band to tweet him a thank-you for calling them the biggest band in the world.
For a while now, putting a person's name before the phrase "likes Nickelback" has become a jokey insult used around the world. The band has embraced this as well, most recently during the 2016 Presidential race.
"We are one of those bands that a lot of people think take themselves seriously," Mr. Kroeger told Blabbermouth in 2014. "And no one—no one, and I know this is hard to believe—can make as much fun of us as we make fun of ourselves. And we are harsh. If you think the Internet's rough, you should sit in a van with us. We are really harsh. We make up the best alternate lines to our own songs. And this is some top-shelf stuff."
I have a feeling they'd take themselves seriously if others did.
All memes via Quickmeme.