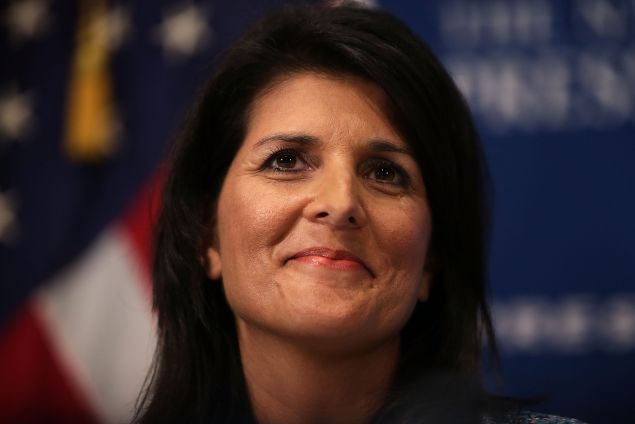 Delivering the Republican Party's response to President Barack Obama's final State of the Union address tonight, Gov. Nikki Haley of South Carolina took a subtle dig at her party's current front-runner for the presidential nomination, Donald Trump, declaring that "some people think you have to be the loudest voice in the room to make a difference."
"That is just not true," Ms. Haley said, putting a kinder and gentler face on the GOP. "Often, the best thing we can do is turn down the volume. When the sound is quieter, you can actually hear what someone else is saying. And that can make a world of difference."
She underscored, like Mr. Obama, that "today, we live in a time of threats like few others in recent memory. During anxious times, it can be tempting to follow the siren call of the angriest voices. We must resist that temptation."
Ms. Haley, 43, is often mentioned as a potential vice presidential candidate and a future face of the GOP. A first-generation Indian-American, she rose to prominence this year for successfully forcing her state to remove the Confederate Flag from state buildings in the wake of a deadly shooting at a black church in Charleston, SC.
As Mr. Trump, dubbed by one rival as a "chaos candidate," calls for a moratorium on Muslim immigration and a severe restriction on Latinos coming to America, the GOP is hoping to repair their standing with nonwhite voters in time for the general election, and is anxiously waiting for the billionaire to lose momentum.
Ms. Haley's rhetoric tonight was far softer than Mr. Trump's, though she was sure to join other Republican leaders in calling for the borders to be closed to Syrian refugees.
"My story is really not much different from millions of other Americans. Immigrants have been coming to our shores for generations to live the dream that is America," she said.
At the same time, the governor argued, "that does not mean we just flat out open our borders. We can't do that. We cannot continue to allow immigrants to come here illegally. And in this age of terrorism, we must not let in refugees whose intentions cannot be determined."
"We must fix our broken immigration system. That means stopping illegal immigration. And it means welcoming properly vetted legal immigrants, regardless of their race or religion. Just like we have for centuries," Ms. Haley added.
Mr. Trump, for his part, predictably panned Mr. Obama's speech.
"The #SOTU speech is really boring, slow, lethargic – very hard to watch!" he tweeted.
Disclosure: Donald Trump is the father-in-law of Jared Kushner, the publisher of Observer Media.