Two years ago, aspiring interior designers all might have felt just a tad worse about themselves when they saw that a 25-year-old, Sasha Bikoff, was starting her design career with a total renovation of a 4,700-square-foot apartment at the Dakota.
In case one wasn't envious enough, the Times added that the apartment Ms. Bikoff decorated was the legendary Judy Garland's former residence, because just being a multimillion-dollar co-op in the Dakota simply wasn't enough.
Well, it makes a bit more sense now that the listing for the nine-room unit at 1 West 72nd Street has hit the market—per public record, the interior designer's client, a "pianist and ballerina of Iranian descent who was a fixture on the Studio 54 scene," was her mother, Jacqueline Bikoff, who passed away last September.
But no matter the familial relation; Ms. Bikoff's renovation got enough applause for a feature in the Times  and design blogs—though she did have a bit of an advantage when she was drew "upon her client's creative journey to create a 'closet de curiosities,'" as My Domaine wrote at the time.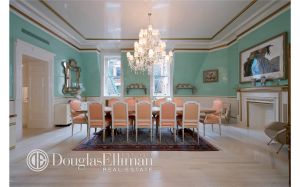 "The thing that Sasha did such a good job on is that it really rings true with the integrity of the building," Douglas Elliman broker Katherine Gauthier, who has the $16.75 million listing, told the Observer. "Sasha did an incredible job with the light fixtures and the tone. It's just beautiful; luminous. The palette is warm and it's very inviting. It feels personable, not done."
Sadly for any Wizard of Oz fans, however, Ms. Gauthier is less sure about the Judy Garland connection—the previous owners were Roy Welland and Christal Henner, of whom is it very likely you have never heard, unless you happen to be a bridge enthusiast: Though Mr. Welland and Ms. Henner may not have any Academy Awards, they are apparently champion bridge players. Because that is a thing.
Other highlights in the three-bedroom, three-bathroom unit in the Central Park West building, which the elder Ms. Bikoff purchased in 2010 for $13 million, include seven wood-burning fireplaces, as well as 13-foot ceilings. That, and having Yoko Ono as your neighbor.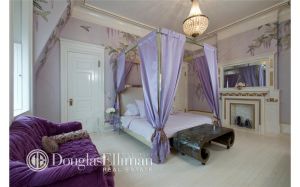 "The thing that super stands out, aside from the color palette, which is extraordinary, is that she did this high gloss lacquer, so all of the walls glisten—when you walk in there, they illuminate!" Ms. Gauthier added.
Stand out, it does—the dining room has Tiffany blue walls and a table surrounded by twelve peach-colored chairs, and one of the bedrooms is entirely purple, including palm tree-accented lavender walls. Ms. Gauthier, however, sees potential buyers as pretty much the same ones who have always flocked to the iconic co-op.
"Everyone that I've spoken to in the Dakota, they buy because it's the Dakota! Sasha honored the architecture and the spirit of the building."
BESbswyBESbswyBESbswyBESbswyBESbswyBESbswyBESbswyBESbswyBESbswyBESbswyBESbswyBESbswyBESbswyBESbswyBESbswyBESbswyBESbswyBESbswyBESbswyBESbswyBESbswyBESbswyBESbswyBESbswy