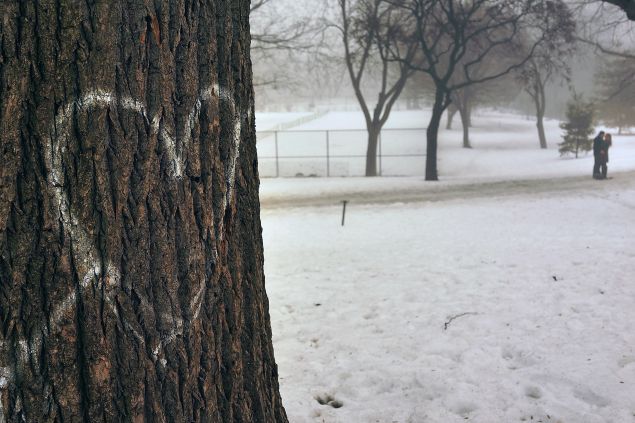 If I had known my marriage was about to end, I would have gone to the gym sooner. But life happens in the only way it can, so I was unprepared to roll smoothly into a new identity. Instead, in survival mode, I retreated to a cave and did a brutal self-excavation. I found a therapist who taught me how to stop saying what I thought and start sharing what I felt. I gave up coffee. I walked for an hour a day. I bought a diary and blackened pages. I started writing a new book.
At no point in that first hideous month did I feel I was fit for human conversation.
And then I did.
Some friends cautioned me against reaching out to anyone not in my inner circle. I heeded their advice, and the days quickly began to bleed into the nights, giving me more time to write, but also more time to suffer. Then other friends —friends who had known me for decades—told me I'd never looked better, clearer. They said I wasn't toxic. That my social skills seemed intact. That if I took the cautionary advice and sat with my feelings, my feelings would push me through the bottom of my chair as far as China.
OkCupid, Match, Tinder and the rest are, at their core, a digital form of Roman Circus; the man decides who lives, who dies.
There is a well-documented shortage of available men in Manhattan, so when my friends offered to introduce me to women who were astonishingly great and ridiculously alone, it didn't seem to matter that I am only writer-rich or that my novel had only briefly cracked the top 1,000 on Amazon—I was treated like Brad Pitt. There was just one flaw with these encounters: We had no chemistry. Which left me contemplating a romantic partner served up on my iPhone.
A colleague of a certain age is married to a thoughtful, decent man she met on Match. A young friend found love with a woman as shy as he is on Tinder. I balked until the silence in my apartment got noisy, and I thought what the hell, it's free, and signed on to OkCupid. Then I balked again at the personal profile. The questions were such clichés that the only way I could get through them was to serve up giddy, random answers like "You should message me if… 'adventure' doesn't only mean climbing a mountain" and "Isn't marijuana legal if you're white?"
Honesty soon compelled me to admit I was choosing women in the spirit of the narrator of my novel, who noted, 'When it comes to breasts, I'm a first responder.'
My responses didn't matter. I built it. They came. And that, for a man, is the attraction of sites like OkCupid. It's not just convenience. It's power. You couldn't get a date, and now you have hundreds of women to choose from. OkCupid, Match, Tinder and the rest are, at their core, a digital form of Roman Circus; the man decides who lives, who dies. And if he can express interest in a woman with a note that begins more gracefully than "Hey, babe," he tends to get a grateful reply.
Day one on OKCupid was fun. I told myself that I was basing my choices on Oscar Wilde's view that "It is only shallow people who do not judge by appearances." Honesty soon compelled me to admit that I was choosing women in the spirit of the narrator of my novel, who noted "When it comes to breasts, I'm a first responder." I stopped responding like a teenager and raised the bar. I rejected women who used a photo taken in front of the pyramid at the Louvre, and, closer to home, women who used selfies, because isn't a selfie nothing more than an announcement that they didn't have a single friend who'd snap their picture or are embarrassed to be putting themselves on display in a digital meat market?
On day two, I began to read what women wrote, and discovered I had wandered into a swamp of banality. Several liked to "try new restaurants" and drink "spicy" red wine on Friday nights. Many were "easy going" and "living life to the fullest." Most were looking for a soul mate. To "cuddle." And "make memories." Only one had the nerve to confront men: "You'd better look like your picture, or you're going to buy me drinks until you do." And only one, when asked for her favorite position in bed, went for pure snark: "next to the night table, so I can be closer to my phone charger."
One weekend afternoon, my friend Paige and I were walking on Broadway when a woman I didn't know called my name and glared at me as if we were married and she'd caught me cheating. Who was she? One of my hundred OkCupid "likes." I'd written that I'd call her. But I hadn't. Paige's advice: "You need to log off."
I gave it one last try. An elegant woman listed one of my favorite novels in her profile. The author and I were friends; when he died, I'd written a tender piece about him. I sent that piece, she was charmed, we had dinner, we're now friends. I had an electric response from a woman who'd posted a picture at a summer lunch, wearing a pearl necklace and an ironic smile. We went to the movies, surprised ourselves with marathon phone conversations. Romance didn't take, but neither the feeling we'd wasted our time. And now there are others. Maybe.
On a recent Saturday night, I had tickets to see Car Seat Headrest, a band known only to the cool kids, at a tiny Brooklyn club. Instead of trying to impress a woman who might have preferred a spicy red wine at a new restaurant, I went with my stepson. He didn't have to decide how he felt about me. We split the restaurant bill. And as the music washed over us, I had an overdue revelation: The person I most need to fall in love with is me.