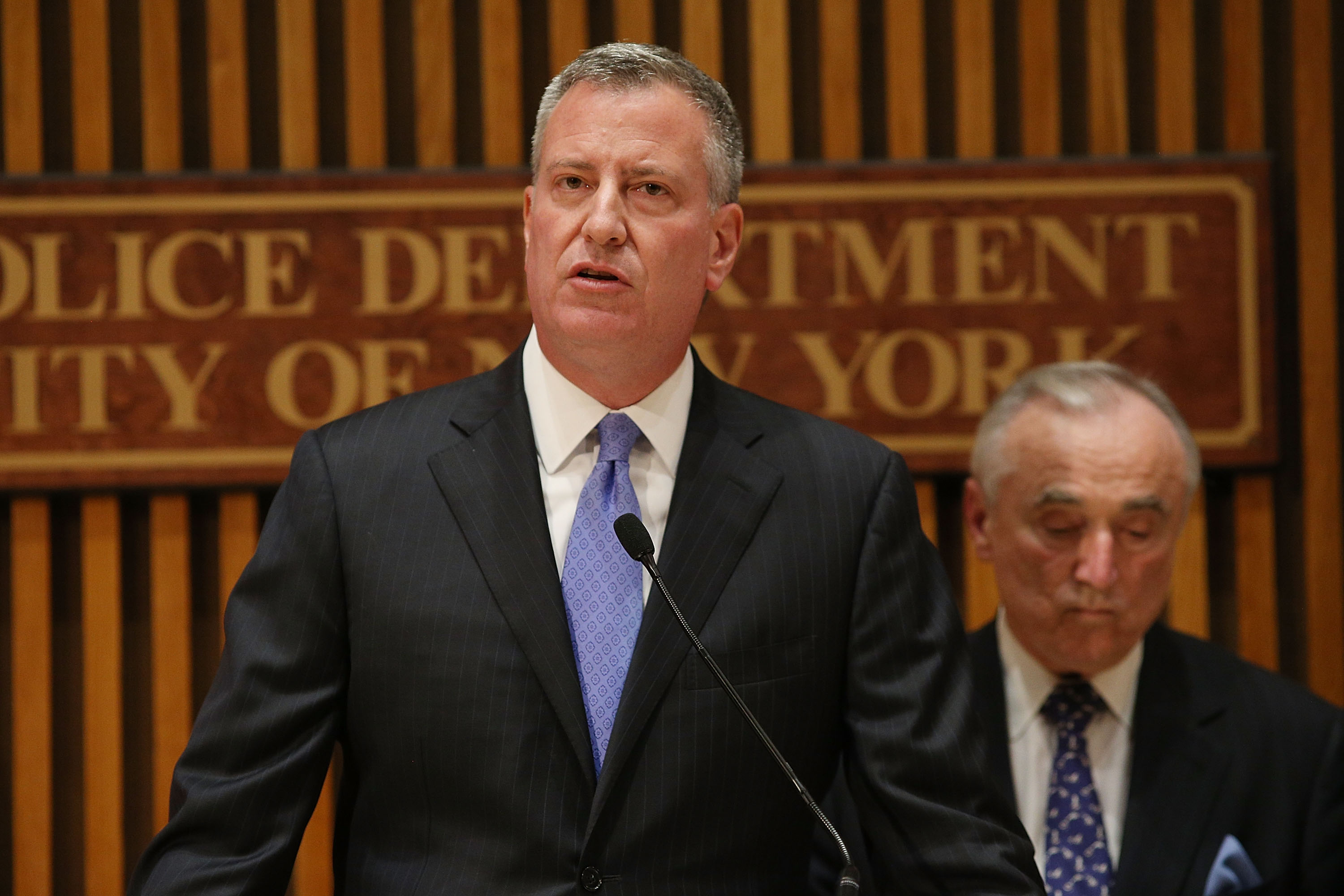 Mayor Bill de Blasio did not learn about an allegation of a brutal gun-point gang rape in a Brownsville playground until nearly three days after it was reported to police—and said today both he and the public should have been told about the attack sooner.
"I should have been informed more quickly," Mr. de Blasio said today at a City Hall briefing with top police officials, including Commissioner Bill Bratton. "I think the process of informing the public and the community should have been clearer and earlier."
The 18-year-old victim and her father reported the crime to police Thursday night, and said the attack happened around 9 p.m. The young woman and her father were drinking beer in the park when five teenagers arrived, they told police, one of them brandishing a gun. The teenagers told the father to leave, police said, and when he ran for help the young men took turns raping his daughter in the playground. The father returned with two uniformed police officers, police said.
The NYPD did not release any public information about the incident until Saturday night, when the Deputy Commissioner for Public Information's office sent out a request for media assistance, detailing the basic allegations to reporters and including video footage of the five suspects, who at that time were still on the loose. Mr. de Blasio did not learn of the rape until even later, when an aide told him about it around noon on Sunday. (When asked the same question yesterday, Mr. de Blasio had said he could not remember when he was briefed on the crime.)
Five teenagers have since been arrested and charged with rape and other crimes.
Mr. de Blasio, standing alongside Mr. Bratton and Chief of Detectives Robert Boyce, said the three of them talk on a routine basis, trading emails and discussing important crimes.
"In this instance, that process did not work properly," Mr. de Blasio said. "I should have been informed, certainly, on Friday."
Mr. Bratton said he was made aware of the crime on Friday morning as part of his daily briefing. At that point, Mr. Bratton said, video had not yet been recovered and the only description of the suspects was that they were five black males who had raped a woman and assaulted her father.
"At the same time, that would have been sufficient to alert the neighborhood and the community," Mr. Bratton said, that a crime had committed, and to spur anyone who had seen something to come forward, he said.
The decision not to warn the public sooner has been under scrutiny, with Brooklyn Borough President Eric Adams, a former NYPD captain himself, saying that the public would have been told immediately if such a crime had been reported in Central Park instead of in a playground in a part of Brooklyn that has struggled with poverty and violence.
The rape was reported not long after Mr. Bratton delivered year-end crime statistics that showed reports of rape, including rape by strangers and in for-hire taxis, were on the increase in New York City. Mr. Bratton had urged women to use the "buddy system" when leaving nightclubs late at night—something critics seized on as sexist. Brooklyn Councilwoman Laurie Cumbo and others pointed to the Brownsville incident, where the woman was with her father, as an example that being with someone else will not always prevent a sexual assault from happening. Other critics noted male victims of crimes like robbery are not often admonished to travel in groups.
But Mr. Bratton stood by his comments today when asked about the criticism. He said he has an obligation to warn people about crime trends—the idea is not "to keep it secret," he said—and to both solve crimes and prevent them from happening.
"I think unfortunately the comment was misconstrued as sexist," Mr. Bratton told the Observer. "Not at all. It's sound advice."
But Mr. de Blasio hastened to add it was the city's obligation to keep women, and everyone, safe.
"The buck stops here, and Commissioner Bratton and I are responsible for the safety of everyone in the city," he said. "We don't like some of these trends that we see and we want to combat them."
The already startling account of the crime in Brownsville took another turn today when two of the suspects in the case told police the sex was consensual, and that they arrived in the park to find the 18-year-old having sex with her father there. But Mr. Boyce today said the woman's account of the attack was credible, and her father's matched it.
Asked about why the father would leave his daughter, Mr. Boyce said he only went two blocks, to a housing development, where he found two uniformed officers. He was "hysterical" and said a gun had pointed at him, Mr. Boyce said.
"He said his daughter was maybe being murdered," Mr. Boyce said.
The officers followed him back to the park and found his daughter there. "She was crying, she was visibly upset, she had cuts and bruises on her body," Mr. Boyce said, adding Special Victims detectives who handle sex crimes arrived just fifteen minutes later. She was taken to Kings County Hospital, police said, and released later that night.
"Everything she said seemed credible, and the father's narrative was exactly the same," Mr. Boyce said.
Police have taken DNA samples from the five teenagers arrested in the crime, he said, but not yet from the father. No gun has been recovered, Mr. Boyce said.