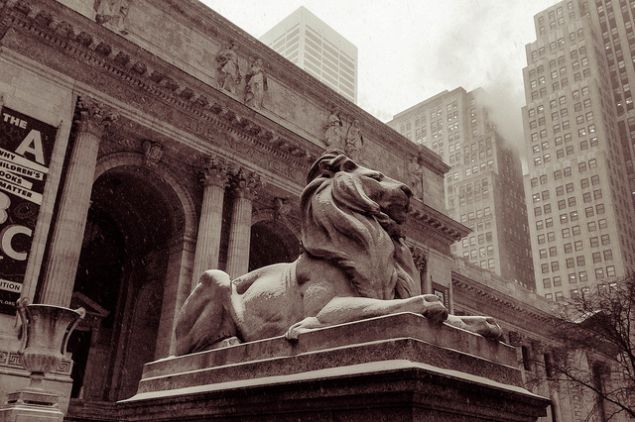 Developers are exploiting a loophole in the zoning code to build supertall towers, Crain's reports—constructing non-livable space on the lower floors, which don't count toward allotted square footage. To wit: Joseph Beninati, who is planning to build a controversial 1,000-foot tower on Sutton Place, is doing so by sticking mechanicals on lower floors.
The landlords of a Riverside Drive apartment building are suing an occupant for refusing to follow exterminators' instructions to eliminate a bedbug infestation in his apartment, and hence, they claim, allowing a "severe" situation to intensify, DNAinfo reports.
Alas, Lenox Lounge appears to be really and truly dead, according to Gothamist. The jazz bar closed in 2012, but there have been hopes and whisperings of its reopening ever since. But Vanishing New York's recent visit found the place boarded up with a "for rent" sign in the window.
No longer dead: the ground-floor of the Starrett-Lehigh building, which will be getting a multi-million renovation to become retail space, after landlord RXR persuaded Verizon to relocate, Crain's reports.
Despite de Blasio's trumpeting of a deal to reduce their number, the matter of horse carriages is far from closed, The New York Times reports.  "Pedicab operators chanted "one-term mayor" outside City Hall, demanding to know why Mr. de Blasio had included a stipulation in the deal that bans them from operating in the tourist-heavy lower section of Central Park. A group of carriage drivers held a defiant rally at a packed Midtown stable, denying that they had agreed to a deal. Their protests were interrupted briefly when Spartacus, a stately Percheron draft horse, got spooked, sending bystanders scrambling."
A Park Slope brownstone asking $4.6 million has been transformed into a Wes Anderson-esque pop-up store selling notionals like avant-garde candy and perfume, according to DNAinfo. The owners hope, of course, that this will double as a helpful sales boost.
Meanwhile, nationally… college towns are getting posh new housing, but it's not for the students, The New York Times reports. Of Philadelphia's University City, they write: "The Market Street apartments are among roughly 2,000 residential units that are planned or have recently opened in University City and are aimed at young professionals and graduate students."