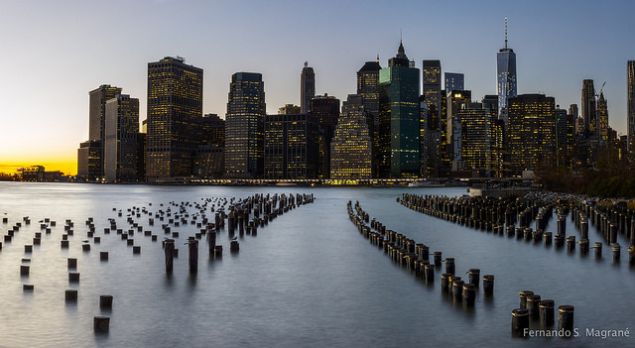 Nordstrom is of the opinion that the 400,000-square-foot retail space at its eponymous Extell tower will not be sufficient for its needs and is planning to lease 43,000 square feet at nearby 3 Columbus Circle for a stand-alone department store, Crain's reports.
As though the lines aren't usually daunting enough at the Park Slope Food Co-op, the member-run grocery store had its biggest sales day ever the Friday before the snowstorm, moving $238,764.19 worth of goods, DNAinfo reports. This led, of course, to a situation that even the most dyed-in-the-wool regulars found challenging: "a throng of shoppers grew so thick on Friday evening that the co-op was forced to activate crowd control measures. Customers were given laminated, numbered cards and told to wait upstairs until their number was called for their turn to shop."
Slate is moving its offices from the West Village to Jay Street Metrotech, according to Advertising Age. "We're following our staff—New York's creative class no longer lives in Manhattan," a spokeswoman explained in an email. The question of course, is how much longer they'll be able to afford to live in Brooklyn.
The city is looking for a developer to tear down much of the Tenth Avenue between 40th and 41st streets, which is to be replaced with hundreds of apartments, some retail space and a new 150,000-square-foot development for non-profit Covenant House, which was formerly on the site, according to Crain's.
Also being razed are four retail buildings at 23-33 Park Row in the Financial District, clearing the way for developer L + M to build a project that could top 200,000 square feet, The Real Deal reports.
Meanwhile, preservationists are peeved at the de Blasio administration's plan to use a historic 143-year-old building along the West 86th Street transverse in Central Park for horse stables, DNAinfo reports. "Locals are rejecting the plan not just because of what it would do to the historic building and the displacement of the tradespeople currently working there, but because of the appropriation of a public space for private use, they said."
The Brooklyn Bridge Park Corporation is hiring an international engineering firm to replace the long-closed Squibb Park Bridge and suing its original designer, MacArthur genius grant award winner Ted Zoli, The New York Times reports.
Five days after the snowstorm, bicyclists are getting antsy that many bike lanes still haven't been cleared, DNAinfo reports.