This story has been updated to reflect comment from Robert Zimmerman.
Steve Israel's decision not to seek re-election has set up a predictable feeding frenzy to replace the 8-term Congressman in the Long Island swing district. One of the names that has emerged is that of Robert Zimmerman, a Democratic National Committeeman from New York.
Mr. Zimmerman, in addition to owning a name soaked in rock n roll greatness, is a partner at a Great Neck-based PR firm named Zimmerman/Edelson. The firm's past dealings with the Port Authority, that sprawling patronage mill that also sometimes allows commuters to travel from New York and New Jersey, may complicate his path, even as he's been mentioned among those best positioned for the nomination.
In the past, New York Democratic governors—first Eliot Spitzer, then David Paterson, and then current Governor Andrew Cuomo—had the PA hire Mr. Zimmerman as a public relations consultant, chiefly to help with extracting better coverage for the World Trade Center construction on issues including construction delays and cost overruns).
According to one former Port Authority insider reached by the Observer, "Bob didn't do much work; it was really a no-show contract." A current senior PA official, who declined to allow his name to be shared, told the Observer, "I am unaware of Robert Zimmerman or his firm's role with the Port Authority or what purpose his involvement might serve."
How these contracts come to be is part of what makes the Port Authority bureaucracy so difficult to reform.
The Port Authority has a contract with a PR/Advertising firm that was publicly bid. Korey Kay, a firm that has handled PR for the MTA, had it from 2005 until 2012 when it went to Burson-Marsteller. This was also bid, but according to the Observer's source, "it was bid with some fingers on the scale. Still, a top notch firm that did great work."
In a sign of just how politicized this process can be, executives from Burson-Marsteller actually met with Bill Baroni and David Wildstein, according to documents reviewed by the Observer. The two key New Jersey figures, who have become synonomous with the Bridgegate scandal, were formerly the deputy executive director and director of interstate capital projects at the Port Authority. It is widely understood that, as Gov. Christie's highest ranking appointees, Mr. Baroni and Mr. Wildstein were responsible for enforcing that New Jersey's political interests were well represented. This meeting came to light as part of a massive calendar dump that resulted from a Freedom of Information Act request originally filed by Ted Mann at the Wall Street Journal.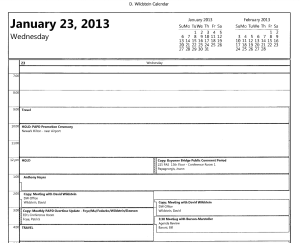 According to the source, the way contracts frequently worked, Port Authority executives often quietly directed their publicly bid PR firm to take on sub-contractors of their choosing. This way, people could get paid without having to go through procurement or even being on the Port Authority books. According to the source, this is how Mr. Zimmerman's firm was paid. The firm is hard to find in official Port Authority documents, though Zimmerman-Edelson displays the Port Authority logo on its clients page, amid other gold-plated names like T-Mobile, Verizon and Lockheed Martin.
Mr. Zimmerman did not respond to email and voicemail from the Observer by the time this story was first published. After it was published, he sent the Observer a statement: "Even though I am not yet a candidate for Congress, I am starting to feel like one with false stories being circulated and reporters writing them. In response to [t]his story, our firm's work is just the opposite of a 'no show.' A member of our team literally shows up almost every week at the Port Authority and performs specific tasks in marketing and communications. These tasks are documented in a monthly invoice and our firm is paid on a hourly basis. Zimmerman-Edelson is very proud of our work at the Port Authority, which is why it is highlighted on our website." 
Mr. Zimmerman declined to answer the Observer's direct query about whether Zimmerman-Edelson had been hired through the subcontractor maneuver discussed in this article.
The path from Port Authority to politics is a well-worn one, though not everyone seems proud of the association with an agency that has been enmeshed in scandal for the last two years.
Long Island Republican Congressman Lee Zeldin, for example, began his career as an attorney for the Port Authority. He was there briefly in 2007—he got the job under Gov. Spitzer—and resigned when he decided to run for Congress against Tim Bishop in 2008. His official bio does not mention his service at the PANYNJ.