In his sleek Soho office, Doppler Labs CEO Noah Kraft wouldn't stop smiling. Perhaps because he believes the tiny earbuds he holds in his right hand sound like a winner. Over the last two years, Mr. Kraft has assembled a team of musicians, product designers, physicists and engineers to create the Here Active Listening system, which he promises will "change the way you hear the world." With his patents and intellectual property in place, Mr. Kraft believes no one has ever created anything close to these buds. We're inclined to listen.
For years, audiophiles have tinkered with the digital settings on their various devices to, say, raise the volume of old recordings or lower the bass on a dance track. But by applying the concept of sound editing to daily life, Doppler offers its customers the ability to selectively hear everything, via sliders and presets on a smartphone; a screeching subway, a crying child on an airline, or a loudmouth, yammering co-worker can suddenly be lowered to a tolerable volume—or silenced altogether.
Mr. Kraft called in the company's music director Michael Thurber, a renowned composer (The Erklings, Antony and Cleopatra) and current bass player on the Late Show with Stephen Colbert. Both noted that musicians, given their discriminating ears, serve as the perfect field testers of the product. Early adopters of the Here Active buds, which will ultimately retail for $249, include Hans Zimmer, Quincy Jones, Mark Ronson and Tiesto, who also happen to be investors in Here Active.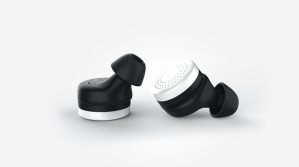 "If this product has audio fidelity that's high enough for the music consumer, that's gonna be a pretty good bar," Mr. Kraft said. "This is a benchmark moment for us," added Mr. Thurber. "And not to be overly dramatic, but I think it's kind of a benchmark moment, period. There's truly nobody else doing this."
The next evening, Mr. Thurber led an interactive demonstration at the new, state-of-the-art performance space National Sawdust in Williamsburg. It was the first time that anyone outside of Doppler Labs tested the technology, and Mr. Kraft worked the room to remind everyone that kinks are not only O.K., but expected. Doppler wants to know what needs tinkering with because its software can always be updated and improved.
Mr. Kraft wants to grow organically, learning from the Google Glass flameout: "If you create tech and don't think about the cultural implications, the chances of it imploding are pretty high."
"I don't even like the term 'augmented reality,' " Mr. Kraft said. "We're 'enhanced reality.'"
Doppler's embrace of culture was evident among the privileged few that evening. With our buds in, acclaimed violinist Tessa Lark played a strolling concerto, weaving between guests tinkering with the sliders on the Here app. Guests tinkered with presets and sliders on the smartphone app with zero latency delay (the amount of time it takes sound to travel from its source to our ears), the Carnegie Hall preset transforming her already-impressive performance into something else, fortifying Ms. Lark's instrument with a vast echo that sounded as if we actually were in the famed concert hall. While the range of keys that the next act, jazz pianist Kris Bowers, hit was quite impressive, with Here audience members could put emphasis on the lower or higher register, isolating a specific musical phrase.
In a city of high culture and mixed acoustic spaces, this tech could be essential. For the patron in nosebleed seats, performances can be adjusted in real-time to sound front-row-center pristine. There are limitless applications for Doppler's tech—they'll make powerful hearing devices for everyone from the hard of hearing to journalists at a loud press conference; they'll help musicians mix and control their recording process live and in the moment; they'll help people with headaches tune out the frequencies that aggravate them most—and Mr. Kraft knows it.
"I don't even like the term 'augmented reality,' " he said. "We're 'enhanced reality.' What does it mean to be present? Audio is something really precious and special to each of us. I want to say, 'What is your flavor, what is your taste? Use this to get there.'"
Please read about The Next Big…
Marshall McLuhan or L. Ron Hubbard