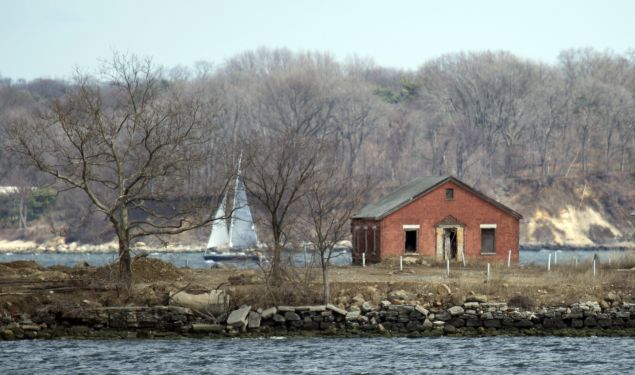 Hart Island, the stocking-shaped land mass at the mouth of Long Island Sound, is the city's potter's field: the place where New York's unidentified or indigent dead are buried in mass graves. Approximately one million New Yorkers have been interred on Hart Island's mile-long stretch since the 19th century: from Civil War soldiers stricken with cholera to the first infant victim of the AIDS epidemic. Like Roosevelt and Randall's Islands, Hart also housed a workhouse, an insane asylum, a hospital and (more unusually) a Nike missile test site. Like Governors Island, it has picturesquely decayed historic buildings, a verdant tangle of native plants and spectacular views of the city waterways. Alongside City Island, it serves as the gateway beyond the Bronx.
But unlike these islands, Hart is off-limits to the general public—for a reason that is almost as gothic as the island's grisly past. Hart Island is managed by the Department of Correction, which employs Rikers Island prisoners to bury New York's unknown dead.
Converting this potter's field into a park would honor a long New York City tradition.
"This is the New York City family tomb," laments Melinda Hunt, the president and founding director of the Hart Island Project, as she describes the "secretive" lockdown conditions on the island under DOC management. To combat this secrecy, the Hart Island Project has been galvanizing the family and friends of people buried on the island to share their stories and give voice to these previously silent graves. Thanks to Ms. Hunt's project, the Department of Corrections now allows relatives of the dead (in many cases, the mothers of stillborn babies) to make brief visits to the island—but only in the company of a prison escort. Outrage at this insufficient, even inhumane, level of access has led to a City Council bill to transfer management of the island to the Parks Department.
That would be a step in the right direction—and also a quintessentially New York one.
Parks built on potter's fields are every New Yorker's birthright: Bryant Park, Madison Square Park, and Washington Square Park have all served as cemeteries, and Fort Greene Park still contains a vault with the remains of Revolutionary War soldiers.
New York City is a dense archipelago: we honor our dead by living with them, whether we know it or not. "You can't expect a prison system to care about history," Melinda Hunt suggests. But we can expect our elected officials to do so.
There is no better way to honor our nameless neighbors than by returning their resting place to vibrant life.