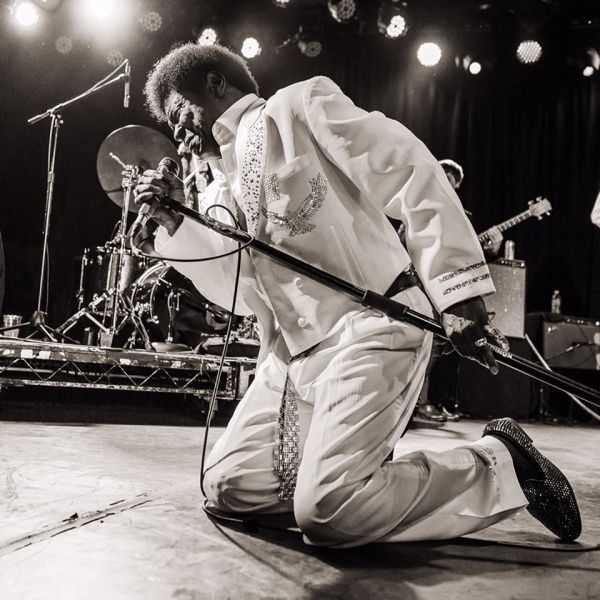 We're just weeks into 2016 and already it's been a crazy year for music.
With David Bowie's tragic ascension into the cosmos, there is a void that can't be filled. But if the outpouring of tributes, stories, songs and memories around Bowie show us anything, it's that his knack for self-reinvention was not lost on the musical community at large. To the contrary, the albums we're most excited about this year find artists trying new things, refining their skills and sounds to create works of art that they also hope will reverberate in the spheres. With his requiem, ★, Bowie created a living artifact of his ultimate transformation. And with many of the artists on this list, a similar wide-angled universality creeps in—the need to document our time and place on this planet, our shared triumphs and failures, and everything else that tells the story of our collective, human experience. Here are the artists that we'll be listening to, doing just that, in 2016.
Fat White Family, Songs For Our Mothers (1/22 on Without Consent)

[youtube https://www.youtube.com/watch?v=YKNt_qq6N7o]
"Some people will call Songs For Our Mothers the most unpleasant album of this year, if not of their entire generation," reads the press release for FWF's second LP,  "the work of a bunch of drink and drug wracked nihilist degenerates. But it is likely that few who hear it will walk away from the second album by the Fat White Family, released on their own label Without Consent, not caring one way or the other." They're not wrong—while first album Champagne Holocaust was a crusty and grimy garage record, Songs keeps the attitude but mixes up the sonics—there's some krautrock, psych and balladry, often happening at the same time.
Underneath all the debauch, is there a good record in there? Time will tell. When Fat White Family first took to NYC, storming venues with countless shows and even a residency at Baby's All Right, exposed penises and body fluids were commonplace. A crustpunk recently told me that the band was fed up with the rigmarole of our fair city, though, saying NY wasn't dangerous enough to get what the band was all about. Whether or not this depravity is all a shtick, it's definitely a fascinating one to experience.
Tortoise, The Catastrophist (1/22 on Thrill Jockey)
[youtube https://www.youtube.com/watch?v=7ArKJ5k1Vnc]
Any music nerd or audiophile you know is likely psyched that Tortoise is back—granddaddy of all the post-rock bands (think Explosions in the Sky, Mogwai, Sigur Rós, Swans, etc.) After receiving a commission from the city of Chicago, Tortoise were reportedly asked to write music "rooted in its ties to the area's noted jazz and improvised music communities." What we've got with The Catastrophist is their first LP since 2009, and those who like to truly zone out and dig a whole album are better for it. Seriously, go listen to Millions Now Living Will Never Die right now. Just trying to help.
Ty Segall, Emotional Mugger (1/22 on Drag City)
[youtube https://www.youtube.com/watch?v=i9cY3Rj2tWM]
Glam/psych/grunge/punker Ty Segall never slows down—he released three albums in 2012, two in 2013 and another two in 2014. He's a producer, too, and a part of seven bands. What's most intriguing about Emotional Mugger is the gimmick around the release, though. The album was originally teased by label Drag City on VHS, and that same week Ty launched a website with some cryptic video explaining the concept of "emotional mugging," and a crusty sounding video of his band playing a new tune wearing creepy baby head masks. Is this a return to his earlier scuzz? Despite not having heard any tracks or any real advance buzz, the hype is strong, because, well…Ty Segall. The Bowie force is strong with this one.
Sunflower Bean, Human Ceremony (2/5 on Fat Possum)

[youtube https://www.youtube.com/watch?v=8RplDJ08s8Y]
DIIV may have a new record coming out this year too, but it's the psych/grunge pop of youngsters Sunflower Bean, who frequently open DIIV shows, that's getting the most hype. When their debut LP drops next month it follows a steady stream of singles, EPs, blog buzz, and glowing adoration that so far seems well deserved.
Kanye West, Swish (2/11 on G.O.O.D. Music)
[soundcloud url="https://api.soundcloud.com/tracks/241018700″ params="auto_play=false&hide_related=false&show_comments=true&show_user=true&show_reposts=false&visual=true" width="100%" height="450″ iframe="true" /]
After a bizarre string of singles designed to coincide with his Adidas sneaker launches and fashion week/Saturday Night Live appearances, this will be the album that lets the world know just how firm of a grasp on reality Yeezy has these days. He's been releasing songs every Friday for the last two weeks (a la My Dark Twisted Fantasy's rollout) in addition to those singles. All things considered, things have been hit-or-miss so far. "All Day" and "Real Friends" sound fresh and fiery, while "Facts" is just an autotuned boastathon with a funny line about Bill Cosby. Will "All Day" even make the album? Who knows. But apparently Yeezy rapped the whole thing a-capella for Seth Rogen in a limo, and Rogen said it rules.
Animal Collective, Painting With (2/19 on Domino)
[youtube https://www.youtube.com/watch?v=cuoIvNFUY7I]
If you weren't crazy about how all over the place Animal Collective's last album, Centipede HZ was, don't fret—word is that the new songs from everyone's favorite psychotropic tribal mystics are direct and to the point. Guitarist Deakin sits out this time around (and reportedly finally finished his long-delayed solo LP), while the rest of the Co seem pretty dead set on making a tight, trippy pop album. The first single "FloriDada" does the trick quite nicely, and will likely soundtrack many an Art Basel Miami to come.
Mavis Staples, Livin' On a High Note (2/19 on Anti-/Epitaph)
[youtube https://www.youtube.com/watch?v=qJuMX2uTGYQ]
The undisputed queen of soul-folk, gospel and activism has had something of a late-career resurgence since 2010. She's always been around fellow music legends hankering to produce her records (Prince, Ry Cooder) and with that voice, can you blame them? But in 2010 she released You Are Not Alone, produced by Wilco's Jeff Tweedy, and it was a revelation. Mr. Tweedy went on to produce One True Vine in 2013, and now alt-folker M. Ward is on deck. If this promising single is any indication, we'll all be going to church with Ms. Staples this year.
TEEN, Love Yes (2/19 on Carpark)
[youtube https://www.youtube.com/watch?v=vJM6VTUpKGw]
When TEEN opened for Arcade Fire's Will Butler last march at Bowery Ballroom, the all-girl pop group surprised everyone. Their songs are knotty, often implementing challenging tempos and time signatures that shift and surge, but retain a grace and effortless cool nonetheless. Picture Zappa fronting a dream-pop band and you start to get the idea. "Tokyo" is the first song on their third LP, and sums up what they're about quite well. With the right promotion and exposure, TEEN is going places. Full disclosure—my girlfriend kind of has a crush on the bassist.
Doug Tuttle, It Calls on Me (2/19 on Trouble In Mind)
[soundcloud url="https://api.soundcloud.com/tracks/240662417″ params="auto_play=false&hide_related=false&show_comments=true&show_user=true&show_reposts=false&visual=true" width="100%" height="450″ iframe="true" /]
I had the pleasure of meeting Mr. Tuttle in 2010 during a wild show thrown at my loft off of the Montrose L train. He was in the band MMOSS at the time, and they ascended the walkup with all their gear in tow quite gracefully. Then they bought us pizza. He's doing the solo thing now on the awesome Trouble In Mind Records, and from what I'm hearing this second LP promises to be just as awesome as his first—full of sincerely trippy pop, psychedelic and heartbreaking all at once.
Wild Nothing, Life of Pause (2/19 on Captured Tracks)
[youtube https://www.youtube.com/watch?v=2XVwA4XCDeM]
I'll be the first to admit that I wrote off Wild Nothing upon catching them at a major summer music festival a couple of years ago. The sound was blown out, the songs sounded artificially anthemic and the whole show seemed like just more of the same, vaguely unique hipster bullshit. That might have just been the gig, though, and big festival shows seldom sound good. Whatever the case, Life of Pause sounds fantastic and complex, to the point where I question my rush to judgement. The record dips into R&B, psychpop, jazz, you name it—immaculately arranged with a level of care and composition reserved for composers, not singer-songwriters. Principal songwriter Jack Tatum has clearly spent a lot of time letting these songs evolve and develop, and the resulting record is something that should stand the test of time.
Quilt, Plaza (2/26 on Mexican Summer)
[youtube https://www.youtube.com/watch?v=P2Wu0fbWMCE]
Like Doug Tuttle, Quilt are Bostonians who eclipse every stereotype of New Englander, townie bullshit. They've been putting out records since 2009, and when I saw them open for the wonderful Fresh & Onlys at Music Hall in 2012 they kept the whole room at rapt attention. Plaza succeeds because it's a deceptively simple record, full of songs that seem to start in a conventional place before morphing and evolving into pop gems. Echoes of Wilco and Stereolab, dreamy, strummy and trippy in warm, clean, paisley strums.
Prince Rama, XTREME NOW (3/4 on Carpark)
[soundcloud url="https://api.soundcloud.com/tracks/236526900″ params="color=34f043″ width="100%" height="166″ iframe="true" /]
Since they left the Hare Krishna commune years ago, the sisters Larson write pop songs that sound like someone dosed Madonna and left her in the wilderness, which isn't a bad thing in the least. Their performance-heavy shows become straight-up dance parties, and this latest LP imagines a future where extreme sports are the normal means of self-expression. I don't get it, but their earlier albums are so good, it doesn't matter.
Flatbush Zombies, 3001: A Laced Odyssey (3/11)
[soundcloud url="https://api.soundcloud.com/tracks/241426651″ params="auto_play=false&hide_related=false&show_comments=true&show_user=true&show_reposts=false&visual=true" width="100%" height="450″ iframe="true" /]
This new single from the trippy Flatbush rap crew samples Bone Thugs, and much like fellow neighborhood MC Joey Bada$$, the Zombies are confident enough in their abilities to wear influences on their sleeves. They've been crushing live sets, releasing EPs and mixtapes since 2010, so this proper full-length is definitely riding the hype wave. If it's good, expect them to be the next huge festival-ready rap crew.
Charles Bradley, Changes (4/1 on Daptone)
[youtube https://www.youtube.com/watch?v=xi49yirJiEA]
Mr. Bradley, the Screamin' Eagle of Soul, came out of nowhere a few years ago when his persistence at Brooklyn's Daptone Records elevated him from his role as a James Brown cover singer to a bonafide international sensation. That voice will make you cry, and this Black Sabbath cover rules. Such is the power of this man's voice and message that he may one day actually heal the world.
Woods, City Sun Eater in the River of Light (4/8 on Woodsist)
[soundcloud url="https://api.soundcloud.com/tracks/241511581″ params="auto_play=false&hide_related=false&show_comments=true&show_user=true&show_reposts=false&visual=true" width="100%" height="450″ iframe="true" /]
When Woods release their ninth LP on their own label this April, they further evolve the sparse psych-folk sound that's grown increasingly more electric and poppy, taking that sound someplace strange. The press release said something about Ethiopian jazz and a bunch of other influences from all over the place, which could just be too obscure for its own good. But Woods know what they're doing, and its the production on this one that truly shines, so let them reference Sun City Girls all they want, I say. They've sure come a long way since that Graham Nash cover (Ed: which still rules).
UPCOMING TBD 2016
Radiohead
[youtube https://www.youtube.com/watch?v=JgpyF6PDrEw]
If their last two releases are any indication, Radiohead is coming back without a moments notice, and their new one could drop at any second. At least that's what everyone is saying, seeing as how they always incorporate a company around the imminent release of a new album (and did again last October with Dawn Chorus LLP.) Cool way to own your own content, eh? After the DMT visions and  polyrhythms on King of Limbs, where do you possibly go next? I'm hoping for some serious astral projection, like "Music from the Spheres," Sun Ra kinda shit. But these new songs Mr. Yorke played at the Climate Change summit in Paris sound good, too.
El Guincho, Hiperasia
[youtube https://www.youtube.com/watch?v=CdnHR6dmB6E]
This Canary Islands songwriter/producer has been on the weird tropical pop/electronic tip since 2007's awesome Alerganza!, but since Pop Negro, he hasn't released an album in six years. That's about to change this year. We're still waiting on details (like a release date and hopefully, tour dates).
LCD Soundsystem
[youtube https://www.youtube.com/watch?v=9SONSErnYBM]
When LCD broke up in 2011 after a long, drawn out final tour and Madison Square Garden blow out, everyone cried cash grab. And here we are in 2016, when they're headlining Coachella, releasing new music and going on a huge tour. Little is known, but it's enough to get excited over. Surely, the world is better off with James Murphy continuing to channel Steven Malkmus and Morrissey through his jilted, existential brand of electronica.
The Cure
[vimeo 64520704 w=500 h=350]
There are currently no announcements for Robert Smith and his rotating band of morose minstrels releasing new music in 2016. BUT with the massive tour they're plotting for this year, including headlining sets at festivals like Sasquatch, there has to be something in the works, right?
Tool
[youtube https://www.youtube.com/watch?v=Mtk5seU3t0s]
Tool offered a sludgy reprieve from the glut of 90-2000s alt-rock, and James Maynard Keenan knew it. His music was always artier, more layered and intricately composed than that of his heavy contemporaries. Word is we'll see some new Tool at some point throughout the year, and for legions of alternative metal heads, that is a very good thing indeed.
Nine Inch Nails
[youtube https://www.youtube.com/watch?v=0kzYqUOqFsc]
Trent Reznor has promised new NIN this year, too. The same folks excited for Tool are in for a year of heavy, angsty fulfillment.
Run The Jewels (3?)
[youtube https://www.youtube.com/watch?v=BEOximWoFd0]
Though RTJ's second LP came out in 2014, it blew up this year—largely propelled by wonderful live sets, Killer Mike's prominent public speaking on politics and the Black Lives Matter movement, and the fact that the record totally fucking rules. That track posted above became the anthem of every hip-hop fan begrudgingly working for the man, and Killer Mike promised a third album sometime this year. No telling if 2016 will be as breakthrough of a year for hip-hop as 2015 was, but if we get another RTJ record, things are looking up.
Moving Sidewalks
[youtube https://www.youtube.com/watch?v=tZP3yTjYNHw]
Did you know that Billy Gibbons of ZZ Top fame used to play in a psychedelic band? It's O.K. if you didn't, they broke up in 1969. They reunited in 2013, though, and late last year Mr. Gibbons let loose that he'd brought the Sidewalks into a studio to rerecord and some proper new material emerged, too. Here's hoping we get to hear some of it this year, eh?
Gorrilaz/ The Good, The Bad & The Queen
[youtube https://www.youtube.com/watch?v=nhPaWIeULKk]
Is Damon Albarn bored or just restless? Though Blur's U.S. shows this year were widely celebrated by adoring fans of the britpop institution, he seemed like he was just going through the motions (the motions of grabbing for cash). Nonetheless, he can write a song or two. We were excited to here that Gorillaz were back in the studio last year, and can't wait to hear what's next since 2010's eco-conscious Plastic Beach. Mr. Albarn also said he's got an album's worth of Good, Bad and The Queen songs to record (his band with Tony Allen from Fela Kuti's band, Simon Tong from The Verve, and Paul Simonon from The Clash).
Lush
[youtube https://www.youtube.com/watch?v=jSgYHzACvMI]
Lush were always different from the other great British shoegaze acts, a little dreamier, poppier and more compositionally daring. They're Coachella's big shoegaze reunion this year, and word is there's a new album in the works, too. Phil King, who plays bass with the current lineup of The Jesus & Mary Chain, is also back. No doubt such dalliances with other legends will inform the songwriting process.
Holy Fuck
[youtube https://www.youtube.com/watch?v=11TfqRwPjBA?list=PLD25E3C74CA22D1A4]
This Toronto dance band always made the bulk of its samples live, using film run through processors to create scratching sounds, coupled with guitars and drums that always brought a warmth to the music distinct from everything else. Seeing them in a cramped Cambridge, Mass., Middle East upstairs in 2005 was a revelation about what live dance music can sound like, and the fact that they've got new music coming out this year is something to be excited about. All we've got now is this cryptic video, though. Natch.
Operators/ Moonface w/ Sinnai
[youtube https://www.youtube.com/watch?v=ABJhJylXEhk]
We hopefully won't be mourning the indefinite hiatus of Wolf Parade for long, and thankfully all members of that Montreal band are keeping busy. The two frontmen, Spencer Krug and Dan Boeckner, are both involved in other projects now, and both have imminent new releases for 2016. Dan Boecker's synth-dance act Operators killed at KEXP's set curated Iceland Airwaves lineup late last year, playing songs that drip with danger, sex, groove and feeling. Spencer Krug fortified his solo moniker Moonface in 2012 when he released the epic Heartbreaking Bravery, backed by Finnish prog band Sinnai. Word is there's a new Moonface/Sinnai collaboration in the works this year. If you haven't heard either of them, get on it and thank me later.