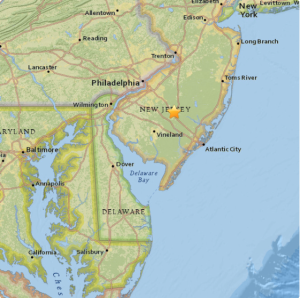 Around 1:30 p.m. today, residents in Southern New Jersey reported feeling shaking. Within the next hour, residents in Amityville, Long Island, Staten Island and Southeastern Connecticut also reported feeling the shaking. Some people called 911 over what they believed was an earthquake, leading police in multiple towns to urge residents to stop calling 911. Others took to Twitter to ask if there was an earthquake, leading to the hashtag #sonicboom.
Turns out there was no earthquake, and The United States Geological Survey (USGS) soon revealed it was actually just a sonic boom. According to NASA, a sonic boom is the thunder-like noise a person hears when an aircraft flies overhead faster than the speed of sound.
The USGS said that the boom originated from an aircraft flying near Hammonton, New Jersey, and assured NJ residents that the last major earthquakes in the United States in 1737 and 1884.