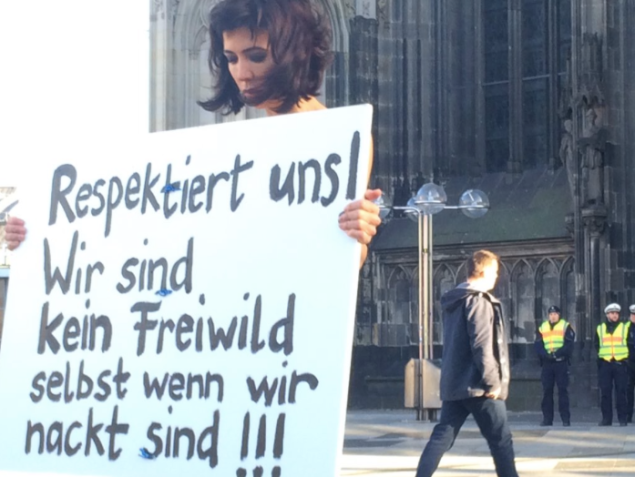 Swiss nude performance artist Milo Moire has unveiled a new piece in Cologne, Germany, possibly her most serious to date.
Today she stood naked in near freezing weather in front of Cologne's cathedral, only partially covered by a sign reading, "Respect us! We are not fair game even when naked."
The artist is well-known in her native country and is famed for a series of artworks, done over the last several years, in which she is nude. For example, she once tried to gain entrance to the Art Basel fair with the names of pieces of clothing written on her body, but was denied.
In Cologne, Ms. Moire was protesting, and drawing attention to, a frightening wave of sexual assaults on women that happened at the nearby train station on New Year's Eve, but was also responding to the Mayor of Cologne Henriette Reker's recent comments that urged women to "keep men at arm's length" in order to prevent further assaults.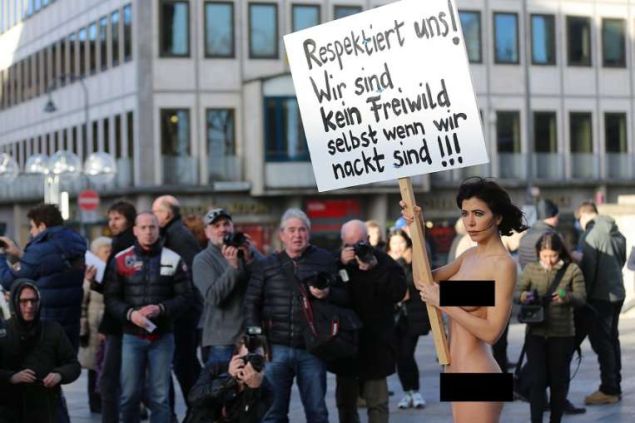 "As a woman I want to take a stand that women should not keep down but should rise up and be self-confident to advocate their rights," Ms. Moire said to the Telegraph. "It is also an outcry that as a woman, I will not let someone tell me what I am allowed to do… it is a matter of course we have worked for the past 50 years that I can live as a woman the way I want to, in freedom. This is why I stand here today."
In connection with the attacks, two men were arrested today and the police announced they are "of immigrant background." Video recordings of the attacks were found on the men's cell phones, and one of the men was allegedly carrying a note in German and Arabic with phrases such as "Beautiful breasts", "I want to have sex with you" and "I'll kill you".
The rash of attacks is being seized upon by opponents of Germany's pro-refugee stance. The country took in nearly 1.1 million asylum-seekers in 2015.
Since the beginning of the new year, a stunning 113 women have reportedly filed complaints of sexual assault in Cologne.  Attacks have also been reported in the nearby towns of Dusseldorf, Hamburg, Frankfurt and Stuttgart.
Police say they have identified 21 suspects from video footage, most of whom are still at large.