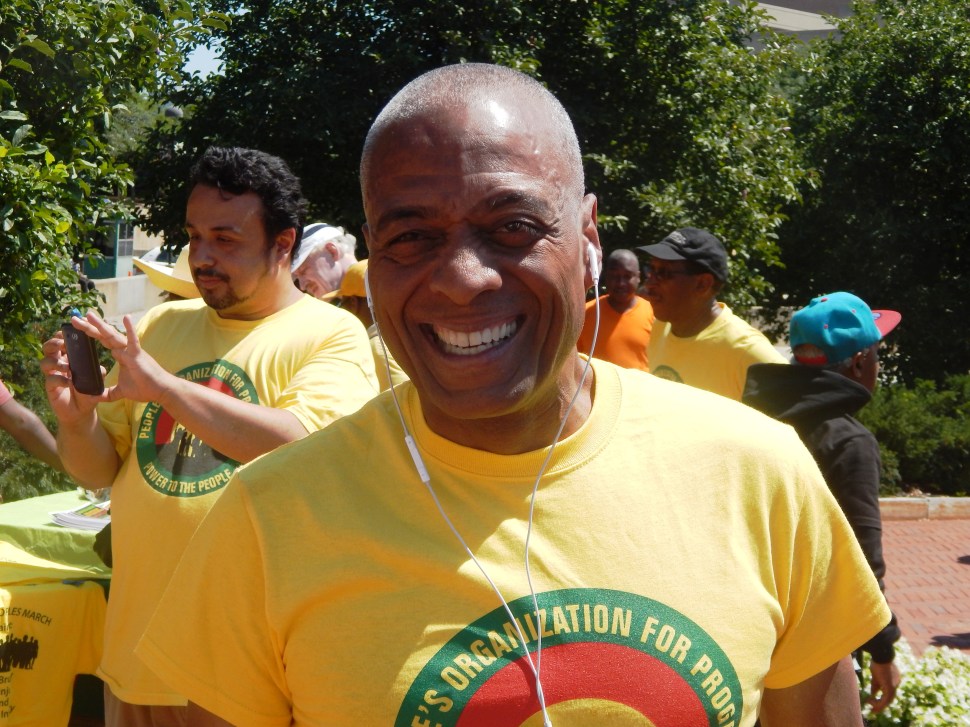 The People's Organization for Progress (POP), a grassroots political operation led by veteran activist Larry Hamm, has endorsed Bernie Sanders for president.
"We've been having this discussion since the summer," Hamm told PolitickerNJ.
The endorsement by the Newark-based political organization lands amid discussions about Sanders's inability to date to demonstrate deep impact organizing in urban areas and with Black and Latino voters.
The Vermont senator has turned what looked like the inevitable presidential candidacy of Hillary Clinton into a dogfight, as he has clawed over the course of the past month to within five points of the former secretary of state in Iowa.
While Sanders appears in command in his neighboring state of New Hampshire and its February 9th primary, he appears at least to date to be at a disadvantage in South Carolina and those southern states where the Clintons hope to tap longstanding ties to Black voters.
Sanders's state director embraced POP's endorsement.
"I welcome the support of the People's Organization for Progress and its leadership for Bernie Sanders' presidential campaign," Assemblyman John Wisniewski (D-19) said in a statement. "It is part of a wave of support and enthusiasm that I see and feel from people all across New Jersey and who reflect the full diversity of our multi-cultural, multi-ethnic state.  In speaking truth to power and standing up for struggling Americans, Bernie's message is resonating with all who want to restore a true democracy in our country, where every person's voice is equal regardless of your background or the size of your bank account. POP and its members are joining a movement for change in America and I'm proud to have them by my side in the struggle."
In July, PolitickerNJ asked Hamm at an anti-violence rally if he intended to support Sanders – who has consistently run to Clinton's left in the Democratic Primary.
"I'm not ready to go there yet," said Hamm, a longtime ally of Newark Mayor Ras Baraka, who supports the candidacy of Clinton.
POP's decision today to support Sanders over Clinton indicates a widened footprint for the senator here in New Jersey, where he has not filtered with any significant resonance into New Jersey's cities. State director for the Sanders Campaign, Assemblyman John Wisniewski (D-19) has argued all month long that Sanders would gain ground with minority voters, and POP's endorsement supports his argument.
"I still believe a lot of women are going to vote for Hillary," Hamm told PolitickerNJ. "There is a section of women who want to vote for the first woman president. A lot of people in the black community are saying they will vote for Hillary. But you'd be surprised. There are people in the black community who say they back Bernie Sanders."
In its 33-year history, POP has rarely issued political endorsements.
The organization backed Barack Obama (twice) for president, and Ras Baraka for mayor of Newark.
And now Sanders for president.
"We've been discussing it for months," said Hamm. "We've been discussing it at the leadership level; the steering committee at POP. We have a general assembly and everybody who's a member has been having these discussions. There was a super majority that voted for Sanders; clearly three-fourths. Twenty-percent voted against him. I would say the majority of members will accept or support the organizational position and vote for Bernie Sanders in the primary."
Hamm said the progressive aims of the Sanders Campaign and POP's agenda mirror each other perfectly.
It was hard to resist.
"All you had to do was start watching the debates," he said. "This was not a reflex decision. Nobody argued hard for Hillary Clinton per say. There were strong arguments about not endorsing anybody."
Hamm acknowledged Sanders's struggles to date to build support in urban communities, specifically with Black and Latino voters.
"It did come up and it will continue to come up, but the fact remains that many of his basic positions will benefit black people," said the activist. "Single payer healthcare, raising the minimum wage, affordable college, rebuilding crumbling infrastructure. Although those specific platform planks may not be addressed specifically to African-Americans, black people know that they will benefit from those things."
POP has around 300 dues-paying members and over 2,000 supporting members.
"Our effort is going to be to generate interest and activity in the urban community," aid Hamm. "We will try to support other events. Bernie Sanders now becomes the symbol of those things we want. We will launch voter registrations drives, coordinating with Black History Month in February, meetings and rallies to draw out people to work for Bernie Sanders, and we will attempt to do this in conjunction and in cooperation with the Sanders Campaign."