While a pair of madras trousers might display one's daring sartorial choices, they also communicate another bold statement—namely that the wearer lives beyond the basics. Since he obviously has an already hearty selection of garments in solid tones, he is at liberty to venture into the realms of pastel and plaid, we might once have thought. Now though, the hallmarks of preppy dressing—bold colors, kitsch characters and wild patterns—are being injected into the everyday wardrobes of those who may not have the storied lineage (and bank accounts) of an iconic preppy family such as, oh, the Kennedys. Preppy has gone mainstream.
In True Prep, the 2010 reprise of The Official Preppy Handbook, first released 1980, author Lisa Birnbach notes, "It just so happens that almost anyone can assimilate into our world of prepdom. The desire to be prep is the most important factor." Over the past decade, said "desire" has grown rapidly, and morphed into an aspirational style beyond the must-haves—a navy blazer or repp tie—and into the delightfully wacky weekend items now creeping into everyday wardrobes.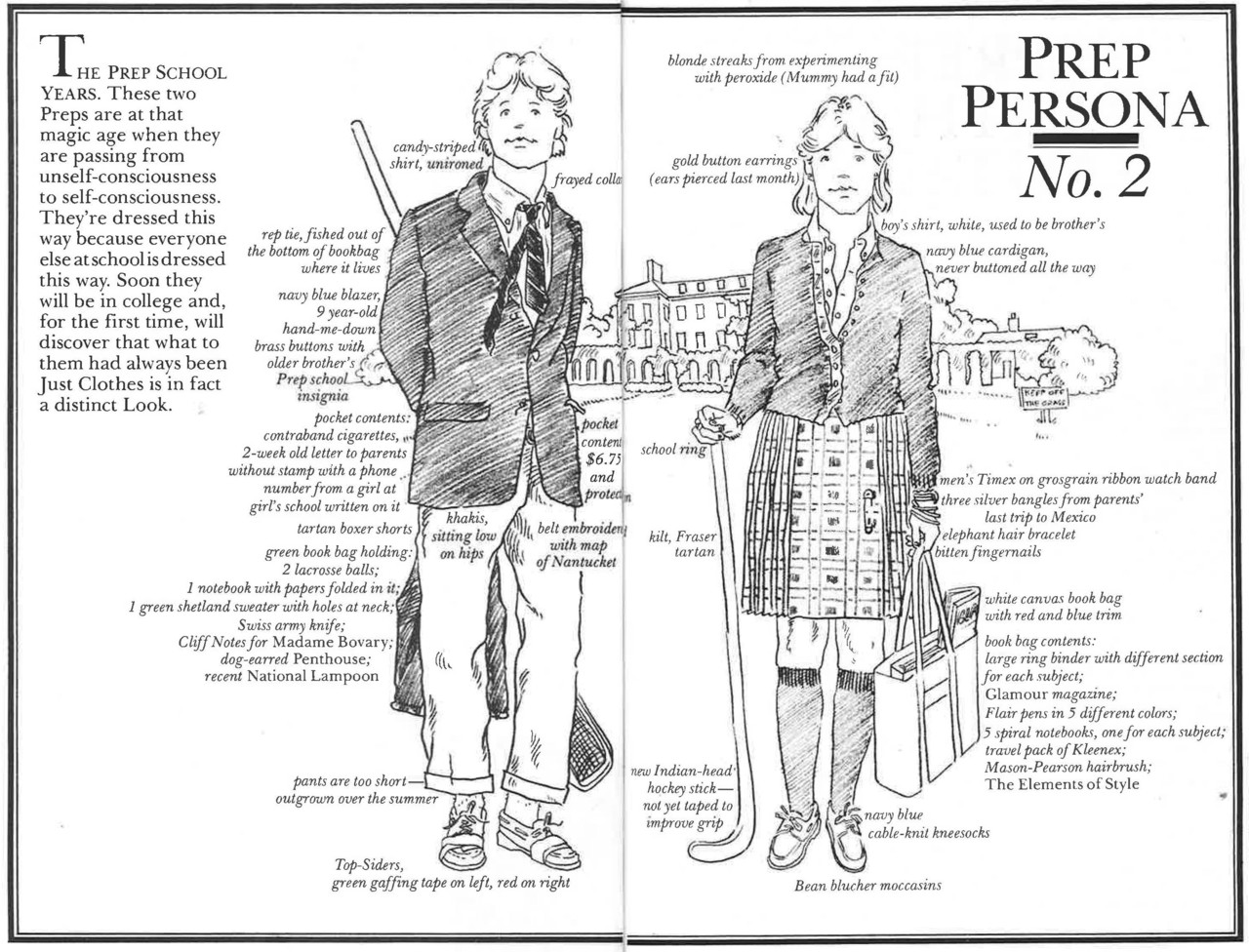 "The look that used to be worn strictly on weekends and holidays is now going into the office," Ms. Birnbach told the Observer during a chat over the phone. "(Preppy) Weekend wear is making its way to the office and the working day has changed. It may be four hours at a desk, then a coffee place or drinks for a meeting. It's not an eight-hour, sit-at-your-desk day necessarily."
The result is an ensemble that toes the line of rebellion. "You're finding more patchwork and whimsy day-to-day," she added. "I've seen women wearing Lilly Pulitzer at the office, and guys during the summer wearing Bermuda shorts with a shirt and tie. Ten or five years ago, you wouldn't have seen that. Maybe in Bermuda for the weekend, or for cocktails in Newport, but not on Madison Avenue or Hudson Street—and especially not on the trading floors of Goldman Sachs (GS)."
The clothes are fun, bright and never too serious, and Ms. Birnbach credits one company in particular, Vineyard Vines, for leading the charge.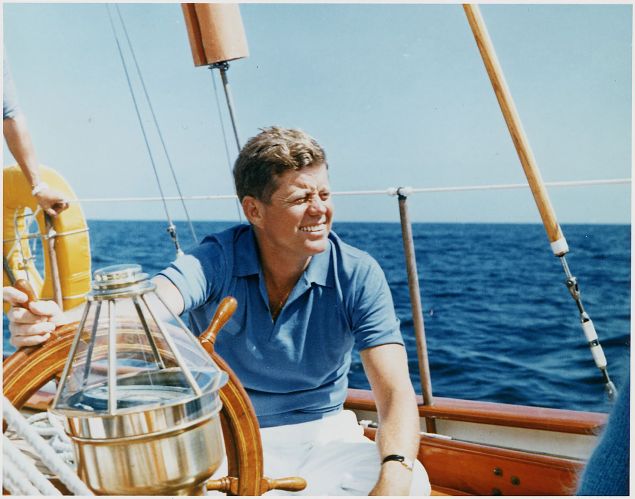 To Shep and Ian Murray, the founders of Vineyard Vines, the stuffy prep look has lost its relevancy. "What we've really been doing for a while now is contemporizing preppy with not only fit, but also by fabrication," Shep Murray said during a chat at the Vineyard Vines headquarters in Stamford, Conn. It has rightly been dubbed the "preppiest" office in America. Each of the office's four floors is themed to reflect a different beach destination the brothers are fond of, and employees, while not required, are dressed in head-to-toe Vineyard Vines. "We take performance fabrics—stretch, polyester, wicking—and put them into classic styles. So you're able to look preppy, but also relevant in today's world."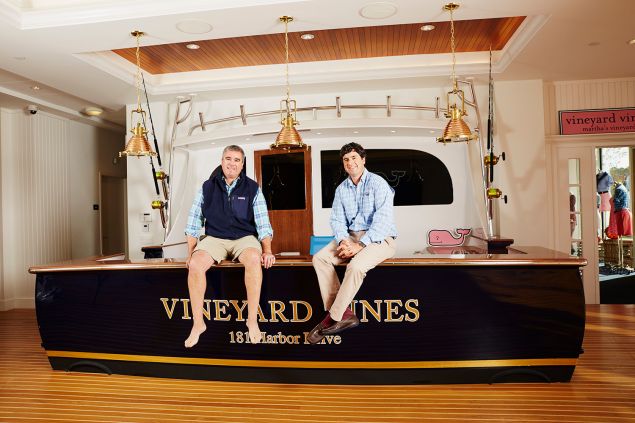 After quitting their jobs almost simultaneously in 1998, the brothers began selling ties out of the back of their Jeep on Martha's Vineyard. The two were some of the first entrepreneurs to transform the narrative of "quitting their office gig" into an ingenious selling tool. Ironically, they would be quitting to sell ties to the suckers still in the office, but the idea surrounding each tie's design was their narrative of workplace escape. "The tie is taking you to a place that you want to be, and I think that's very, very relevant," Shep Murray said, holding a handful of ties on the coffee table in their office. "If you look at these, you see cheeseburgers, palm trees, fish, anchors, sailboats. It's about where people want to be. It's a state of mind and it's why we do what we do." 
They have now moved beyond ties, and harnessed that state of mind to produce product for nearly every other imaginable category of dress known to man. "On every single hang tag on the ties it used to say, 'We invite you to take your relaxed state of mind with you whenever a tie is necessary,' " Shep Murray recalled. "So we made ties for the first seven or eight years, but then we thought we should help people dress for the good life, rather than bringing the good life to work with them, and that's what we've done."
Along the way, the Murray brothers have gained celebrity status with prep fans. Shoppers at their flagship store on Water Street ask for selfies, and the two remain on a first-name basis with most local establishments in the area. However, Ian Murray admits that his true moment of "making it" did not come until he and his brother landed a spot in Ms. Birnbach's True Prep. "The fact that you open the new Preppy Handbook, and there's a big page on Shep and Ian, and we're alongside iconic brands like Polo and Brooks Brothers is just awesome," he said. "Brooks Brothers has been around for almost 200 years. These are centuries-old brands, and the fact that we're even in the same sentence as them is a real honor." Now the boat shoe is on the other foot as these centuries-old brands race to cater to this new idea of prep. In particular, Brooks Brothers now produces the slim-fitting Red Fleece diffusion line, seeking to win the younger customers who are not in need of a three-piece suit.
"They have kept prices on the modest side, so there's something inevitable about Vineyard Vines at this point," Ms. Birnbach admitted during our chat. "As a parent it's exactly how you want your kids to dress."
While the brand maintains a stronghold as the one-stop shop for a new prep look, there is a slew of other niche apparel companies seeking to capture a piece of this lifestyle that has emerged beyond a trend.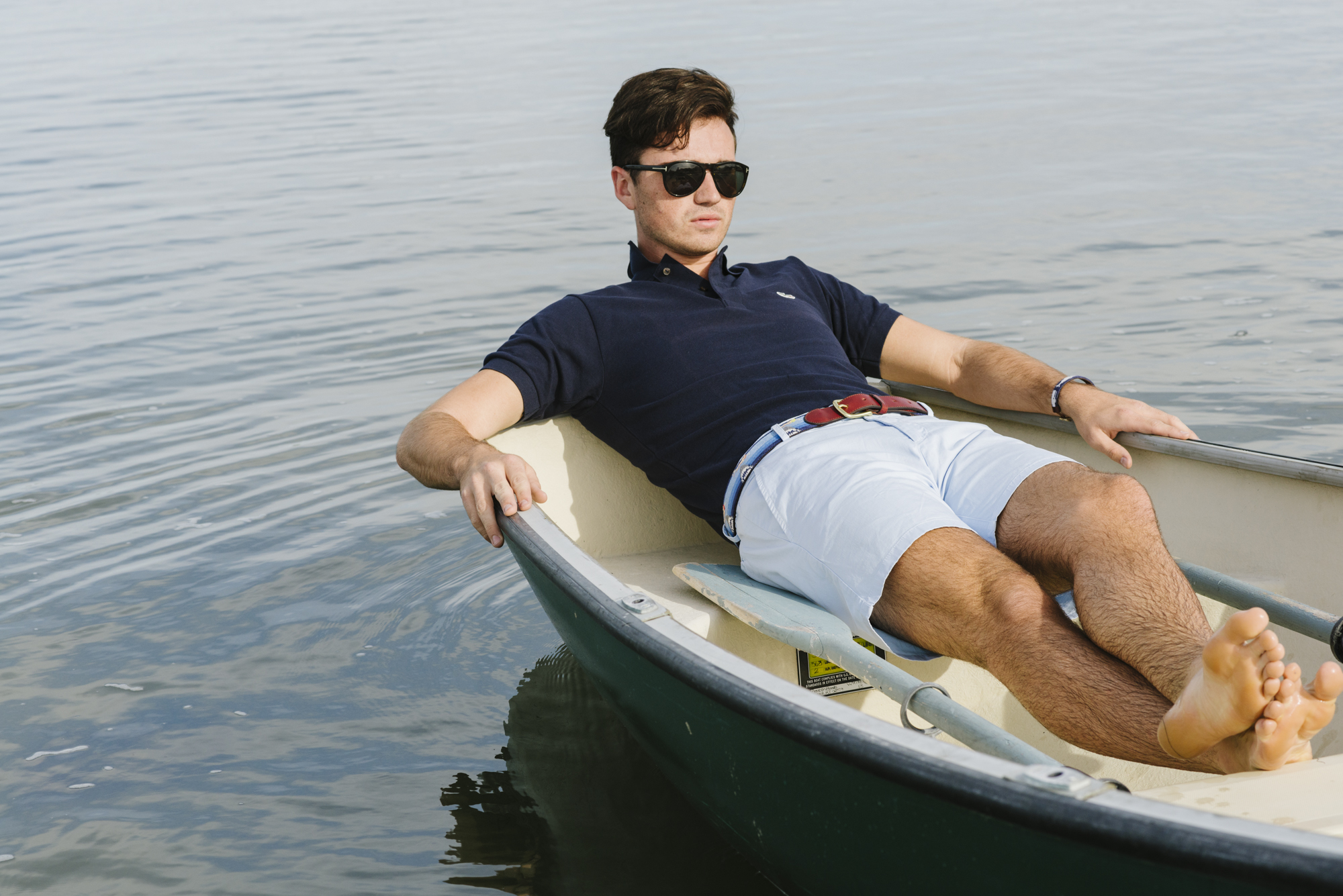 Other prep stars include Tucker Blair, the needlepoint belt company founded by Taylor Llewellyn in 2008. Seeking to commercialize the painstakingly hand-stitched belts, traditionally made for men by their girlfriends or wives, Mr. Llewellyn sold the brand for an undisclosed sum to Matthew Tara in 2013, who has expanded the company to now include flip-flops, wallets, flasks and even "croakie" sunglasses straps, all of which retail for under $240.
Pierson Krass of Krass & Co. sells exercise shorts in pastel hues with side panels covered in lobsters, sailboats and anchors for $45. Nantucket Buckets, founded by three classmates at the all-boys Avon Old Farms School in Avon, Conn., has reimagined the utilitarian fisherman's cap in vibrant colors. The hats retail for just $25.
Catcher In The Rye's Holden Caulfield may have been the original rebel prepster, but he would shudder at the thought of a needlepoint belt purchased online, or a pair of workout shorts that weren't his tennis whites, or a cap that didn't commemorate his win in the 12-Metre Regatta. Thanks to Vineyard Vines, the preppy landscape has changed for good.