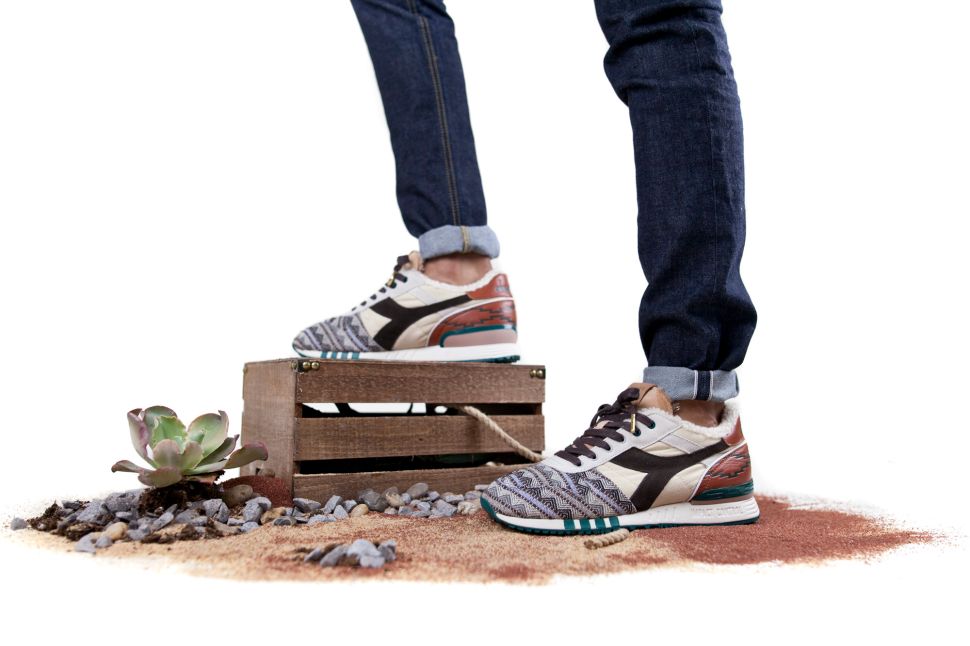 Fashion and film have always had a love affair with each other, but the latest wacky release from sneakerhead mecca Extra Butter doesn't draw its inspiration from the played out classics. Instead, the Spaghetti Western genre brought this fun footwear to life. "It's a movie genre from the '60s that yielded American-style Westerns that were filmed in Europe and directed by Italians," Extra Butter's self-proclaimed "Creative Problem Solver" Bernie Gross explained at a dinner celebrating the shoe's release. "These films are what took someone like Clint Eastwood to the level of international star, and gave Westerns a global following. One of our favorite directors is Quentin Tarantino too, and he's never been shy from expressing admiration and credit to Spaghetti Westerns." 
The Extra Butter x Diadora "Spaghetti Western" Titan, set to be released this Saturday at Extra Butter's Lower East Side outpost, gave the Extra Butter team a chance to show their love for film. The resulting design is a smattering of fabrics and textures, including a fleece lining, and a toe fabric inspired by a cowboy's poncho. All together, the mixture toes the line between stylish and absurd. 
The release was initially teased to the sneaker-obsessed masses last week with the video below, although it has been in the works for over 18 months. "Diadora being an Italian brand, and taking pride in its top tier products crafted in Italy, compelled us to look into Spaghetti Westerns," Mr. Gross added. "Our first design featured a different pattern in the toe. Something more transparent of the iconic poncho Clint Eastwood wears, but when we received the first sample it just didn't wow us like we wanted to. The great thing is that Diadora already anticipated this and had preemptively produced an alternative version with a different sourced woven textile. It was a no-brainer that we were going with that. That's a true collaboration. We both brought ideas to the table." The kitschy kicks will retail for just $160, but with a limited stock available, we advise you get in line sooner than later.