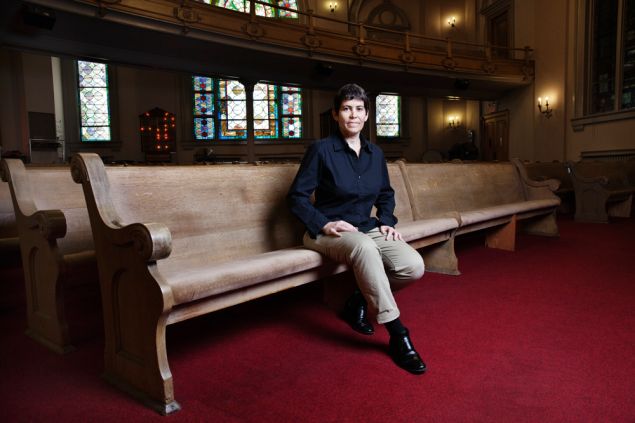 When revered rabbi Andy Bachman announced that he would step down from leading Park Slope's Congregation Beth Elohim, there was a collective feeling of grief among synagogue members. Mr. Bachman was a beloved presence at Brooklyn's 155-year-old Reform temple, whose high-profile congregants include the novelist Jonathan Safran Foer and several New York Times reporters. During his nearly decade-long tenure, Mr. Bachman transformed Beth Elohim into a socially conscious community hub, doubling its membership while establishing several charitable endeavors.
But when Mr. Bachman left last summer to join the 92nd Street Y as director of Jewish content, his former synagogue found a worthy replacement in Rachel Timoner, previously associate rabbi at Leo Baeck Temple in Los Angeles. Though Ms. Timoner has a big pulpit to fill, she is suited to run Beth Elohim, given her extensive background in community organizing, local government and nonprofit consulting.
Ms. Timoner, who is 45, with short brown hair and a warm, welcoming smile, describes herself as a "second-career rabbi." Before her 2009 ordination, Ms. Timoner acknowledged she was a disaffected Jew. She worked for the San Francisco supervisor Harry Britt, who succeeded Harvey Milk. For 14 years, she served the Castro area—starting, among other initiatives, an LGBT hotline. "No one would have guessed I was going to be a rabbi when I was younger," she told the Observer recently at her book-lined office behind the sanctuary at Beth Elohim.
Eventually, a spiritual awakening brought her to the rabbinate. "I realized that Jewish life was deeply meaningful to me, and prayer and Torah study was going to be the engine," she said, adding: "I found that being able to combine Judaism's teachings around justice, around the obligation to care for the people who are at the margins of society, around poverty—that combination is very powerful."
Ms. Timoner put her skills to work at Leo Baeck, where, among other things, she helped found Reform CA, a coalition of Reform congregations throughout the state working to raise awareness on issues including affordable housing and immigrant rights.
Ms. Timoner, who lives in Park Slope with her wife and two sons, is eager to attack what she sees as the pressing issues of the day—poverty, racism, violence, deep inequality—with a kind of communitarian approach to Judaism. Outside the synagogue, she has already made connections with some of the city's most powerful change-makers, including Sen. Chuck Schumer. Last month, she stood next to the putative Democratic Senate leader at a press conference to demand that the Republican-led Congress make permanent tax credits available to working poor families. "The work we are doing at CBE isn't just exciting and fun—it is also urgent," she said. "It is necessary in this moment in a world aching for human kindness and moral vision."
In February, Toni Morrison will come to the synagogue, as part of its Brooklyn by the Book series, a program spearheaded by Mr. Bachman that Ms. Timoner plans to continue. Ms. Timoner, who is currently teaching a class on prayer in daily life, intends to use Ms. Morrison's visit as an opportunity to conduct a four-part study series on race in America, in which congregants will read and discuss a number of books on the subject, including Ta-Nehisi Coates' Between the World and Me and The New Jim Crow by Michelle Alexander. "The purpose of the study," Ms. Timoner said, "is to gain some clarity about how we can be most helpful in dismantling racism in America."
Ms. Timoner seems to view the temple as a sort of social organism that evolves over time. During Sukkot, she had a sukkah (a ceremonial hut) built on the sidewalk outside the synagogue on Garfield Place, with a vertical garden inside. She hoped the display would lure curious passersby into the sanctuary, and perhaps change the feelings of those who view the synagogue as a stodgy institution.
Ms. Timoner exudes a quiet, unassuming confidence that is evident both in conversation and in her candid sermons. A humble leader, she views Mr. Bachman's legacy as a thing to build on, not to erase. The stakes were high this past fall, when Ms. Timoner, in her first few months on the job, led the congregation through the High Holidays. She began the Yom Kippur service by apologizing to synagogue members for little things like not remembering their names and neglecting to tend to their needs as she adjusted to her new life, according to Jodi Kantor, a reporter at The New York Times and a member of Beth Elohim who was involved in recruiting Ms. Timoner.
"It was a deep, sincere, humble apology, and the fact that she was doing it as the leader of the congregation, and at the very start of Yom Kippur, and even in this position that she didn't have anything to apologize for, struck me as such a moment of leadership," Ms. Kantor said. "She's the opposite of the stereotype of the pompous rabbi."
"She's really pushed us beyond our comfort zone," said Rob Raich, the synagogue's treasurer and executive vice president, "to think about the world beyond us and to think about what community organizing means, but she does that in a way that's practical and that we can relate to, meeting you where you are, but pushing you beyond your boundaries."
"The idea," Ms. Timoner said, "is to surprise people with Judaism."
Please read about The Next Big…
Debut NovelistPodcast SaviorsOverdue MediumListening DeviceMarshall McLuhan or L. Ron Hubbard
Counterfeit BusterPolitical BattleLocal PolPublic SpaceOverrated Company