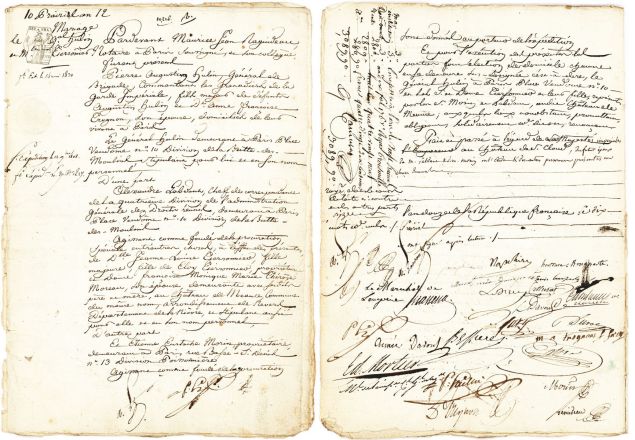 A New York autographs dealer is offering a rare memento for last minute Valentine's Day gift buyers who happen to have a few grand to spare and a Napoleon fetish.
From February 10 to 19, Lion Heart Autographs will be selling a marriage contract signed by two of history's most famous lovers: Emperor Napoleon Bonaparte and his first wife Josephine Tascher de la Pagerie.
Lion Heart has put a price tag of $20,000 on the document, which comes from a private collection, and boasts signatures by six of the French leader's top military officers, several members of Napoleon's family and French royalty.
"I don't think there is a person anywhere who isn't fascinated by Napoleon and Josephine's love story—a truly romantic couple joined together during a remarkable period in history," said Lion Heart owner and founder David Lowenherz in a statement.
The couple stirred controversy in their day for their age difference (Josephine was older than Napoleon by six years) and the fact that the empress was a widower with children. Rumors of infidelity swirled aplenty during the long separations they endured while Napoleon traveled on military campaigns, and the marriage was eventually annulled after Josephine failed to produce a male heir.
Another marriage license signed by the couple sold for an impressive $563,700 at a September 2014 sale by French auctioneer Osenat. That contract was purchased by France's Museum of Musée des Lettres et Manuscrits (Museum of Letters and Manuscripts). The country's National Archives holds a copy of the pair's own marriage contract, which has been in its collection since it was first signed in 1796.
Lion Heart's Napoleon-signed marriage contract will be on view in New York before it heads to the Palm Beach Jewelry, Art and Antiques Show for its Valentine's Day showing.