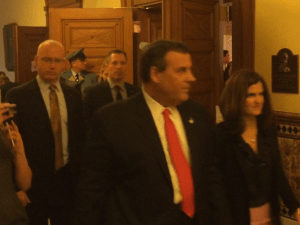 TRENTON — After an alternately sour and sympathetic state of the state address in which Governor Chris Christie attacked his state-level foes in the legislature while making impassioned appeals for a new drug rehabilitation center on the grounds of a former state prison, Democrats Vince Mazzeo (D-2) and Jeff Van Drew (D-1) said they were weighing each of the governor's recommendations on its own merits.
Though the governor's focus on new drug treatment policies and a new treatment center on the grounds of a former state prison resonated with the Atlantic City assemblyman and the deep South Jersey Senator, they had bones to pick with Christie's numbers and his ideas about how state government's accounts will effect everyday people.
"I liked that he talked about heroin addiction and about opiates," said Mazzeo. "I didn't buy the property tax, the 1.9%. The property tax programs are still fully funded, so it's skewed, his number, 1.9%."
Christie claimed in his speech that under his administration, the average yearly rise in property tax rates has gone from 7% to 1.9%.
Van Drew, who has long made his own arguments against the state's estate tax, said that Christie's message of deep tax reform appeals to him even as he has his doubts about Christie's proposed strategy of lowering the state's pension obligation before making payments against its liabliity.
"There's some really solid points that were made there," Van Drew said of the speech. "It is an abomination in New Jersey how much people pay in property taxes, and for that matter pension taxes.
But the center-right Democrat wouldn't go so far as to say that he supports Christie's assault on the pension system whole hog.
"With the pension, we did make a commitment," he said. "If indeed the system falls apart, and our pension system isn't solid and healthy, our bond rating changes and it gets diminished."
"If that happens, then the cost to the people of the state of New Jersey goes up," Van Drew added. "You wonder why there's an out-migration of people? There's an out-migration of people because it is too expensive to live in New Jersey."