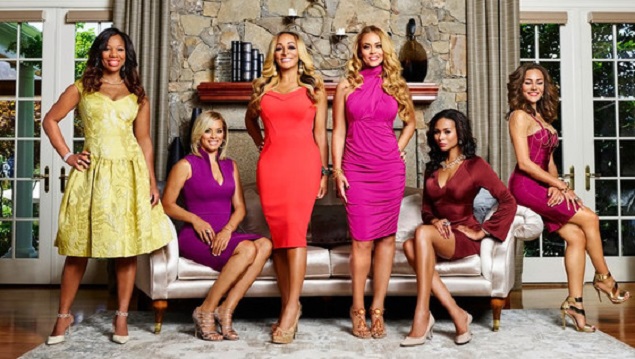 "We need new housewives."
"Well, I propose the Potomac."
No one else was in the room where it happened.
So, why are we in Potomac? I hate to be all John Adams but I'd like to officially petition for "Real Housewives of Boston." I also don't have a real job anyway. I'll sit down.
Let's get to know our key players, through their taglines, ranked from most to least iconic:
Gizelle, "The word on the street is that I'm the word on the street."
Charrisse, "If I don't know who you are, then you are not worth knowing."
Karen, "In Potomac it's not about who you know, it's who you are, and I'm everything."
Robyn, "I don't have a cookie cutter life, and I'm not apologizing for it."
Katie, "I'm a ball and gala girl. It's my legacy and my calling."
Gizelle is the best. Gizelle spits out one-liners, makes interesting hair choices, and exclaims, "l live my life by the rules of Gizelle and I do it damn well." She's an ideal housewife.
Let's balance that out with Katie and her gross boyfriend, Andrew. When Katie says she wants to go to the Preakness, he says, "Supporting me in my golfing ventures is definitely more important than you going to a horse race."
Katie bums me out.
Robyn is a self-described free spirit who works in PR because she, "would rather have fun at her job than walk around like a stuffy penguin in a law office." But Robyn's ex-husband still lives with her and the kids and they share a bed? Looking forward to exploring this situation.
So far all three women are independent divorcees. Awesome.
Now we meet Karen. Her husband Ray looks like a friendly dentist in a bright blue polo with an olive sweater vest but apparently he's "The black Bill Gates."
Karen says, "Not that money is everything, but I have not met a very happy poor man ever." Okay Karen, I see you. She also wears full ball gowns during her testimonials and I really appreciate that.
There's a lot of talk of wealth but I think all their kitchens could use an update. I would love to bring granite countertops into these women's lives.
Lastly, we meet Charrisse, who is planning a crab boil. She named her house "The Jordan Resort" and had her towels embroidered accordingly. Charrisse's husband is a basketball coach for Rutgers and lives in New Jersey, but she's pretending their marriage is working.
Gizelle comes over with her fun hairstylist to help Charrisse with the crab boil and we finally get some action this episode.
Oh wait no, we're back to Katie, who declares, "Andrew is so good with the kids!" and we see a series of shots of her kids totally ignoring him. Then she adds, "but what I love most about Andrew is that he is so good with money." Katie bums me out again.
WHEW! Back to Charrisse's house, where Charrisse gets contoured and a french pedicure in preparation for this crab boil. Gizelle is downstairs going through all her stuff because Gizelle is all of us and Gizelle is queen.
Gizelle and her hairstylist start yelling at Charrisse for no reason and go upstairs, which really upsets Charrisse. Once the party starts, Karen agrees, stating "who in the world walks around with the help at a private event?" Karen, you are being a bit harsh I feel.
Gizelle confides to Karen that Charrisse was a little rude earlier. Some meddling woman tells Charrisse that Gizelle said this and I don't appreciate it. The only pots that need to be stirred right now are the ones full of crabs. I have not seen anyone eating a single crab at this crab boil and I'm worried!
Karen does not care and instead, confronts Gizelle about sitting in the middle of the table at HER birthday party! Oh yeah, Karen had a birthday party and it was a real snooze.
So Karen gives Gizelle a gift: a framed print-out called "The Five Rules of Etiquette When Attending a Birthday Party." What a move. Touchdown, Karen.
Gizelle makes the point that Karen was late to the party, but Karen specifies that, "thirty minutes late is par for the course in etiquette." I have a lot to learn about etiquette but so far it seems like it's defined by whatever does and does not bother Karen.
Gizelle is not sorry that wherever she sits is, "the baddest place in the building."
Karen calls her ignorant a few dozen times. I'm starting to think the definition of the word "ignorant" is similar to etiquette.
FIN.
A cliffhanger after the first episode! I am officially on board a booze cruise down the Potomac. Add this to the list of thank you notes I need to send Andy Cohen. Bravo!