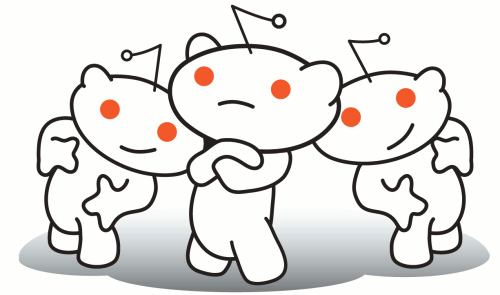 Last week this reporter reviewed Ask Me Anything, a new book of Reddit AMAs, and found that, despite some organizational problems, it was an engaging read that gave a good overview of the subreddit.
A survey of Amazon reviews of the book, however, shows that most other redditors were not nearly as kind.
The complaints start with the book's $35 price tag, which to some seems steep for a book that was basically copied off the Internet. One user calls the book "a last ditch effort to monetize the forum," while another refers to it as "a poor attempt at a cash grab."
But as several other comments point out, the Kindle edition of the book (which this reviewer read) is only $4.99, a small price to pay for avoiding the hassle of scrolling through Reddit. (The site's moderators are also only printing 10,000 print copies of the book, so sooner or later the Kindle version of the book will be consumers' only option.)
Those who did buy the hardcover book discovered an even bigger problem—it's a shoddily made product. One reviewer who's had the book less than two weeks writes that "the spine is already coming loose and the glue inside the cover is coming apart."  Another "inexcusable" formatting issue is that the page breaks are uneven, cutting off questions or answers. Finally, a couple of commenters (who admit they're "OCD") complain that the title of the book is printed upside down on the side binding, so it "looks awkward on a shelf."
One user has conveniently provided photographic evidence of all the formatting issues:

Other commenters turn their negative review of the book into a rebuke of Reddit as a whole. One big bone of contention is the way that Victoria Taylor, a former moderator of the r/IAmA subreddit, was treated by the company—she was fired last year after Reddit co-founder Alexis Ohanian decided he wanted more control of the page.
Ms. Taylor was the middleman between regular Reddit users and celebrities who participated in AMAs, and was well liked by the Reddit community—so much so that after her dismissal, the moderators of r/IAmA, along with 300 other subreddits, shut down part of the site.
The comment section for Ask Me Anything therefore becomes a mini eulogy for Ms. Taylor. One commenter complains that when "Victoria got fired, it all went downhill." Another hopes "Victoria gets a cut of the profits."
Finally, every Amazon product review page, like every AMA page, has its share of jokers. Several critics refer to Woody Harrelson's disastrous early AMA in their sarcastic reviews of the book, with one user literally just reviewing Rampart, the film Mr. Harrelson was promoting, instead of the book itself, and another pleading "Guys, can we just talk about the movie, please?"
At least Reddit users can agree on one thing: it's always safe to make fun of Woody Harrelson.