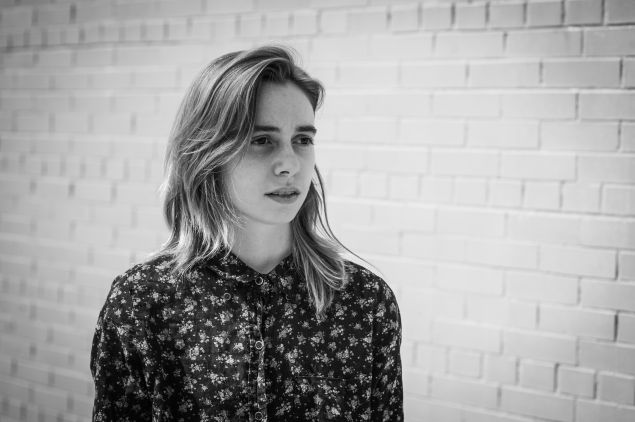 When you're speaking with Julien Baker, it's easy to forget she's 20 years old. She communicates about her music and her life with a humble confidence; she describes her favorite songwriters and the experiences she had as a teenager with as if she's written novels about them. "I want to speak well and be an intelligent person, but not to the degree of being condescending," says Baker. "I think I accrued a lot of experiences early on."
With an eloquence beyond her years, you'd be forgiven for wondering if Baker's ascension was the final act of some strategy, but it's an accident that her debut record took off at all. The Memphis singer never intended for the songs on Sprained Ankle to go further than Bandcamp. But the music gods had something else in mind for Baker. "I didn't plan any of this," Baker tells the Observer. "The fact that this album was released in a formal way was kind of contrary to how I'm used to releasing music, which is sadly limited."
Baker was used to performing in the band Forrister with her friends, but heading off to college allowed her the freedom to focus on writing her own music. Following a road trip with a friend and a recording session at Matthew E. White's Spacebomb records, Baker put the record on Bandcamp as she did with her previous work. Soon after, 6131 records asked Baker to pull it down so they could release and promote the record. Baker had never done a structured release—she was accustomed to sending a bunch of random emails and printing out handbills.
'I acknowledge substance abuse, doubt, fear, sadness and despair in the songs because they're real emotions that are worth talking about.'
However, Sprained Ankle triggered success for her within the indie music scene—something she never expected. "It's been a little difficult to acclimate to this world," says Baker. It's safe to say Baker's life since her debut LP's release has been a bit of a whirlwind—all the while simultaneously studying at Middle Tennessee University.
Sprained Ankle serves as a metaphor for a difficult period of Baker's life. Dealing with the emotional turmoil that surfaced from a romantic relationship and her separation from her band, the album title came from a joke as Baker's friends encouraged her to confront her pain. "When you're a kid and you scrape your knee or sprain your ankle, you have to walk on it to make it better, because if you coddle it, it'll stay sprained," explains Baker. "I was like, 'That's a great metaphor for my entire life right now—running head forward at pain to assuage the issue.' "
Listening to Baker's music, it's easy to think you've known her your entire life. Her words read like diary entries, which makes sense—the songs were originally just catharsis. It's a quality she learned from songwriting idols such as Death Cab For Cutie's Ben Gibbard, mewithoutYou's Aaron Weiss and Elliott Smith. Gibbard has been a particularly looming influence over Baker's lyrics. "When I heard the song 'Title and Registration,' it totally changed how I thought about songwriting because it's not overly poetic—he's having this very mundane experience getting pulled over having to get his registration out, and he sees pictures from an old lover or something," explains Baker. "All of a sudden it becomes this very relatable, human experience. Then it hurts you."
That sense of personal connection changed the way Baker thought about songwriting, influencing her to draw from her own life while shaping her music. Baker's experience with God mirrors that of Weiss—something she's reflected in her own music and lyrics. "He talks about God in a way that's not alienating," describes Baker.
Baker used that vulnerability as a template for recording as therapy: it wasn't an easy record to write, and it's certainly not an easy record to listen to, lyrically speaking. But Baker's heartfelt vocals shine through the confessions she makes about dealing with substance abuse, religious doubt and sadness. "I acknowledge substance abuse, doubt, fear, sadness and despair in the songs because they're real emotions that are worth talking about," says Baker of her album.
[youtube https://www.youtube.com/watch?v=wmGVIvf8Q6s]
Substance abuse plays an important role thematically on Sprained Ankle. "I wanna go home, but I'm sick/There's more whiskey than blood in my veins/More tar than air in my lungs/The strung out call I make," she sings on "Go Home." It's something that's easier for her to sing about, than speak about, but she does so with a refreshing raw energy. "To admit that substance abuse is something I've dealt with in my past baffles a lot of my friends and people I've met in the past few years because I'm always the DD, and I'm 100 percent sober," explains Baker. "It's something that was a very real issue for me and continues to be because when you have those experiences, I don't think they ever go away."  
It's that kind of unrelenting honesty alongside the intimacy of her guitar and haunting vocals that make her storytelling incredibly relatable and hypnotic. She's used Sprained Ankle as a catalyst to help better herself and help others who may have endured the same experiences. "Choosing to make yourself better and never addressing those issues does a disservice to other people who aren't there yet and prevents an open dialogue about [substance abuse]," says Baker. "I think it's necessary to acknowledge those parts of yourself."
Substance abuse, however, is just one of the topics she covers on Sprained Ankle. Through songs like "Rejoice" and "Go Home," Baker also sings about her trepidation when it comes to faith.
"One of the reasons why I became disillusioned with God early in my life is because people would be like, Just pray about it and you'll feel better,' " says Baker. "That's not necessarily how it works. I believe there's a God that's listening, but I think that we owe it to ourselves as people who believe in love and compassion to do more than a trite 'God is listening.' " For Baker, it's about really understanding someone else's struggle and journey.
Heavy songwriting and dark lyrics aside, Baker maintains a sense of humor about it all. "I saw someone recently, and they said, 'You quit drinking? You're not even 21 yet,' " says Baker. "I was like, 'I crammed a lot into a few years.' "
Julien Baker plays with Eskimeaux at Rough Trade in Brooklyn tonight.