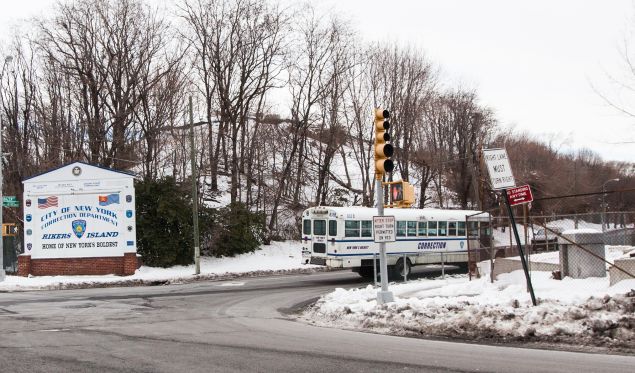 Mayor Bill de Blasio will spend more $100 million and staff the Department of Correction with more uniformed officers than it has inmates—all in an effort to turn the tide of rising violence at Rikers Island that he warned will still take plenty of time.
"It's going to take time. This is one where I am not promising people a rose garden. This is a tough, tough situation," Mr. de Blasio said. "But there is clearly progress and we're going to keep investing until we get it right."
Mr. de Blasio's preliminary budget proposal for fiscal year 2017, which begins on July 1, would increase the uniformed staff headcount at the Department of Correction by 542 new positions. That would bring the total headcount of uniformed staff to 10,220—more than the 9,913 inmates that were in Department of Correction custody this morning, at its jails on and off Rikers Island.
The civilian headcount will also increase with 255 new employees, bringing that total to 2,136.
While the population of the city's jails is lower than ever, there has been an increased focus on them, following news stories about brutality at the hands of correction officers, a rise in inmate-on-inmate violence, efforts to end or reduce solitary confinement and a federal lawsuit that alleged a "culture of violence" in the city's jails. But Mr. de Blasio was cautiously optimistic.
"It would have been better for the City of New York for these issues to have been caught, you know five or ten years ago, and for this issue to have been dealt with foundationally," he said. "But I am convinced that these initiatives are working."
The $100 million investment is split across two main areas: $58.3 million for staffing, training, and technology (that would include the increased headcount), and $41.3 million for the 14-point anti-violence plan rolled out by Mr. de Blasio and Commissioner Joseph Ponte last year.
City Hall cited several reasons for the large increase in staff. One is to accommodate several separate areas for specific populations—like the mentally ill or certain age groups—and staff them appropriately. The city will also have to meet officer-to-inmate ratios mandated by the settlement of that federal lawsuit, and needs to comply with other laws that require higher ratios for female and transgender inmates, and is seeking to address increasing overtime costs.
"From our adolescent and young adult populations to our mentally ill and female inmates, the Commissioner is focused on ensuring our specialized populations receive the supervision and treatment they need—which often requires higher staffing levels," City Hall spokeswoman Monica Klein said.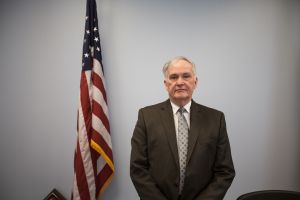 Norman Seabrook, the president of the Correction Officers Benevolent Association, the largest union in the department and a frequent critic of Mr. de Blasio's reform agenda, praised the mayor for spending money on the department and bringing it "into the 21st century."
"Let's just hope that those responsible for disbursing the funds do it in a way that ensures safety and security of everyone in our jails—from officers, to inmates, and civilians," Mr. Seabrook said in a statement.
Hiring this many new officers leads to a question: where to train them? The department currently trains in a mall storefront in Queens, something correction officers and City Council members have insisted is unacceptable for a department the city is working so hard to reform. Today's budget announcement did not include anything about funds for a new facility.
"In terms of the training academy, that is something we intend to resolve shortly," Mr. de Blasio said. "It certainly has to be resolved. We want to build a facility, but there's still a few more decisions that have to be clarified before we can make our final determination."
He said he hoped to have the matter settled by the executive budget later this year, news Mr. Seabrook welcomed.
"I certainly agree with the Mayor that a new academy for Correction Officers is something that should've been invested in 5 or 10 years ago. Unfortunately it was not and it is now his responsibility to make this a reality and ensure that our officers have the same state-of-the-art facilities of the FDNY and NYPD," Mr. Seabrook said.
This is the second year that Rikers Island has seen significant investment from the city in the budget plan, and despite continued problems there, Mr. de Blasio said he felt that the money and the new programs it is paying for were working. 
"We a seeing a return on investment. In some of the facilities where we've implemented these strategies, violence has gone down," Mr. de Blasio said.