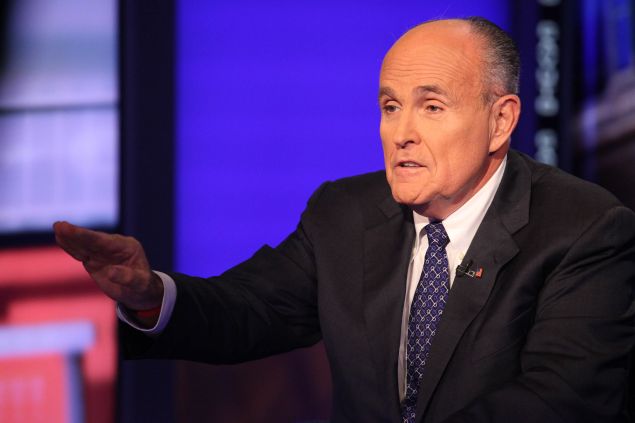 Former Mayor Rudolph Giuliani has a bit of advice for Republican presidential candidates like Ted Cruz: stop writing off the country's coasts.
"I remember some campaign years ago where they talked about sawing off the East Coast of America," Mr. Giuliani said today in a telephone interview. "We as a party, the Republican Party, cannot enter presidential elections constantly giving away the entire northeast and the entire far west."
Mr. Cruz, a Texas senator running for president, last week spoke disparagingly of opponent Donald Trump's "New York values." Mr. Giuliani, himself a one-time candidate for the Republican presidential nomination, has said Mr. Cruz should apologize. The former mayor said the Republican Party has made gains in places that were once Democratic strongholds—Massachusetts and Maryland have Republican governors, for example. And over the last 25 years, New York has seen two Republican mayors (former Mayor Michael Bloomberg ran on the GOP ticket before becoming an independent) and a three-term Republican governor.
"We're making inroads, and you don't make inroads by sort of characterizing people in such a broad way," Mr. Giuliani said.
If they don't make inroads, Mr. Giuliani said, Republicans will continue to be stuck in what he called "Republicans have to win one state presidential elections," which revolve around states like Florida or Ohio. 
Of course, Mr. Giuliani's objection to the comments went beyond his belief it's a poor political strategy—he deemed the line "offensive."
"When I think of New York values, I don't think of their political persuasion. I think of what kind of people they are. Are they good people or bad people? And to me, the people in New York are the best people in the world. They work hard, they strive for everything, they're extremely tolerant—and you can't mention New York without mentioning September 11th," Mr. Giuliani said. "I asked [New Yorkers] that night to be an example of strength to the rest of the world, and they were. Double the number of people live in downtown Manhattan now."
Mr. Giuliani said the city's political leanings are fair game, but its values are different.
"I thought that the senator made a terrible mistake in using the term values. If he wanted to talk about numbers and say New York is six-to-one Democratic and it has a very liberal outlook ok, that's true, that's a political fact," he said, though he noted those voters elected him. "Now, values start to get very personal."