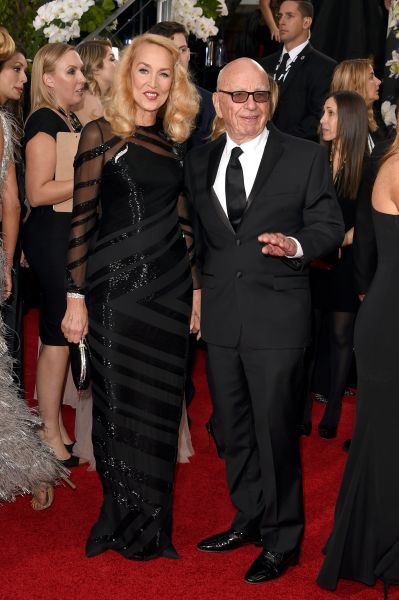 Media Mogul Rupert Murdoch and former supermodel Jerry Hall are engaged to be married.
After a whirlwind four-month courtship, the couple announced the engagement in the classified section of The Times, the British paper owned by Mr. Murdoch's News Corp.
"Mr Rupert Murdoch, father of Prudence, Elisabeth, Lachlan, James, Grace and Chloe Murdoch, and Miss Jerry Hall, mother of Elizabeth, James, Georgia and Gabriel Jagger, are delighted to announce their engagement," the announcement read.
It will be the fourth marriage for the octogenarian media mogul, who's divorce from Wendi Deng was finalized in 2013. At 59, it will be Ms. Hall's first official marriage, although the Texan had a decades-long relationship—and four children—with Rolling Stone Mick Jagger.
"They have loved these past months together, are thrilled to be getting married and excited about their future," a Murdoch family spokesperson told the Daily Mail. Gotta admire Mr. Murdoch's optimism. Most men his age aren't exactly running down the aisle. Then again, longevity may be in the genes. Mr. Murdoch's mother Elizabeth was 103 when she died in 2012.
The couple became engaged in Los Angeles over the weekend, where they made an appearance together at The Golden Globes. Mr. Murdoch seems to do well in LA, especially during awards season.
But even before he showed up at last year's Vanity Fair Oscar Party with a well-dressed date, the 84-year-old executive chairman of News Corp was the talk of that town. "You know, Rupert Murdoch is back on the market," New York Times reporter Brooks Barnes overheard one woman say to another in a West Hollywood bar in 2013, prompting Mr. Murdoch to actually tweet a story from The New York Times.
Well, now Mr. Murdoch is back off the market.