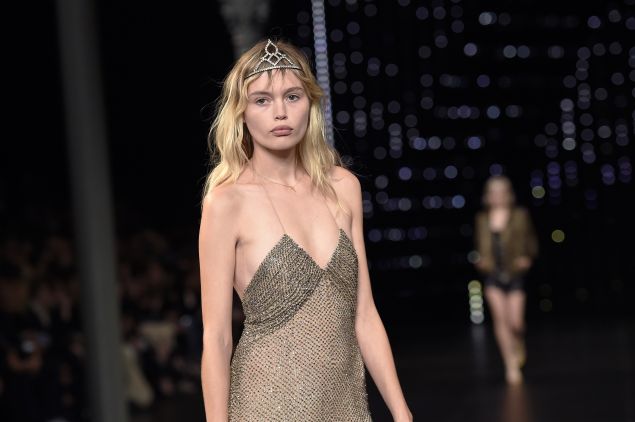 For Spring 2016, Saint Laurent's Hedi Slimane sent models in princess crowns and grungy gowns down the runway, in a Parisian fashion show. But this February, he is taking the show on the road (quite literally) to Los Angeles.
The French designer will be debuting a men's and women's fall show at the Hollywood Palladium on February 10, which falls just five days before the Grammy Awards. The threads on display will be a full fall collection for hommes and just part of the women's autumnal range; the rest of that collection will bow in Paris on March 7.
For Mr. Slimane, the location of sunny Los Angeles for a runway show isn't much of a surprise. After all, he has lived there since 2008 and operated his Saint Laurent studio from there since 2012, despite the brand's headquarters being located in France.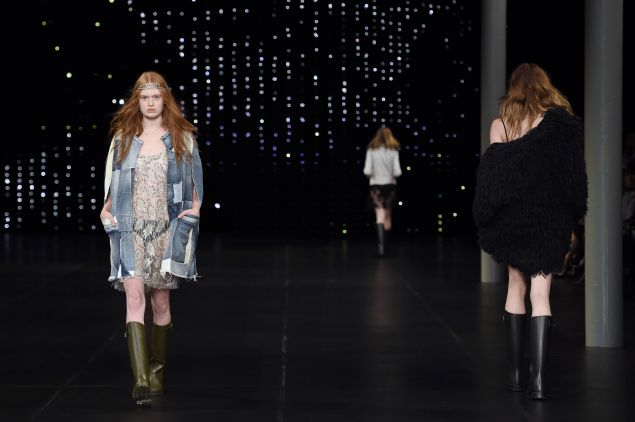 Further, the designer has eschewed models for musicians to star in his ad campaigns, time and time again. Courtney Love, Joni Mitchell, Marilyn Manson, Kim Gordon and Ariel Pink have all posed for Mr. Slimane and we have no doubt that at least a few of them will make an appearance at this forthcoming show.
While all of this is rather exciting news for West Coast fashionistas, it's not all smooth sailing at Saint Laurent. On January 4, rumors surfaced on The Daily Front Row that the designer might be exiting the brand, citing that the two were feuding over "creative differences." Saint Laurent's PR team denied this speculation.
But today WWD revived the speculation that Mr. Slimane is on the outs and that Anthony Vaccarello is the frontrunner to be his replacement. The young French creative currently operates his own eponymous range and is also the creative director at Versace's Versus label, where he works closely with Donatella Versace. Saint Laurent's press office once again remained mum, tellingWWD that the house "does not comment on rumors," but we wouldn't be surprised if this rumor becomes fact over the next few weeks.