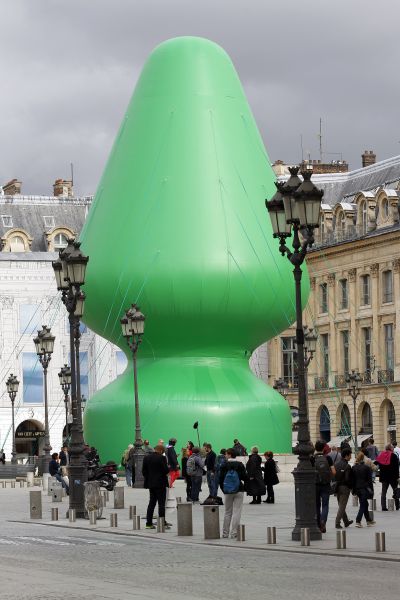 Paul McCarthy's 79-foot-tall inflatable green sculpture, Tree, will be shown at the third edition of the Paramount Ranch art fair on January 30-31. The sculpture was first shown at Paris' Place Vendome plaza in 2014, but was the target of conservative vandals that opposed the work for resembling a butt plug. The sculpture was deflated in an act of protest, and the artist assaulted.
Controversial sculptures from a series commissioned by the Field Museum in 1929 to depict the world's various "racial types" have been taken out of storage for the exhibition "Looking at Ourselves: Rethinking the Sculptures of Malvina Hoffman." The sculptures have long be thought of as problematic for representing outdated and since-disproven scientific ideas about race, but are now being reconsidered with new research today.
British artist Tracey Emin has begun venturing into designer jewelry in her newest work, and Guardian critic Jonathan Jones loves it. Here he is, waxing poetic about a gold penis charm on an Emin-and-Stephen Webster-designed bracelet: "This little luxury sculpture translates Emin's idiosyncratic drawings in to three dimensions without losing her sketchy freedom."
Chicago-based artist Tony Tasset's installation The Artists Monument, a series of "multicolored acrylic panels" featuring the names of 392,486 artists, is headed to the Windy City's Grant Park at the end of the month. The work was previously shown in New York's Hudson River Park for the 2014 Whitney Biennial.
A benefit auction at French auction house Artcurial has been canceled after the Israeli embassy issued complaints about an artwork in the sale that compared Palestinian politician Marwan Barghouti with South African leader Nelson Mandela.
Also in the New York Times: an exhibition at David Zwirner gallery in Chelsea examines Cuba's pre-Revolutionary art, and the nonprofit group the Easton Foundation will open sculptor Louise Bourgeois' West 20th Street townhouse to public tours this summer.