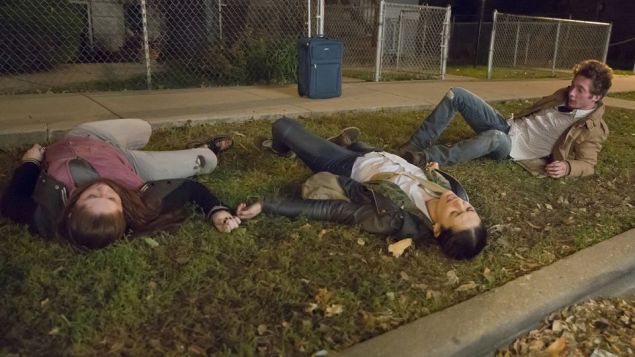 Now that the season premiere is over and the basic exposition is done, we can finally get into the nitty and the gritty with the Gallaghers. This episode had a lot of highs and lows so I'm going to most interesting to least interesting.
Let's start with the baby bombshell first because I really want to talk about this…FIONA IS PREGNANT.
I've always wondered if the writers were ever going to go down this road and I guess it was just a matter of time. I'm unsure as to how I want this to play out. Fiona spent the entire episode trying to convince Debbie to get an abortion (with no luck) and now she faces the same dilemma herself. She's spent the last six years as a pseudo-mother so I absolutely cannot blame her if she decides not to go through with the pregnancy. Not to mention, her once sober boyfriend, Sean, is sober no more. I know I waxed poetic in the last recap about how I think Sean is good for Fiona but THE TABLES HAVE TURNED. I'm not saying I don't think people can change or that addicts can stay sober…they absolutely can. It just doesn't seem like Sean is on that path. Granted, Fiona hasn't told him about the baby. Maybe that will straighten him out a bit, or worse, add to the looming stress in his life and drive him back harder to the needle. I just know that I want the Gallaghers to be happy and I feel like if she raises this baby with Sean, her history is just doomed to repeat itself. Fiona knows better than anyone what it's like to grow up with an addict as a father so that's why it really surprised me when *she* was so surprised that Sean used again. She's been down this road and should know better.
Now onto the second pregnant Gallagher. Debbie is absolutely adamant about not getting an abortion. Fiona tries to rally the entire family to convince her to no avail. Ian instead feeds into the idea that Debbie should be allowed to make her own decisions and Lip gently tries, but she still won't listen. Previously, Ian has been a good voice of reason in the family but due to the meds and Fiona's constant pestering, he's not himself. When he was talking to Debbie, it was clear that it was more of a conversation with himself. Which is a shame because if he was in his right mind, he may have been the one to convince her. Anyway, in an attempt to convince Fiona she's mature enough to handle a baby, Debs, straight out of a 90's sitcom, carries around a bag of flour in a onesie for a day and ends up leaving it on a train. Hoping to get some kind of validation, she seeks out the other teen moms in her school who do nothing but complain about being teen moms. As a last resort, she corners Derek's cousin (sister?) to see if she can find him. She finds out that it was actually Derek who wanted to go to Florida…to get away from Debbie. So what does Debs do? She starts packing a bag to go to Florida and find Derek.
Okay, truth be told, Debbie drives me absolutely bananas. She's immature, bratty, and angsty….oh right, she's fifteen. Every time I find myself rolling my eyes and wanting to slap Debbie through the screen, I have to remember that when I was fifteen, I was convinced I was going to marry Jason Mraz because an Internet quiz told me we were soulmates. Fifteen year olds are insufferable so congratulations to Emma Kenney for being the most realistic actress on this show.
Frank, still mourning the loss of Bianca, starts to tailspin in a most predictable Frank Gallagher way. In an attempt to get over Bianca, he goes to her hospital to burn everything he has of her's. Luckily, he's intercepted by a friend/coworker of Bianca's who remembers him. They share a meal and Frank tries to kiss her because he's an idiot. She informs him that Bianca was only with Frank because she was dying. So off to Oncology Frank goes! He finds a woman who is terminal and somehow convinces her to have sex with him on the train tracks. She calls Frank "selfless" for everything he did for Bianca and maybe in his most honest moment in six seasons, Frank says "I've never been a selfless man". Awwww! Anyway, she dies after Frank gives her some crack and he leaves the body by the tracks. He's nothing if not consistent.
Lip is still banging the professor even after he beat the shit out of her son. She jokes that Lip should murder her husband and then they could claim the life insurance. Lip's not sure if she's kidding and neither are we. Lip and her husband share a very awkward moment in the kitchen where the husband tells him that the only reason Lip is sleeping with her is because he allows it. Uh-oh! Looks like we'll be circling back to that!
Professor Ewins scores Lip an internship that seems incredibly promising and, of course, Lip resists at first. He won't work for free. And in the middle of all of this, he gets a call from Fiona begging for help with Debbie. And that's always been Lip's struggle, hasn't it? He's brilliant and meant for more than Southside Chicago but he's fiercely loyal to his family so at the end of the day, he will always choose them. He finally agrees to the internship but only so he can borrow Professor Ewin's car to talk to Debbie.
Carl's friend, Nick, is still around and the two are up to no good. Carl goes to local businesses and offers "protection" and collects his fee. In an incredibly misguided, sweet move, he offers Fiona money for Debbie's abortion and for letting Nick stay there. Oh, and he's also selling guns at school and kids are buying them because they're scared of school shootings. Fighting fire with fire.
Kevin and V's bar is absolutely thriving. After being named "The Best Shittiest Bar in Chicago" hipsters flock to the place. I'm so happy that they're finding success but it doesn't sit right. In the ultimate show of privilege, the hipsters are there to laugh at the locals and it feels weird. No one seems to mind though since business is booming and the barflys are getting free drinks. Svetlana is turning into quite the entrepreneur; even buying a barber's chair to give $30 straight razor shaves at the bar. I love her.