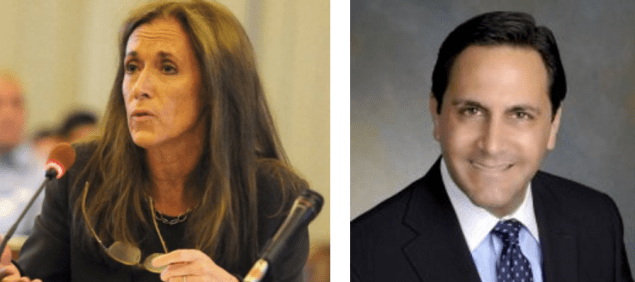 Regina Egea and Tom Scrivo, Chief of Staff and Chief Counsel to Governor Chris Christie, met with local officials in Atlantic City and Atlantic County Friday to negotiate the state's role as it pursues a takeover of the nearly insolvent gaming capitol. The two met Friday first with Assemblyman Chris Brown (R-2) and Freeholder Frank Formica, then with Atlantic City Mayor Don Guardian and members of City Council.
Sources say that Egea and Scrivo are arguing for an "incremental" takeover, one that would change the terms of an agreement allowing Atlantic City casinos to make payments in lieu of taxes and stop the tax appeals that have wreaked havoc on the city's ratable base. The original 15-year scope of the PILOT bill will likely be scaled back, and county Republicans are resisting any takeover effort that does not yield an agreement on their percentage of PILOT revenues. Egea and Scrivo are also hoping to bring in a new director from the Department of Community Affairs to oversee the new state operations.
Reached for comment, Formica said that the county is reserving judgement on the takeover deal until they see more details. The county percentage, he said, will be the crucial factor when he and other county officials eventually weigh in on a takeover proposal.
"The county is not disagreeing or agreeing," Formica said. "We just want to see it in writing, we want to see what's being proposed."
The PILOT agreement, which saw a surprise pocket veto from Christie earlier this month after all of the terms of his earlier conditional veto were met, will now likely have the county's percentage of the PILOT revenue written into the bill. The fact that an agreed-upon 3.5 percent share did not appear in the original draft caused county Republicans like Brown and several county mayors to withdraw their support from the PILOT last year, going against Guardian.
Christie announced his support for further state intervention in Atlantic City this week, brokering a brief truce between Senate President Steve Sweeney (D-3) and Guardian as the three announced that Sweeney's original takeover bill had been scrapped in favor of a less aggressive 'partnership.' The new agreement will have the state Local Finance Board overseeing fiscal for five years, though additional details of the takeover have yet to surface.