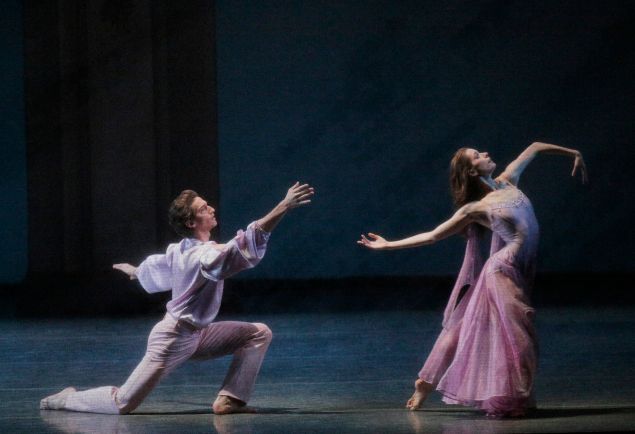 The plan was to see four City Ballet performances last week and report. But nature had a different plan, and though I mushed up through the snow to the Koch Theater on Saturday afternoon, the matinee was cancelled. So this is a truncated report. But as always with this company, there's still plenty to talk about: the state of the ballets, the state of the dancers.
The big question for those (many) of us who adore Balanchine's Liebeslieder Walzer (1960) is how is it holding up—a particularly relevant question on Wednesday night when four of its eight dancers were new to their roles. That amounts to a revolution! Not to keep you in suspense too long…they did well, or as well as could be expected. There are no technical problems in Liebeslieder, it's all a matter of mood, atmosphere, spirit. How do you convey, through nearly an hour of formal waltzes danced to Brahms' ravishing love songs, the inner emotional weather of the four couples as they perform: first in evening gowns and shoes in a small ballroom, then in tutus and pointe shoes in a more unrestricted space, open to the night?
These are not the lessons NYCB dancers learn in their progress toward the company through the School of American Ballet. Decades ago there were elegant European teachers—Danilova, Doubrovska—who understood. And of course there was Balanchine, who understood everything. Today, the dancers are essentially on their own: not one of the eight dancers from the original cast is coaching them.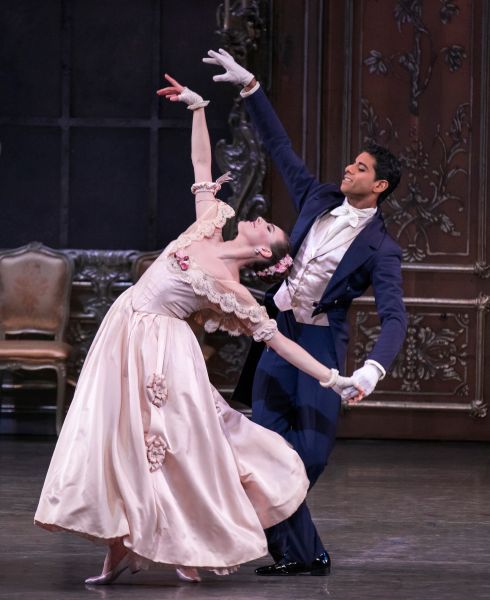 Tiler Peck, with her supreme musicianship, comes closest—her back, her arms, above all her timing, tell the story. Megan Fairchild is adequate to the steps, but she's a brisk American girl—perfect as Miss Subways in the recent revival of On the Town. What is she doing in this Viennese ambiance? Lauren Lovette and Rebecca Krohn made strong if not definitive impressions. Among the men, young Russell Janzen stood out with his handsome looks and admirable carriage. Is this Liebeslieder as we remember and cherish it? No, but it's more satisfactory than several recent renditions. To get a sense of its true essence watch the brief excerpt on YouTube with Jillana, one of the four original women—the internal life, the beauty of gesture. Maybe these things can't be taught.
Another, more recent, ballet reveals the same deficiencies of interpretation. Ballo della Regina (1978) was Balanchine's tribute to the astounding virtuosity of Merrill Ashley—has anyone ever surpassed her allegro pointework? But Ballo was more than flash; its tone reflected its source, the ballet Verdi wrote for that grand tragic opera Don Carlo. That tone is gone. Again, Megan Fairchild doesn't have the expansiveness the ballet requires, nor for that matter does her partner, Joaquin De Luz—the two of them sparkle (maybe over-sparkle), but it's all so small-scale. And Balanchine is never small-scale.
Created the same year as Ballo, Kammermusik No.2 is from a different universe. This strident creation was perplexing back then and it's perplexing today. For one thing, other than Prodigal Son, with its bunch of sinister goons, it's the only Balanchine work I can think of that employs an all-male corps. The unrelenting music is by Hindemith, and the effect is of machines at work, a kind of non-human Expressionist take on the soullessness of modern life. The dancers churn and stomp. The eight boys are like one giant mechanism—without personality or specificity. The two ballerinas are practically mirror images of each other.
That was then. This is now. Sara Mearns and Teresa Reichlen are as dissimilar not only in look but in dance style as they are in Concerto Barocco, in which Peter Martins perversely continues to display them—to the advantage of neither. Here, though, is an opportunity for Mearns to do what she does best: exhibit a fierceness, a voracity, that has nothing to do with the ballet but is impressive for its own sake. Reichlen is just gawky and confused—it's not easy for a woman her size to make so little impact. All that their partners, Jared Angle and Amar Ramasar, do is partner—they make no impression. As for the male corps, while once they added up to a cold powerful group automaton, today they're a bunch of talented corps boys flinging themselves around to little effect. Kammermusik has never been popular, but it's been very much admired for its craft and unique tone. Today the craft is under wraps, the tone gone with the wind.
As for Tschaikovsky Suite No. 3, Balanchine's decision in 1970 to herald his glorious Theme and Variations with three decidedly lesser movements (he just loved the music) has proved a mixed blessing, at times an unalloyed irritation. The opening "Élégie" gives Rebecca Krohn another opportunity to display her stunning looks and romantic appeal—she makes a persuasive case for this pseudo-anguished boy-reencounters-girl/boy-loses-girl trope, all long hair flowing and long skirts billowing. The "Valse" and "Scherzo" that follow are as close to dance-by-numbers as Balanchine ever came. It hardly matters how they're performed.
And then Tiler Peck to the rescue, providing yet another example of Balanchine classicism at its finest in Theme. Whereas for a long time she had no smile, she now tends to overuse a particularly gleaming one, but who cares? It's her phrasing that matters, and her easy command of the vocabulary. Her marriage of musicality and strength reminds one of Kyra Nichols and Suzanne Farrell, neither of whom she resembles in any other way. Peck is the company's classical ballerina; without her they'd be in big trouble.
BESbswyBESbswyBESbswyBESbswyBESbswyBESbswyBESbswyBESbswyBESbswyBESbswyBESbswyBESbswyBESbswyBESbswyBESbswyBESbswyBESbswyBESbswyBESbswyBESbswyBESbswyBESbswyBESbswyBESbswy
Finally, I caught Jerome Robbins' Glass Pieces, which seems to me as meretricious today as it did in 1983, yet back then it was a hit and it still is. By deploying Philip Glass music, Robbins was keeping up with the cultural zeitgeist, but while Twyla Tharp uses Glass to thrilling effect in In the Upper Room, Robbins just exploits him to give us a fashionable, fakey take on the emptiness of modern life. Hordes of young dancers walk and run across the stage, against a backdrop of giant graph paper; you see, they've all been dehumanized by computers and the like. Then there's a totally derivative, totally predictable duet for a humanized couple (Mearns and Adrian Danchig-Waring) that would fit into any number of other ballets. Then, endlessly, back to the soulless hordes—modern empty life just goes on and on and on and on. The music gets louder and louder, doing the work of the choreographer, whose level of invention remains flatly minimal. Yep, folks, this is Jerome Robbins hopping aboard the Minimalist bandwagon. Pardon me if I hop off.