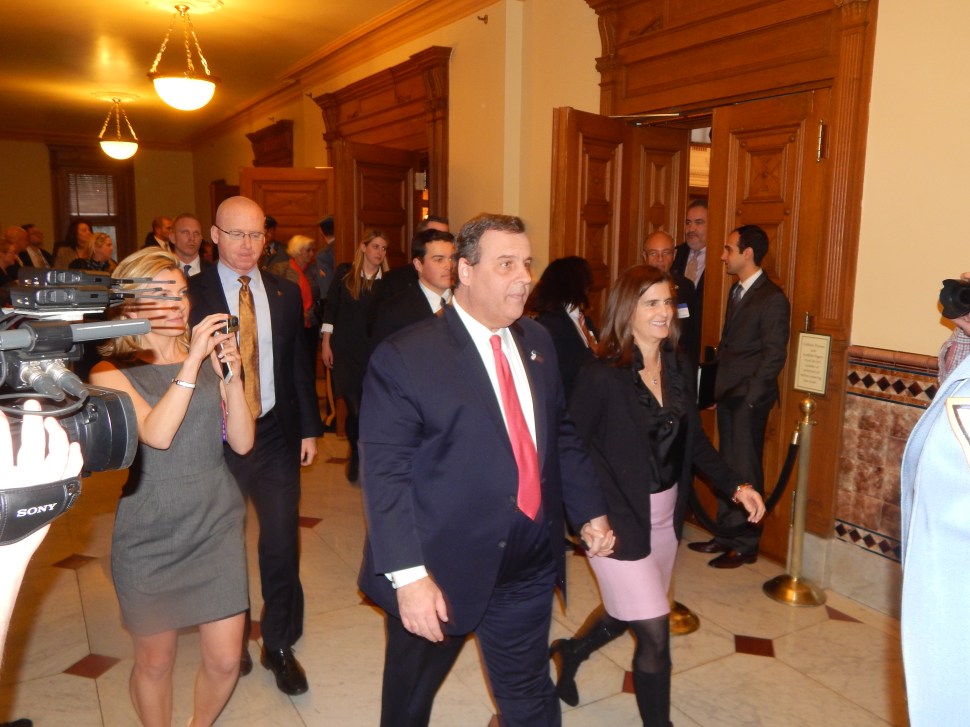 TRENTON – New Jersey Governor Chris Christie delivered his sixth State of the State address to a packed Assembly Chamber on Monday.
PolitickerNJ listened to Christie's speech. Here is what Christie talked about, what it means for New Jersey and what his words might mean for the remainder of his presidential run:
1. The Estate Tax. Perhaps the most notable takeaway from the State of the State was Governor Christie's call for the abolition of the estate tax. According to Christie, the estate tax—which impacts those with total assets over $675,000—hurts the next generation. New Jersey is one of only two states along with Maryland that have both an inheritance tax and an estate tax. The Governor said he believes the tax makes the state "unfair and uncompetitive."
On the national stage, the Governor's attack on the tax might help to subdue criticism he has gotten over his fiscal record in New Jersey.
2. Pensions. While Christie's State of the State started out with bipartisan praise for the legislature being able to have "hard conversations" instead of "slick soundbites," the Governor's remarks quickly devolved into an attack on Democrats for their support of a pension bill that would put up a constitutional amendment requiring pension payments to be put into the system quarterly. He claimed the move was a "sign of fiscal irresponsibility" and accused supporters of pandering to a "cynical leadership of a narrow constituency." According to Christie, that pandering puts pensions ahead of other issues like supporting the poor, keeping the roads and bridges solid and securing the health and welfare of a majority of New Jerseyans.
The remarks on pensions fall in lines with the partisan comments that have become a hallmark of Christie's presidential campaign. He has said time and time again on the campaign trial that he is taking a hard stance on Democrats—something he plans to continue to do from the Oval Office—and his remarks on pensions demonstrate a doubling-down on those themes.
3. Drug Addiction and the Prison Population. A video of Christie discussing drug addiction at a New Hampshire town hall went viral in 2015, partly due to his passionate anecdote about a friend he lost to addiction. On the campaign trail, Christie has talked about the steps he has taken in New Jersey to treat drug addiction as a disease (like the 2014 program that trained first responders to administer Narcan, an overdose anecdote, now credited with saving about 7,500 lives).
Today, he reinforced his commitment by announcing two major anti-addiction efforts. He called for an expansion of the Recovery Coach Program which deploys specialists to emergency rooms to help those recovering from overdoses. More notably, Christie announced that Mid-state Prison in Burlington County would be shuttered and reopened as a drug treatment facility for prisoners struggling with addiction. The facility will be the first of its kind in the state. Christie also announced a "historic financial commitment" of over $100 million for access the mental health and substance abuse treatment that he believes will help reduce prisoner recidivism and substance abuse recurrence.
4. Schools. Christie has often made his distaste for the New Jersey Education Association known—remember when he said he said the national teachers union deserved a "punch in the face"?—and today's speech, again, took shots at the group. Though, this time, those shots were much more subtle.
During his State of the State Christie praised charter schools, calling them a resounding success. The NJEA, while it supports charter schools in a small-scale sense, is opposed to the growing number of larger-scale "corporatized" charter schools.
Because Christie has blasted teachers unions on the national level, today's remarks simply reinforce previous statements. Christie wants schools to be smaller and he isn't afraid to say so.
5. Jobs. Christie, of course, took time during his speech to take credit for the boost in private sector jobs in New Jersey during his tenure. New Jersey added 55,100 jobs in 2015, not including December numbers (more than any year since 2000). He ignored the fact that for the past few years the state was lagging behind the rest of the nation.
These numbers bode well for Christie's campaign, especially because the lack of recession recovery in New Jersey has made Christie a target of the other Republicans in the presidential field.