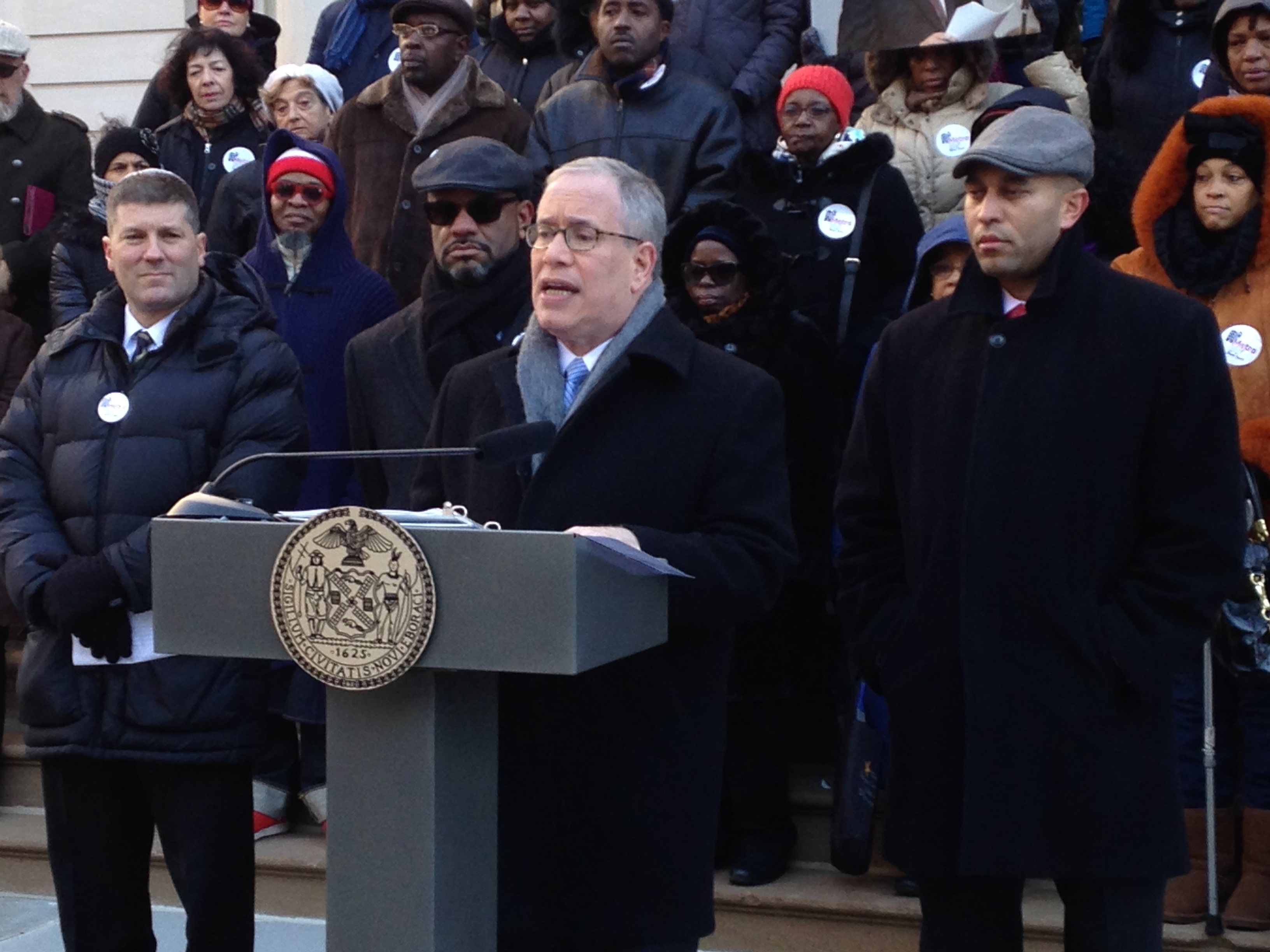 Comptroller Scott Stringer and Congressman Hakeem Jeffries urged City Hall today to add so-called "smart guns" to the list of approved weapons for NYPD officers—which they said would spur gun manufacturers to finally develop better safety technology to meet the demand.
"They're not simply going to do the right thing: they trade in the currency of blood money. They are merchants of death, and the only way to combat it is with forceful economic power," Mr. Jeffries, a Brooklyn Democrat, said on the steps of City Hall, where he and Mr. Stringer held a press conference with faith-based group Metro-I.A.F. "New York City, through the police department, is the largest municipal purchaser of firearms in the country—they have the ability to use its leverage to push the gun manufacturers to do the right thing and bring smart gun technology to America."
"Smart guns" is a catch-all term for weapons making use of a variety of safety features—including using finger- or palm-prints to personalize a gun so only its owner or authorized users can fire it. Other technology includes indicators that a gun is loaded; devices that prevent guns from being fired if the magazine is removed but a round remains in the chamber; micro-stamping technology to trace bullets; and child-proof locks.
The NYPD does not purchase guns directly for its members, but rather issues a list of approved weapons that officers can purchase—and that list does not include any smart guns, because none of the weapons using the technology meet the department's other standards.
But Mr. Stringer—who, like Mr. Jeffries, is often mentioned as a potential primary challenger to Mr. de Blasio—said today that they mayor had an opportunity to change the status quo and help stem gun violence, including violence perpetuated against police officers with their own guns.
"We are a nation united in grief, and today we must be a city that unites the nation in action. New York City must lead this fight, and I call on Mayor de Blasio to bring this issue to the forefront by working with a coalition to create a market for smart guns," Mr. Stringer said. "This is an opportunity for the mayor to be a national leader on gun safety and to harness our purchasing power to save lives."
"If we do this," he added, "then we will truly take a great giant step towards the president's sensible gun agenda."
President Barack Obama last week outlined his own executive orders on gun control—including one ordering the federal government to study using smart guns for its law enforcement officers.
But while the president is open to the new technology, Rev. David Brawley of Metro-I.A.F. said Mr. de Blasio and Police Commissioner Bill Bratton aren't on board.
"The mayor has been non-responsive on the issue, and when we met with Commissioner Bratton, he said it'll never work," Rev. Brawley said. "But the president thinks it'll work."
A spokeswoman for Mr. de Blasio, Monica Klein, said the mayor's office would review the proposal.
"Reducing gun violence and strengthening NYPD equipment are top priorities for this administration," she said. "We are aways looking into ways to encourage the use and development of new technology, and will review this proposal."
The NYPD did not respond to a request for comment on the proposal.
Mr. Jeffries argued that economics are often at play when it comes to spurring change—citing bus boycotts during the civil rights fight and the boycotts during Apartheid.
"We can't continue to do the same thing and expect that we're going to get different results—that's the classic definition of public policy insanity," he said. "Smart gun technology has the power to be incredibly transformative."
Mr. Jeffries took out an iPhone, which he noted has finger-print scanning technology.
"Shouldn't we be able to live in a country where guns utilize fingerprint authorization in order to prevent them from being used by others to kill Americans?" he asked.
It's not the first time Mr. Jeffries has worked with Metro-I.A.F., a group that looks to spur religious congregations to action and was founded by legendary left-wing community organizer Saul Alinsky. Mr. Jeffries' office held a briefing with Metro-I.A.F. about developing land owned by NYCHA—where the group offered a competing proposal to NYCHA's Next Gen plan.