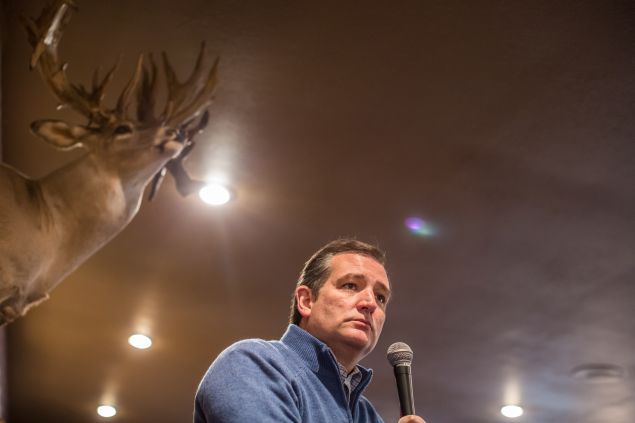 WEST DES MOINES, IOWA—Sen. Ted Cruz of Texas delivered some of his most blistering broadsides against Donald Trump to date, accusing the celebrity billionaire of being "gentle" and "fragile" for choosing not to participate in a Fox televised debate tomorrow.
Mr. Cruz, neck-and-neck with Mr. Trump here in Iowa, lashed out at his fellow Republican tonight for lacking real conservative credentials, and reiterated his call for a one-on-one debate, this time naming a time and place.
"Apparently Mr. Trump considers Megyn Kelly very, very scary," Mr. Cruz said during a campaign rally, referring to the Fox host Mr. Trump claimed would treat him unfairly. "You know, Donald is a fragile soul and she might ask a mean question and who knows what could happen. His hair could stand on end."
Mr. Cruz said it was an "amazing statement" for a presidential candidate to duck a debate. "What does it say when Donald tells the men and women of Iowa, my time is more important than your time?"
"He and I are the leading candidates in this state right now, so how about the two of us in a one-on-one debate?" he asked to cheers. "I'm gonna propose a venue: Western Iowa Tech, Saturday night, Sioux City, we already have it reserved."
Furthering goading Mr. Trump, the Texas senator suggested other Fox hosts for the potential match-up, which the billionaire is unlikely to accept. He ticked off several fiery conservatives, including Mark Levin and Sean Hannity.
"If gentle Donald is frightened," he continued, "then we'll have no moderator whatsoever. A town hall of Iowans. I'll tell you what Donald, you can invite half the people and control half the tickets, we'll invite half the people and half the tickets and each of us will alternate answering questions from the men and women of Iowa who are going to vote in the caucus on Monday night."
But Mr. Trump, who has questioned Mr. Cruz's ability to serve as president because he was born in Canada, had clearly gotten under his skin. Mr. Cruz is no longer the unquestioned front-runner in Iowa, despite his hardline right-wing credentials, while Mr. Trump has maintained his strong standing with a disregard for conservative orthodoxy. As Mr. Cruz gleefully pointed out, Me. Trump has supported single-payer healthcare, like Sen. Bernie Sanders of Vermont, and is not very religious.
Bob Vander Plaats, an influential Christian leader in Iowa and a top Cruz surrogate, took aim at Mr. Trump during the campaign rally, likening him to John Lennon when he once declared the Beatles were bigger than Jesus. Mr. Trump recently added Mr. Vander Plaats to the long list of political figures he has mocked and belittled.
"If you want to vote for anybody else I'd say that vote goes to Donald Trump if it doesn't go to Ted Cruz," Mr. Vander Plaats argued. "I'm telling you right now the sanctity of human life is not up for the 'art of the deal.' God's design for marriage and family is not up for the 'art of the deal.' Religious liberty is not up for the 'art of the deal.'"
Disclosure: Donald Trump is the father-in-law of Jared Kushner, the publisher of Observer Media.