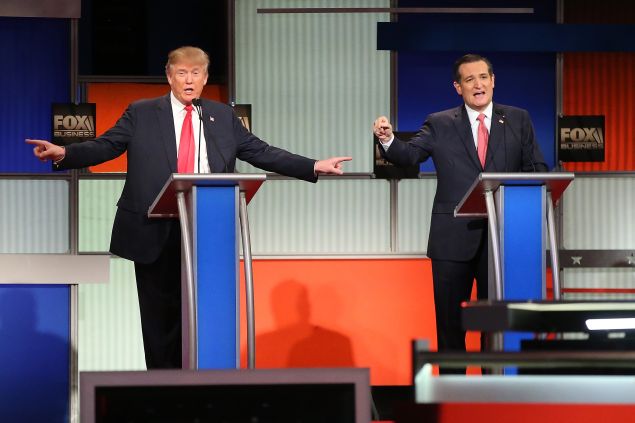 The unquestionable highlight of last night's GOP debate was the major riff between Ted Cruz and Donald Trump. Both men are good on their feet, in very different ways. Mr. Cruz is a fine, calm, erudite, witty, slice and dice debater. Mr. Trump does schtick. Mr. Trump is schtick. It turns out that a great many of our fellow citizens are happy to see The Donald Show, with its quite justifiable anger, and straightforward, appropriately vitriolic critiques of how our government's actions in the matters of immigration and economic policy are failing America's middle class, the country and the world.
Is Ted Cruz a "natural born'" citizen, as Mr. Trump keeps asking? I will leave that to the Constitutional scholars and the Supreme Court. But it was clear enough to the four people on my couch that Mr. Cruz was getting the better of the back and forth with Mr. Trump—rhetorically, at least—until he made that serious, entirely gratuitous error in sneering at what he called "New York values." As a right-wing, third-generation, born-and-raised New Yorker, with kids who are fourth-generation born-and-bred New Yorkers and conservatives (O.K., one libertarian, who is sad about Rand Paul's struggles), it's not as if we didn't more or less know what he meant.
What was Cruz thinking when he said this? Well, first off, the line was utterly rehearsed. I saw him use it and be questioned for it, earlier in the week by Megyn Kelly.
Here's a short list: loud, brash, money-centric, ambitious, crass and self-interested. Also Liberal. More than liberal. Not to mention, know-it-all, highly contemptuous of those who value religion and family, let alone the virtues of rectitude, modesty and quiet honor, above material success. In specific policy terms, pro-gay, pro-abortion, anti-gun, anti-God and country.
What was Mr. Cruz thinking when he said this? Well, first off, the line was utterly rehearsed. Earlier in the week, I saw him use it and be questioned for it by Megyn Kelly. Ms. Kelly, a born and bred New Yorker, who is loud, brash, smart, ambitious and makes a ton of money as a FOX anchor, pushed him to define these "New York values." He did not. It was an awkward exchange. Were I advising him—a guy with serious likability issues—I would have told him to drop it. It was especially impolitic given how much money he has raised in New York City. An amount that was just revealed by The New York Times to have been enhanced by a million-dollar undisclosed loan from Goldman Sachs, the very epitome of New York money. But his handlers obviously thought it was worth something. And indeed, people are talking about it.
Here is what I thought Cruz was doing with this attack: he was describing the less attractive attributes of one loud, brash, money-obsessed, vain and attention-seeking, three-times-wed Donald Trump. Even Mr. Trump's most committed supporters know that those adjectives fit. Who has ever spoken more about being "rich, really, really rich" in public life?
Here is what every liberal New Yorker I know thought he was doing: attacking New York Jews, by evoking deep, old-line anti-Semitism. To be sure, this view of New York as a bastion of liberal, libertine, Jewish communists and bankers and media moguls who manipulate the rest of the country for their own benefit, and Israel's, while undermining real American values, hasn't entirely disappeared. There was always a touch of that in Patrick Buchanan's populism. One sees a bit of it on social media, in code about "neo-Cons."
Ted Cruz, who is a far stauncher supporter of Israel than anyone in the current administration, or on Hillary Clinton's former or current staffs, is no anti-Semite.
New York has historically been a magnet for the brash. Wall Street rewards that. So does the media.
American evangelicals have been successful in extirpating anti-Semitism from their theology, and mostly from their culture. There is more comity and brotherhood—of the older brother/younger brother sort—than ever in history. Today, anti-Semitism in America mostly comes from the left.
You know what Mr. Cruz was dead wrong about? His idea that Manhattan is not known for producing conservatives is dead wrong. I will save the list for another column. Currently, roughly a third of all the Manhattan-raised kids in most grades of most of the city's private schools come from Republican homes. And yes, Ted, you need to know that not only do we breed conservatives in New York City, but they are strong ones, because their views are tested daily, and they must learn to defend them or cower. It might be easy to be a conservative in Texas. But in New York City, including Manhattan, we conservatives develop ferocious skills in defending our principles and ideas. And then there are those who start off liberal, but become successful and are forced to reckon with the depredations and incompetence of government.
My liberal Jewish friends are always happy to perceive a personal insult and attack in return. They forget that many of our fellow ethnics—Italians, Irish-Americans and others, are often also loud, brash, ambitious for money and fame, and sharp elbowed. New York has historically been a magnet for such people, locally born or those who come from the heartland or overseas. Wall Street rewards that. So does the media.
Back in the heyday of the Social Register, Boston was the city where class and breeding mattered. Even among WASPs, New York was always considered crudely commercial. Robber barons pushed past the old Dutch aristocracy into the expensive housing. We are not the center of world finance by accident. These values may not be attractive, but they have their advantages, when it comes to paying for stuff and letting people live as they choose.
Disclosure: Donald Trump is the father-in-law of Jared Kushner, the publisher of Observer Media.