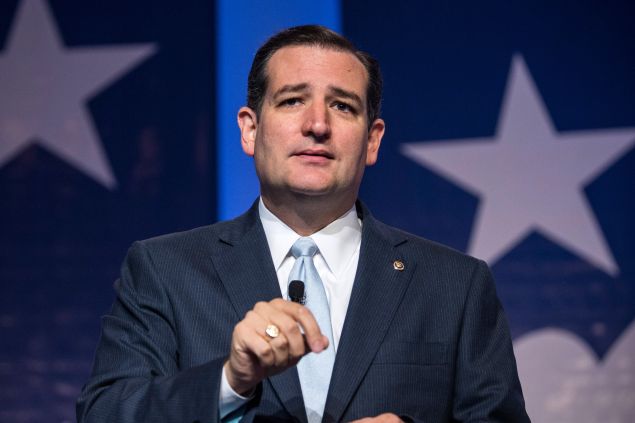 Ted Cruz is getting a taste of what New York values really are.
During last night's Republican presidential debate, the Texas senator doubled down on his criticism of opponent Donald Trump, who he said embodied "New York values" that were "socially liberal, pro-gay marriage, pro-abortion, focused on money and the media."
Mr. Trump fired back, saying that real New York values were shown when the city worked together after the 9/11 attacks.
"We rebuilt downtown Manhattan, and everyone in the world watched and loved New York and New Yorkers," Mr. Trump said. "That was a very insulting statement that Ted made."
Many New York politicians denounced Mr. Cruz's remarks—Gov. Andrew Cuomo said in a radio interview that if Mr. Cruz "had any class, he would apologize," and Congressman Peter King told CNN that Mr. Cruz should "go back under a rock." Even Mr. Trump's rival Hillary Clinton tweeted support for him.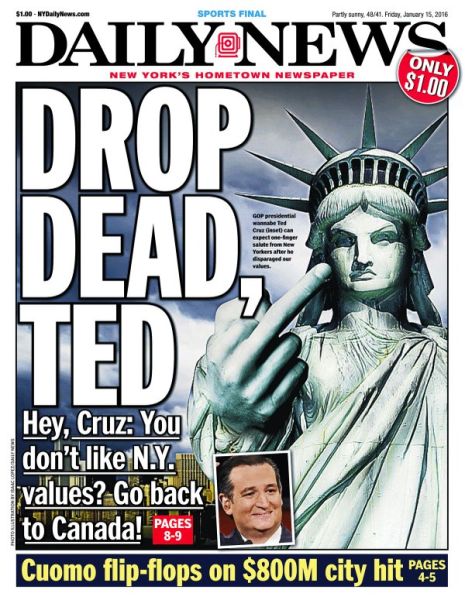 The New York media which Mr. Cruz criticized also fired back at him—today's New York Daily News front page, which got a lot of play on social media, features the Statue of Liberty flipping the bird at Mr. Cruz, along with the headline "Drop Dead Ted" and the subhead "Hey, Cruz: You don't like N.Y. values? Go back to Canada!"
Finally, New Yorkers as a whole banded together to show their Empire State pride on Twitter using the hashtag #NewYorkValues. By turns sarcastic and sincere, the hashtag aimed to show what truly made the city and state special:
Mr. Cruz has not yet publicly responded to the "New York values" controversy.
Disclosure: Donald Trump is the father-in-law of Jared Kushner, the publisher of Observer Media.