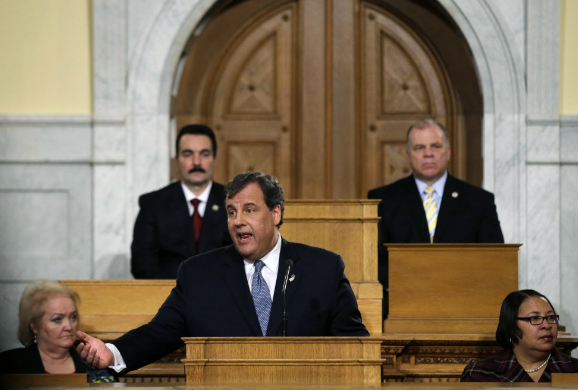 Text of January 12th 2016 State of the State address by Governor Chris Christie was hacked from an email from Christie to GOP NJ Legislative leadership (Senator Tom Kean and Assemblyman Jon Bramnick), and leaked to the press; this was listed as a 'first draft', and requested feedback from leaders.
Jon & Tom:
It's been a while since I have seen you guys, hope everything is going well in Trenton and on State Street.
Wanted to share with you my first draft of  SOS words for

Tuesday

I'll be texting in, and get your thoughts. Notice, I've taken Jon's advice and toned down the 'tude just a bit, and just stick to the facts. Let me know what you guys think—any changes or additions.
Best,
Chris
Governor Chris Christie-1/12/16-State of the State-

FIRST DRAFT
"I am pleased to tell you that the state of the state is strong. As I walk the streets of Manchester, and meet small business owners in Nashua, and ride the roads of Concord, our residents are living the American dream.
Tourism in the Great granite state is growing each season. Just this past summer, Mary Pat and I were taking a stroll on the boardwalk in Portsmouth. We got ourselves some lobster roll sandwiches and thought to ourselves, this is why we love being in New Hampshire.
For students at our universities not only are test scores going up but we're competing strong in athletics. I think we're all excited for Dartmouth to have a great season. Go Big Green!
But, my friends, there is more work to do.
Our transportation trust fund is almost depleted and our traffic problems are getting worse. How long must our residents wait in gridlock on I-93 to get to their jobs in Boston?
Property taxes are still high. A lifelong resident of our state recently wrote me out of concern that when her grown kids start to have a family of their own, they won't be able to afford a home in Dixville Notch but will have to live further down I-26 in Colebrook for affordable housing.
We still have not settled the issues on the future of gambling in our state. While our various leaders are in disagreement over a casino bill that either protects the White Mountains or expands gambling into the Seacoast, I think we can all agree that the horse racing at Rockingham Park is full of excitement.
I welcome dialogue with all of the members of this legislature. My door in the front office is always open to Senate President Chuck Morse and House Speaker Shawn Jasper.
Happy new year to you all, and while I always tell it like it is, we all must 'Live Free or Die.' "
EDITOR'S NOTE: Joey Novick is a satirist and regular PolitickerNJ contributor. Just because we received some phone calls from people with questions about the veracity of Joey's last piece, we should point out that the above piece is a JOKE and not really a transmission from Governor Christie.