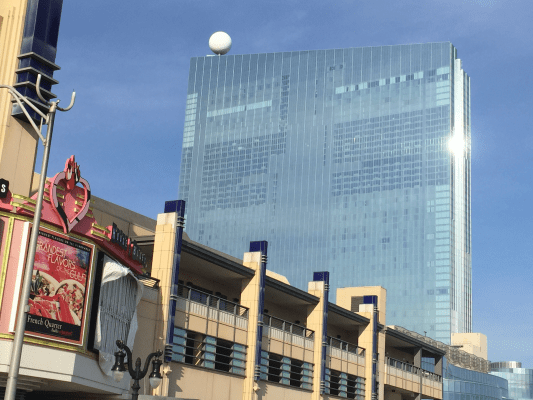 The original state takeover bill that Senate President Steve Sweeney (D-3) proposed for Atlantic City has been scrapped, and Governor Chris Christie has officially come down on the side of increased state oversight — as Sweeney made the trip down from Trenton to meet with the city council and Mayor Don Guardian this week, a few scant details of the new Atlantic City state 'partnership' emerged.
The takeover, which Christie termed "cooperation" in a press conference that same day, will have the state handing approval of the city's financial through its Local Finance Board for a period of five years. The term has originally been set at 15. Christie also said that the bill will include provisions to offer payment in lieu of taxes to Atlantic City's remaining casinos, whose tax appeals have decimated its ratable base in the last decade as out-of-state competition has poached its former monopoly on gambling in the Northeast.
"You can call it whatever you want to call it," Christie said.
"We have to fix this government," said Sweeney during that announcement in Trenton, walking back the aggressive tone he had adopted toward Guardian since announcing his intentions to pursue a takeover last month. "It's not Atlantic City's fault, but they're spending three dollars and taking one in."
Under the new bill, civil services would see drastic cuts in an attempt to prevent a chapter 9 bankruptcy before a projected deadline when the city will run out of cash in April. Attorney Richard Trenk gave a presentation at that same city council meeting, where he claimed the city could follow the same mild upward trajectory that Detroit has seen since declaring its own municipal bankruptcy in 2013.
Atlantic City currently has $240 million in debt between its bonded obligations and the money it owes to the Borgata hotel and casino. Standard & Poor's downgraded the city to below junk status, from "B" to "CCC" last week. That report said that default appears "inevitable" before this spring.
While state intervention would aim to prevent a bankruptcy, it is still possible that the city will file under chapter 9 and seek state approval for a reorganization. That step would allow the city would allow the city to renegotiate its debts to credtors, and give it greater latitude in changing collective bargaining agreements.
The question now is the extent to which the state will micromanage those cuts and the reorganization of services that would follow. Rumors have circulated since last fall that Atlantic City's police department could see cuts and be combined with the Atlantic County Sheriff's Department in the same way that Camden's city force was in 2013.
Whelan said that he believes the state will show some restraint.
"When you talk about a state takeover or any takeover of anything, you're talking about the entire operations. Fiscal and everything else," Whelan said this week. "I don't think the state is going to be saying, 'Put this cop here, and put that fireman there.' That's not the level of takeover."
Assembly Speaker Vince Prieto (D-32) said that the collective bargaining piece could be a sticking point for him as the Assembly weighs in this session.
"I will review any proposal to help Atlantic City, but I will be especially concerned about any effort to unilaterally alter collective bargaining agreements," Prieto said. "We didn't hear many specifics today from Gov. Christie or Senate President Sweeney about such things as altering collective bargaining, but that's something that would certainly raise questions on my end."
The announcement follows Christie's surprise pocket veto of a PILOT bill from Atlantic City Senator Jim Whelan (D-2) which had long been in the works. Multiple sources pointed to a meeting at the governor's mansion in December where Whelan, Assemblymen Vince Mazzeo (D-2) and Chris Brown (R-2), County Executive Dennis Levinson and Democratic power broker George Norcross III were present to discuss further changes to the PILOT in light of the likely takeover. 
That conversation, sources said, yielded an agreement on further changes to the bill but not the outright veto that followed. As part of the new 'partnership' bill, a PILOT agreement would stand to offer the city $33.5 million toward its 2015 budget, which took the hit when Christie's veto came down. That bill would have initiated payments over a 15-year term, but it is unclear what kind of time-table Christie would push for in a new agreement.
The loose thread that drew the most ire from residents at this week's city council meeting was not the choice between bankruptcy and a takeover itself, but lingering resentment over what public speakers described as long-term state-level mismanagement of funds and an eagerness on the state's part to sell the Municipal Utilities Authority, which controls the water supply.
Comparisons to Flint, MI flew and several speakers pointed to long-term diversion of funds away from the city. Atlantic City's parking, room and luxury taxes have gone to Trenton and municipalities across the state for years. Those funds add up to $75 million annually.
"The city was raped, and now they're killing you," said resident Alma Johnson.