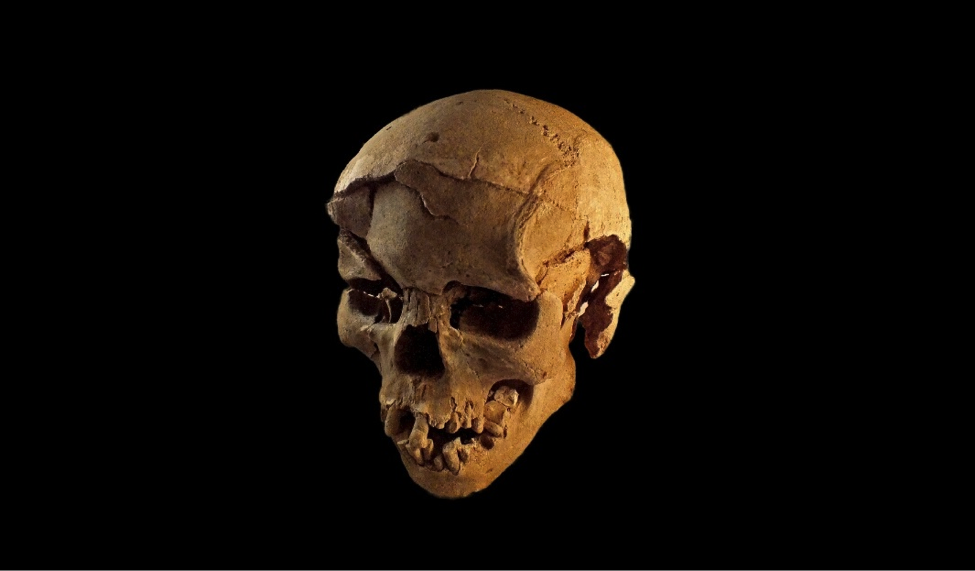 About 10,000 years ago in eastern Africa, a resource-rich, fertile lagoon known as Nataruk was the setting for humanity's earliest known violent conflict which resulted in the brutal killing of over two dozen prehistoric men, women and children.
The discovery of this event was made by researchers at Cambridge University's Leverhulme Centre for Human Evolutionary Studies, who studied the victim's fossilized bones to determine if this violence could be a precursor to what we know today as warfare.
"The Nataruk massacre may have resulted from an attempt to seize resources – territory, women, children, food stored in pots – whose value was similar to those of later food-producing agricultural societies, among whom violent attacks on settlements became part of life," said Cambridge's Dr Marta Mirazon Lahr, who led the Nataruk study, published in the journal Nature.
Unearthed in 2012 about 30km west of Lake Turkana, Kenya, the site was carefully excavated and examined using radiocarbon to pin down the date of the massacre. This technique measures half-life decay of a radioactive isotope (of carbon) found exclusively in organic material. Researchers also used sedimentary rock found near the remains to establish chronology.
They concluded that the conflict that left at least 27 dead, occurred sometime between 9,500 to 10,500 years ago in the early years following the last Ice Age—known as the Holocene epoch. Sometimes referred to as the "Age of Man," this era accounts for last 11,700 years of humanity's recorded history.
Nataruk is thought to have been a habitat rich with marsh and surrounded by a forest—indicating that it was an ideal home for a large population of hunter-gatherers. The inhabitants and subsequent victims of the conflict that ensued, are thought to be members of an extended family that lived there together.
This location would have been of great value to those who survived on its bountiful resource of fresh water and fish, something that would have also made it a potential target for rival prehistoric foragers. Along with the human remains, researchers discovered pottery which suggests that inhabitants stored their food—another reason for outside aggressors to pillage this settlement.
Researchers have not come to a consensus on the matter of how violence became a part of human civilization but theorize that we either carried it with us from "deep in our evolutionary history" or it appeared along with the construct of land settlement and ownership.
Among the evidence that tells the story of this conflict was black volcanic rock known as obsidian. This igneous rock was used to make weapons like spear tips or arrow heads but was rarely found in areas like Nataruk.
The discovery of this hardened molten rock among the remains point to an attack from the outside.
"Obsidian is rare in other late Stone Age sites of this area in West Turkana, which may suggest that the two groups confronted at Nataruk had different home ranges," explained Dr. Mirazon Lahr.
"This would extend the history of the same underlying socio-economic conditions that characterise other instances of early warfare: a more settled, materially richer way of life. However, Nataruk may simply be evidence of a standard antagonistic response to an encounter between two social groups at that time."
Antagonistic rivalry among later hunter-gatherer groups usually resulted in violence that left the males of the opposing sides dead while females and children were often assimilated into the triumphant group. The varying remains at Nataruk indicate that this probably was not the case.
It's also important to note that certain earmarks of rivalry-driven conflict like dismemberment or trophy-taking were not found at Nataruk.
21 adults that included eight males, eight females and five unknown were found along with the remains of six children. These young victims were all under the age of six except for one whose dental analysis placed them between 12-15 years old.
12 of the skeletons were found in-tact and 10 of those paint a vivid picture of the massacre. The victims suffered from blunt-force trauma to the head, broken bones throughout their bodies, and fatal injuries caused by projectile weapons.
One of the males had a sharpened blade fabricated with obsidian lodged in his head but not fully puncturing the bone. Another injury on the same skeleton indicates that a secondary weapon was used to crush the victim's head and face. "The man appears to have been hit in the head by at least two projectiles and in the knees by a blunt instrument, falling face down into the lagoon's shallow water," said Dr. Mirazon Lahr.
A few of the skeletons were found face down and some in positions that illustrate bounding or imprisonment by their attackers. One of these victims was a female in the final months of pregnancy as evident by the fetal bones discovered within her abdominal cavity.
While the study examined the remains of 27 individuals, it's unknown how many were actually killed during the attack. Only the partially exposed fossilized bone was completely excavated for forensic analysis.
The archeologists and researchers behind this study cannot conclude with certainty why this family of hunter-gatherers were so brutally killed, but it is one of the "clearest cases" of early violence between humans.
"The deaths at Nataruk are testimony to the antiquity of inter-group violence and war," concluded Dr Marta Mirazon Lahr "These human remains record the intentional killing of a small band of foragers with no deliberate burial, and provide unique evidence that warfare was part of the repertoire of inter-group relations among some prehistoric hunter-gatherers."
Robin Seemangal focuses on NASA and advocacy for space exploration. He was born and raised in Brooklyn, where he currently resides. Find him on Instagram for more space-related content: @not_gatsby