Starting out as a sculptor in the late-1950s, Wendell Castle made a decisive move to making furniture at a time when the American Studio Craft Movement was just beginning to pick up speed. Sixty years later, Mr. Castle, 83, is widely recognized as one of the movement's most innovative designers.
The Studio Craft Movement—a group of artists who are directly involved in the actual process of making the object, not only the conception and design—rejected mass production in favor of one-of-a-kind pieces. For the consumer and collector, this meant that they were not only getting unique furnishings, they were collecting objects that would likely increase in value.
The brilliant exhibition "Wendell Castle Remastered" at the Museum of Arts and Design (on view through February 28) celebrates the artist and designer's prolific career by mixing his earliest works with his most recent ones.
"Once I realized that there was a small field of people out there who made furniture in an artistic way, like George Nakashima and Wharton Esherick, I felt that I could jump right in there and get recognition straightaway, which I did," Mr. Castle self-confidently told the Observer by phone from his studio in upstate New York. But of course, he has earned that confidence. A bit of a wunderkind, museums and galleries from the get-go embraced him.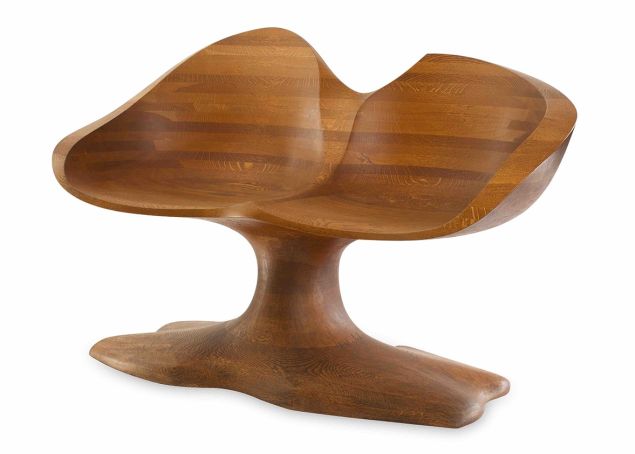 Now one of America's most celebrated designers, Mr. Castle has been the recipient of four fellowships from the National Endowment for the Arts, three honorary degrees, a Visionaries of the American Craft Movement Award and a Lifetime Achievement Award from the Brooklyn Museum of Art.
His works, which sell for between $15,000 and $240,000, can be found in the permanent collections of more than 40 museums and cultural institutions worldwide, including the Art Institute of Chicago, Metropolitan Museum of Art, MoMA, Musée des beaux-arts de Montréal and the Victoria & Albert Museum, London.
Born in 1932 in Emporia, Kansas, where his father taught vocational agriculture, Mr. Castle studied art at the University of Kansas in Lawrence. Upon finishing school, he moved to Brooklyn and set up a studio in an old storefront while seeking gallery representation.
The arc of his career touches on all of the design movements of the past 50 years.
The following year he took a job teaching furniture design in Rochester, N.Y., at the School for American Crafts. Thinking he would only stay long enough to earn some money, the designer began to flourish—surprising even himself. He established a studio in the area, where he began to expand his repertory through experimentation with woodworking techniques.
He soon developed a signature style by suspending leather between a fabricated frame for a series of sling chairs and rockers, before discovering stack lamination, a process of building up layers of wood to create a 3D form, which allowed him to make his unique furniture pieces even more sculptural. By the late-1960s he was showing his handcrafted furniture in galleries in New York City—right around the time that he began working with plastic.
Because of its lower manufacturing cost and faster fabrication time, molded plastic furniture allowed Mr. Castle to experiment with bright colors and edition his sleek tables, chairs, shelves and lamps—with some of the pieces looking like giant molars for sitting in and others resembling flattened clouds ready for storing books. His space-age pieces put him in the context of cutting-edge Italian designers like Joe Colombo and Gaetano Pesce, but his small-level production made it impossible to compete. The European designers had companies with brand name recognition backing and distributing their work, which made Mr. Castle somewhat of a small fish in a big pond.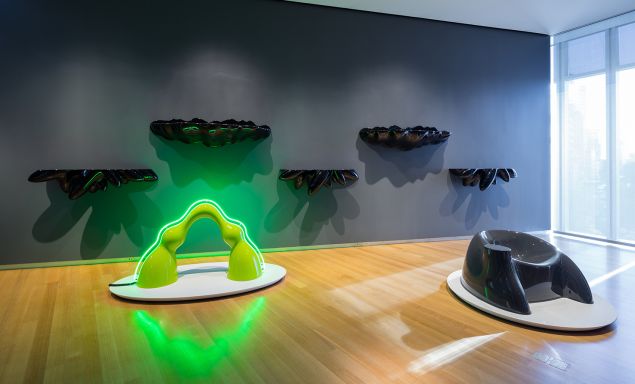 Returning to his lamination process, Mr. Castle made some womb-like environments—such as his Environment for Contemplation, an isolation chamber carved from laminated oak—that led him to even more surreal combinations of forms for his furniture, which he continues to energetically explore in his Scottsville, N.Y., studio today.
The MAD Museum exhibition begins with small, handmade objects, but ends with large-scale furniture that combines handcraftsmanship with digital technology like 3D scanning, modeling and robotic milling.
Showcasing some 40 pieces—ranging from an early abstract sculpture and furniture in wood and fiberglass to sketches and foam models—on two floors of the museum and outside on Columbus Circle, the presentation focuses on Mr. Castle's most significant design innovation: his stack laminated furniture.
"The title 'Wendell Castle Remastered' has different interpretations," MAD's senior curator and organizer of the show Ron T. Labaco told the Observer. "He operates in the manner of an old master by having assistants to accomplish more; but the show also revisits his technique of stack lamination, which he truly revolutionized using whatever tools were available—now it's digital fabrication."
The show traces his inventive use of the lamination process, which involves gluing together several thick pieces of wood and then carving out a functional form. Although this way of creating sculptural objects has been around for two centuries, Mr. Castle recalls first seeing it as a teenager in a magazine article about how to make duck decoys. Once he began employing the technique, he made it his own.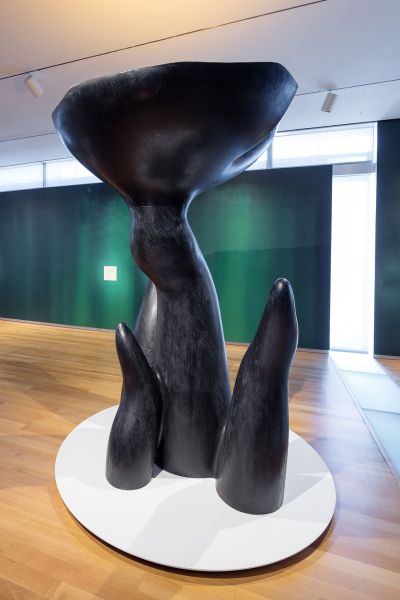 "He brought an artistic, sculptural point of view to what has come to be known as the art furniture movement in the United States," Mr. Labaco added. "When he talks about his work he talks about discovery and, basically, everything he has produced has a function. The arc of his career touches on all of the design movements of the past 50 years."
Several significant works set the stage at the show: a biomorphic sculpture from 1959 made from altered and mitered rifle handles; Scribe's Stool, a similarly constructed highchair-like writing stool from 1962; and Chair with Table, a stack lamination piece from 1965 that dynamically has the two furniture forms cantilevering off a central base.
At the other end of the show's spectrum are recent wooden pieces milled by a computer-controlled router and then hand finished and stained black by the artist and his team. Standouts include High Hopes, a nine-foot-high lamp made from a cluster of surreal, plant-like forms; Suspended Disbelief, a massive dining table that dramatically cantilevers from three overlapping cones; and Remembering You, an unexpected merger of a cabinet and chair.
"I still design on paper," the artist explained, "and then I make an accurate model to scale and scan it to go into the computer so that the robot can go to work carving the laminated elements. Works can be designed for cuts that can be made in parts and then put together to get a more sculptural effect."
Also new to the show is a series of cast bronzes—one in the museum and two outside the entrance. Made in his upstate New York studio and in Europe from digital scans, they function as imaginative seating for public use.
"It's exciting to see the bronzes on Columbus Circle," said Mr. Castle. "We've seen people lounging on them and using them for photo ops. There was just the right amount of room to have them bookend the entrance."